'Cash-strapped' police taking second jobs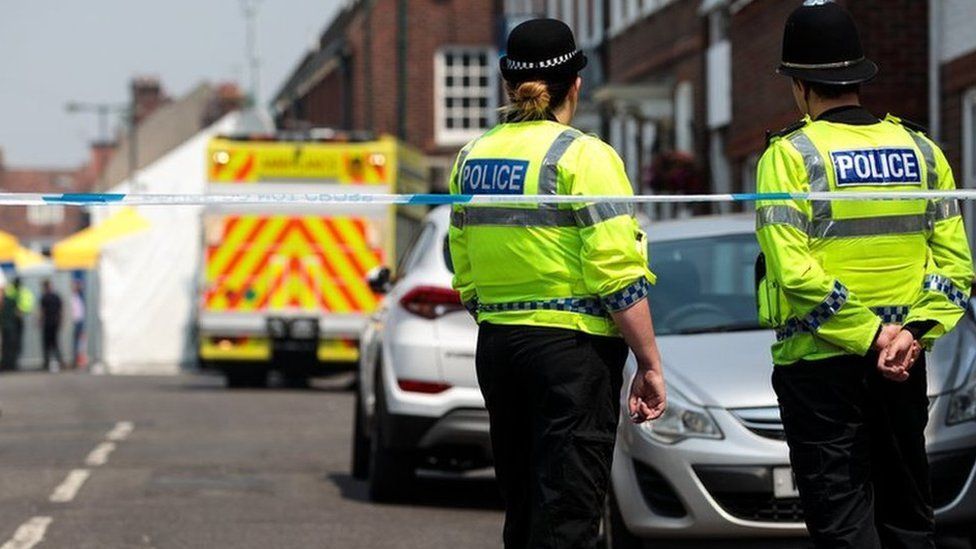 Almost one in 12 police officers say they have taken a second job, with some appearing to be in financial "dire straits", according to the Police Federation of England and Wales.
A survey from the organisation, which represents thousands of officers, found 7.8% have sought extra work - a figure it says is a record high.
And it said 44% worried about finances daily or nearly every day.
Some officers have resorted to food vouchers, the PFEW chairman said.
Previous reports have found that officers have taken up second jobs in professions including teaching, beauty therapy, photography, bar work and football refereeing.
Officers are allowed to carry out additional work outside their job if the force approves it.
The starting salary for a constable is currently between £19,971 and £23,124, but rises to £24,171 after two years of service and can progress up to £38,382. A chief inspector's salary starts at £54,432.
The Home Office says more than half of police constables are earning at the top of their pay bracket, and their average pay will be more than £38,600 following the pay increase.
According to the survey, which included responses from more than 27,000 police officers from constable up to chief inspector rank:
7.8% of respondents had taken up additional employment, up from 6.3% last year
More than one in nine (11.8%) said they never or almost never had enough money to cover all of their essentials, rising from 11% last year
Three quarters said they felt financially worse off than they did five years ago
Over 87% of officers surveyed did not feel their pay was fair considering the "stresses and strains of the job"
Chairman John Apter said it "hardly comes as a surprise" but the results were "grim".
"Our members are clearly suffering from even worse financial pressures than last year, with some appearing to be in dire straits," he said.
Mr Apter blamed dwindling resources and rising crime which has led to a record high demand for police services, adding that "cash-strapped" officers wanted to be "adequately paid".
He highlighted the poisonings in Wiltshire and Donald Trump's UK visit as examples of officers having to cancel leave or rest days to be deployed.
One police officer who has a second job, says he earns more in his extra work than he would do by doing overtime in his policing job.
"Where I am, about a third of us have second jobs," he said, adding there is "very little loyalty left" and "like me, the only reason they stay is for what is left of our pensions".
Another, a police sergeant, says he joined the Army Reserve to bolster his take-home pay.
Policing career 'still desirable'
The PFEW has labelled the 2% pay increase, coming into force on 1 September, as "derisory".
Labour's shadow home secretary Diane Abbott said the Conservatives were "in total denial about the misery that their cuts to public services have caused".
A spokeswoman for the Home Office said: "We are grateful to all police officers for the incredible job they do - and will continue to ensure they have the resources they need to do their jobs effectively.
"The police pay award for 2018/19 represents the highest consolidated pay award since 2010. And the number of people joining police forces is at a 10-year high which demonstrates policing is still a desirable and sought-after career."
They added there will be a £460m increase in overall funding for police in 2018/19.
Francis Habgood, the National Police Chiefs' Council lead for pay and conditions, said forces encouraged officers to seek support if they ran into financial difficulties.