Shreyas Royal: Child chess prodigy's family can stay in UK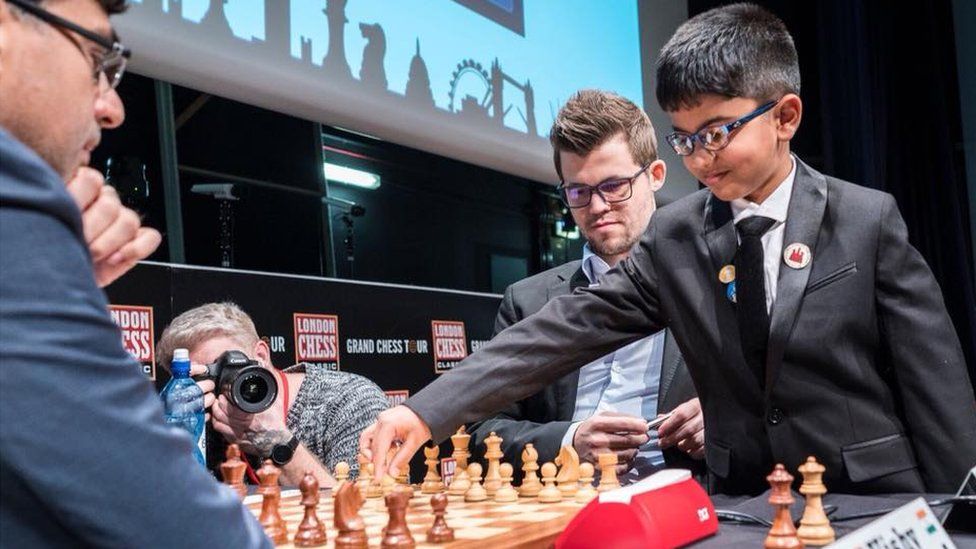 Nine-year-old chess prodigy Shreyas Royal and his family have been allowed to stay in the UK.
Home Secretary Sajid Javid said he took the "personal decision" as Shreyas is "one of the most gifted chess players in his generation".
Shreyas Royal has lived in Britain since he was three years old.
His family was told they would have to return to India when his father's work visa expired in September, but they can now stay under a new work visa.
Jitendra Singh, Shreyas's father, received an email from the Home Office on Friday informing him of their decision.
He told the BBC the family was "very happy and relieved" and that Shreyas "started jumping on the sofa" upon hearing the news.
Shreyas said: "I was jumping here and there and dancing. I was really happy today.
"I want to be the best at it and become the world chess champion at the age of 18."
Mr Singh's five-year work visa was due to expire next month and he had been told it could not be extended unless he earned £120,000 a year, which he does not.
The home secretary said: "After carefully reviewing the evidence, I have taken the personal decision to allow Shreyas and his family to stay in the UK.
"The UK is a country that fosters world class talent and Shreyas is one of the most gifted chess players in his generation.
"We have always been clear we want a world-class immigration system that welcomes highly-talented individuals from across the globe."
Shreyas was born in India but the family moved to south London when his father was offered a job as an IT project manager in the UK.
He started learning chess three years ago and has since represented England internationally. He is ranked second in the world for his age group.
Mr Singh will be able to apply for the Tier 2 work visa, which is valid for up to five years, without needing to leave the UK. It will be sponsored by his employers, Tata Consultancy Services, and will allow Shreyas and his mother to stay in the UK as dependents.
Mr Singh said he wanted to eventually apply for permanent residency.
Leon Watson, secretary of Battersea Chess Club, where Shreyas is a member, said the news was an "enormous relief" and that in 10 years' time, Shreyas could be "a household name as England's first world champion".
"Shreyas is a very nice, down-to-earth young man who has a big future ahead of him on the world stage hopefully representing England," he said. "Our country badly needs someone like this, the next Nigel Short or Michael Adams, and we firmly believe Shreyas will do us proud."
A spokesman for the English Chess Federation said they are "delighted" by the decision to allow him to stay.
Labour MPs Rachel Reeves, a former junior chess champion, and Matthew Pennycook, MP for Greenwich and Woolwich, wrote to the home secretary last week urging him to review the case.
Ms Reeves said she was "delighted" for Shreyas and his family.
"This is also great news for the country, which would've lost one of its best and brightest had Shreyas been deported," she added.