Sir William Nicholson painting bought for £165k is 'fake'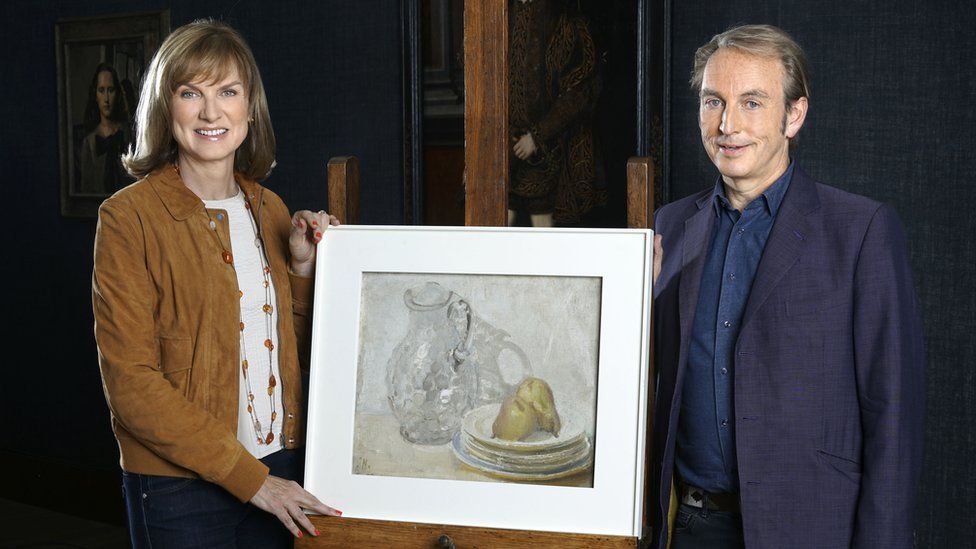 A painting bought for £165,000, and thought to have been painted by British artist Sir William Nicholson, could be nearly worthless after an art expert cast doubt on its authenticity.
The still life of a glass jug and pears was examined on the BBC's Fake or Fortune? programme.
An expert said there was not enough evidence to confirm who painted it.
However, a handwriting expert believes the work is authentic, and evidence links it to Nicholson's paint box.
Presenter Fiona Bruce said she was "shocked" as the case had been "so strong".
"It was just love at first sight," owner Lyn said of the piece, adding that she "didn't have any doubt" of its authenticity when she bought it in 2006.
But when a catalogue of Nicholson's work - the official list of all his known pieces - was published by Reed in 2011, Lyn's painting was not included.
"I was hurt. I feel it's a miscarriage of justice," Lyn said. And so she hoped the Fake Or Fortune? team could prove otherwise.
Will Darby, whose Mayfair gallery - Browse and Darby - exhibited the painting before selling it to Lyn for £165,000 ($210,456), told Fiona Bruce: "I was shocked. As far as I was concerned this painting couldn't have been done by anyone else."
In Sunday night's episode, new evidence was revealed that scientifically linked the painting to Nicholson's own paint box which is kept in his grandson's house.
A handwriting expert told the programme he was "100% convinced" that writing on the back of the painting was by Nicholson.
Pigments also matched those used in a very similar Nicholson painting now in Canada.
Despite this, expert Patricia Reed was still not convinced it was genuine.
"There is nothing that gives direct evidence that he actually executed the work himself," she said.
Born in 1872, Nicholson spent five decades painting portraits, landscapes and still lifes.
Reed said some of Nicholson's painting boards would be reused by painters being taught by him in his studio.
This group, known as the "Sunday painters", famously included Winston Churchill and Ms Reed said the painting could have been executed by one of them.
International art dealer Philip Mould said: "This has to be one of the most convincing technical investigations we've done on a picture."