A-levels: What subjects are students dropping and why?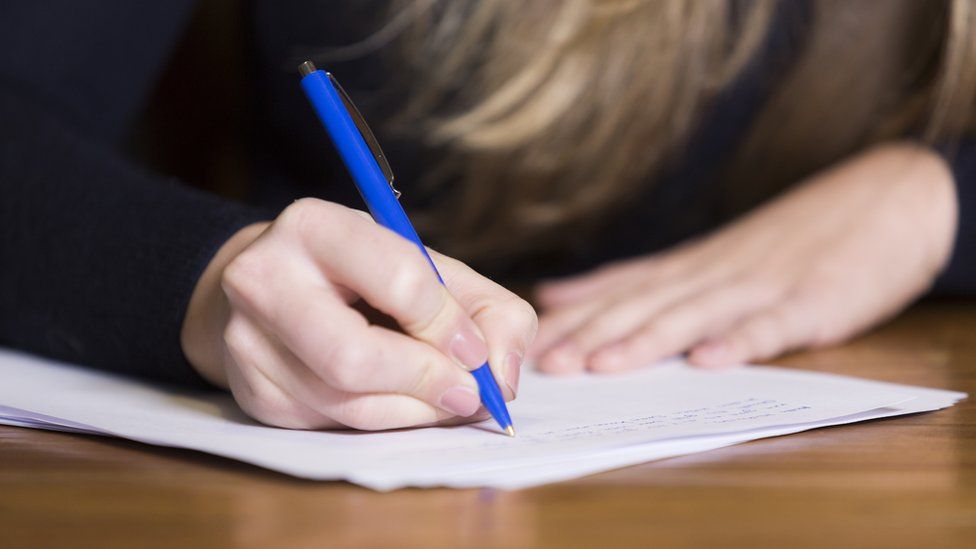 In recent years, there has been a clear shift away from the arts, modern languages and some other subjects at both GCSEs and A-levels.
Since 2014, the number of A-level entries in arts subjects, which include drama, music and art, in England has fallen by 13,000, almost 17%.
Similarly, there has been an 8% decrease in modern languages and more than a 25% decline in English.
Meanwhile, entries in science, technology, engineering and maths (known as Stem subjects) have increased by 15,500, a rise of 6%.
Subjects do go in and out of fashion - but to what extent have policy changes had an impact?
Jon Andrews, deputy head of research at the Education Policy Institute, says the recent decrease in arts entries at A-level is likely to be linked to similar declines seen at GCSE.
He says recent changes in school performance measures in England have pushed students away from arts subjects, in favour of ones the government wants prioritised.
The EBacc system encourages the grouping of subjects that the government says are "important" for students to study at GCSE, with schools measured by how many take a combination that must include:
English language
English literature
maths
combined sciences or three subjects from physics, chemistry, biology and computer science
geography or history
one modern language
Similarly, Progress 8, established in 2016, assesses a student's progress on eight subjects:
English
maths
three other EBacc subjects
three other non-EBacc subjects
Since the introduction of these measures, there has been an increase in all EBacc subjects at GCSEs (except for modern languages) - and this has widened the pool for their uptake at A-level.
And there has been a decrease in entries to subjects not explicitly mentioned by the policy, such as economics, religious studies, physical education and the arts.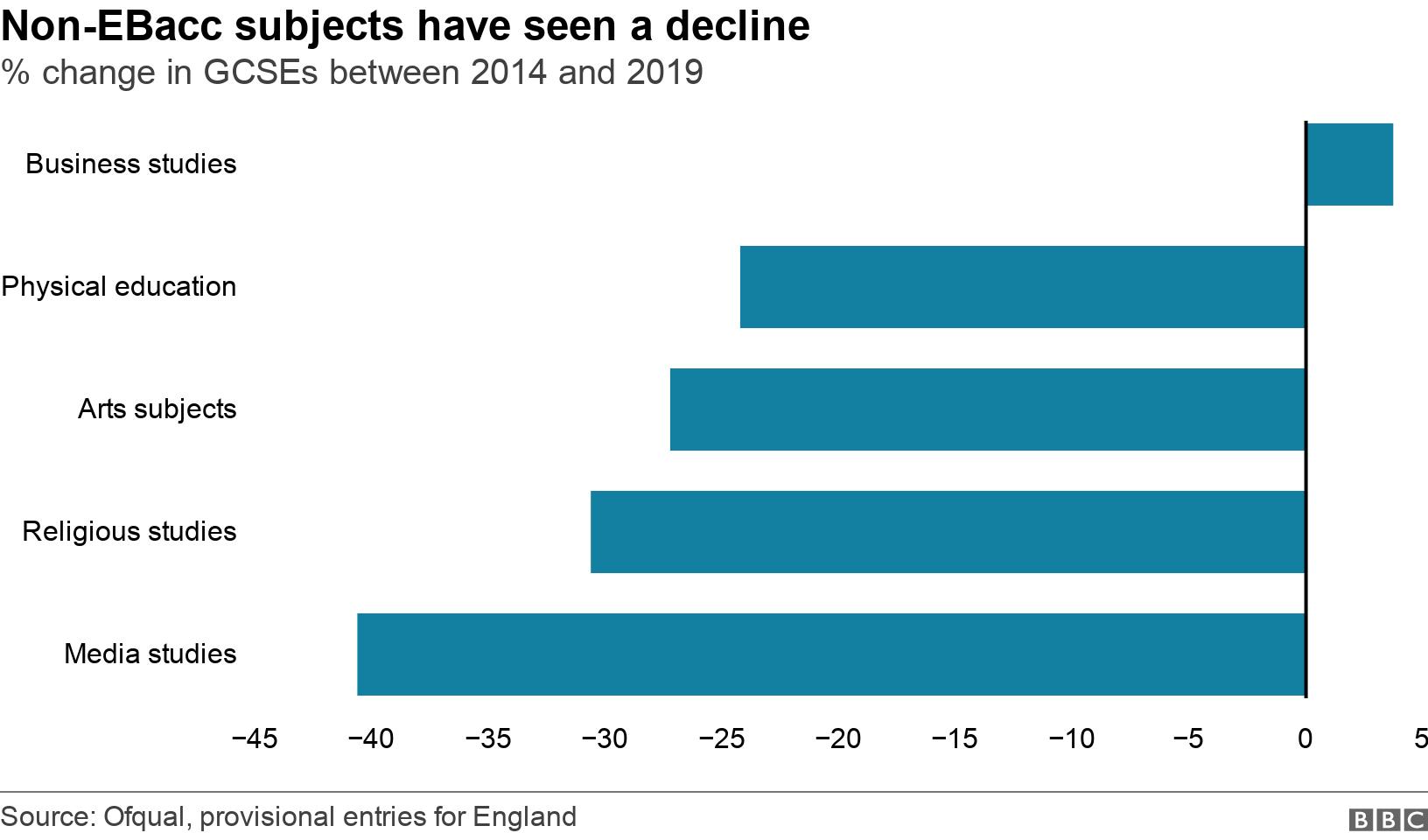 Progress 8 does leave room for arts subjects under the "other" category and the government says that the proportion of pupils taking at least one art subject at GCSE has remained broadly stable.
However, the Education Policy Institute disputes this, arguing that by limiting subject slots that can be filled by non-EBacc subjects, arts subjects are being squeezed out.
Its analysis shows the proportion of pupils taking at least one arts subject fell from 57.1% in 2014 to 53.5% in 2016 - and with more schools adopting the EBacc measures, this trend may continue.
Overall, the number of entries for arts GCSEs has decreased by 30,000.
The reforms came with major changes to course syllabuses in England, including GCSE English, which were aimed at making the subjects tougher.
The Association of School and College Leaders (ASCL) has called the reforms "a joyless slog", with pressure to memorise more quotes from a narrower field of texts.
They believe that this is part of the reason for the decline in English A-Levels.
The government points out that English still remains one of the most popular subjects and argue that "the reformed GCSEs in English are better preparing pupils for further study at A-level."
The recent separation - or decoupling as it's known - of AS-levels and A-levels in England could also be a factor.
"Students may previously have done three A-Levels plus one AS-level and may have done an arts subject as their additional subject," says Jill Stokoe, a policy advisor at the National Education Union.
This is speculative, she says, but English A-level uptake has fallen by 20% since the decoupling began in 2017 and a survey by the English and Media Centre (EMC), a charity which supports English education, suggests decoupling has been a key factor in the reduction.
This means English might be one of the subjects losing out as result of the limiting of choices at the start of A-levels.
The exams and qualifications regulator, Ofqual, says that part of the move away from arts and English is due to the shift to Stem subjects - something the government has actively encouraged.
The National Audit Office estimates that between 2007 and 2017, about £990m has been spent on "enhancing Stem skills", both for teachers and pupils.
Groups, including the British Council, the Incorporated Society of Musicians and Creative Industries Federation (CIF), have raised concerns over the decrease in arts subjects.
The CIF says the exclusion of arts subjects from the EBacc has signalled to schools "that creativity is not fundamental to future skills and jobs".
The government says that the creative sector is worth £92bn.
Interestingly, there's no indication yet that changes in subject choice in school exams have had a direct impact on university choices.
Statistics from the Higher Education Statistics Agency show the proportion of students taking up non-science subjects at university has remained relatively constant.
A government official said: "We have reformed A-levels to meet the expectations of universities and employers and our new gold standard GCSEs are more rigorous to match the best education systems in the world, better preparing young people for further study and the workplace."
This piece was originally published in August 2018, but has been updated to reflect new data.