Royal Mail to change fees which 'penalise' modern families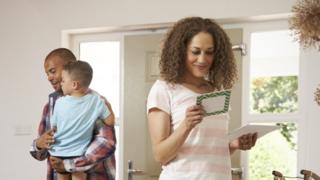 Royal Mail has agreed to change how it charges for its redirection service, after claims it currently discriminates against many modern families.
Citizens Advice said the service was "designed for households of the past" as it charged for each surname rather than by household.
This penalised families with multiple surnames, including unmarried partners and many same-sex married couples, the watchdog said.
Royal Mail is finalising new fees.
Currently, householders pay an upfront fee based on the length of time they want to use the service, with three packages ranging from £33.99 per surname for three months to £66.99 for 12 months.
Adding the cost of just one additional surname makes the service more expensive than in any other country, Citizens Advice said.
It also found that, since 2012, the price of a three-month redirection had increased by 74%, while second-class stamps had only gone up 12%.
'Double whammy'
Claire Worrall, 35, a medical doctor and researcher based in Oxford, told BBC News she felt Royal Mail needed to move with the times.
"I chose not to take my husband's name, feeling it was outdated, and also as a researcher I wanted to retain the name I have been published under," she said.
"We recently moved and chose to use the Royal Mail redirection service. At no point was it made clear we would be charged more for having different surnames. It came to around £67 for three months.
"It should be changed as this is not the way of the world anymore and I don't see how it costs Royal Mail double."
Of 4,000 people surveyed by Citizens Advice, 26% said the price was one of the reasons they did not use the service last time they moved.
Citizens Advice chief executive Gillian Guy said: "Many people rely on Royal Mail's redirection service, yet it's designed for households of the past.
"Consumers are facing a double whammy.
"Royal Mail has drastically increased the price of redirection over the years but hasn't changed its outdated price structure that assumes families always share the same surname.
"As the dedicated universal service provider, it has a duty to make sure this service is fair and affordable."
Royal Mail agreed there was a need for a different pricing system.
"We will change the pricing structure of our popular redirections service away from a per surname basis or anything similar," a spokesman for Royal Mail said.
"We are currently working on the details of this new pricing structure and will share it once it is finalised."