Lindsay Kemp, performer and Bowie mentor, dies at 80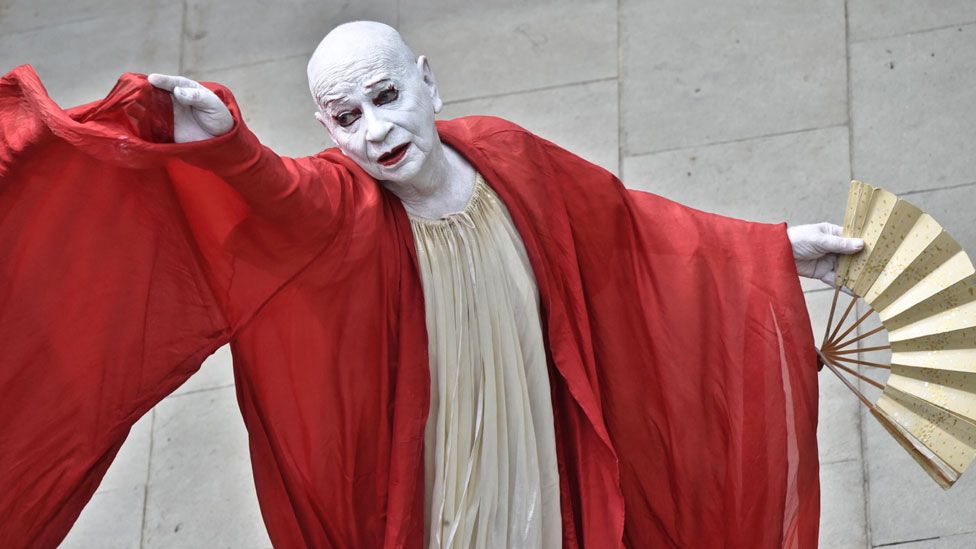 Kate Bush has paid tribute to ground-breaking dancer, mime artist and choreographer Lindsay Kemp, who has died aged 80.
She described Kemp - who taught her to dance - as "inspirational" and "a truly original and great artist of the stage".
He collaborated with David Bowie as he invented theatrical personas such as Ziggy Stardust.
Kemp died suddenly in Italy, where he lived, on Friday evening.
In her tribute, Bush said: "To call him a mime artist is like calling Mozart a pianist. He was very brave, very funny and above all, astonishingly inspirational.
"There was no-one quite like Lindsay. I was incredibly lucky to study with him, work with him and spend time with him.
"I loved him very much and will miss him dearly. Thank you, dear Lindsay."
'He changed people's lives'
David Haughton, his closest friend and collaborator for 45 years, said Kemp's death was like "losing a part of yourself".
He told BBC News that Kemp had been working up until his sudden death in Livorno, Italy, and had been "very busy and very positive".
"It is a huge shock," he said. "But if it had to happen, this was the best way. He was in a very good period - he had been working and dancing. He had no illness, he was with friends.
"He suddenly said he felt ill, and a minute and a half later he was gone."
Kemp's spectacular productions combined mime, dance, theatre and cabaret.
He was also known for his film cameos, appearing as a pub landlord in The Wicker Man in 1973 and as a pantomime dame in the film Velvet Goldmine in 1998.
Haughton, who first met Kemp in 1973, said: "So many people feel so very deeply about him. So many people have said their lives were changed by his performances.
"One feels the depth and breadth of inspiration that he has left. He was one of a kind. There won't be another like him.
"He did ground-breaking work in performance, without the divide of classifying it as dance, music, mime or prose. The concept of what performance is was influenced by him.
"And he performed in countries all around the world - performance is a very universal language."
Born in 1938 near Liverpool, Kemp grew up in South Shields and quickly discovered a love of dance.
"I realised that I wanted to dance when I first realised anything at all. I was born dancing," he said.
"For me dancing has always been a shortcut to happiness."
He first saw Ballet Rambert perform at the age of 17 and soon after hitchhiked to London to audition.
He won a scholarship, but needed to complete his military service first.
Kemp told BBC Newsnight in 2016: "I had a fairly tough time in the Air Force, because I didn't march… I danced."
He studied under expressionist dancer Hilde Holger and French mime Marcel Marceau before forming his own dance company in the 1960s.
In 1966, Kemp met David Bowie after a performance in Covent Garden when the singer was 19.
"He came to my dressing room and he was like the archangel Gabriel standing there, I was like Mary," he said.
"It was love at first sight."
Bowie became his student and his lover, performing in Kemp's show, Pierrot in Turquoise and gaining the theatrical inspiration for Ziggy Stardust.
"He was certainly multi-faceted, a chameleon, splendid, inspiring, a genius of a creature. But I did show him how to do it," Kemp said.
After teaching Bush to dance, Kemp described her as a shy performer who nevertheless was "dynamic" when she began to move.
The singer later dedicated the song Moving to him, pushing a copy under the door of his London flat.
Kemp said: "It was a very moving experience, because I didn't know she was a singer."
He made his mark on the world of modern dance with shows such as Cruel Garden, a collaboration with Christopher Bruce at Ballet Rambert.
Bruce told BBC News: "He was one of those people you thought was going to live forever and go on working forever.
"He was one of the most remarkable men ever created in British theatre. He has influenced so many people.
"He was loved and considered a great artist by so many in theatre. And he would make me laugh for hours - he was a great raconteur."
He said Cruel Garden, created in just four weeks, was "one of the toughest productions I've ever made". "There was terrific pressure," he added. "We fought, we battled away, we compromised and we came up with something which was a wonderful collaboration.
Celebrities paid their respects on Twitter, with comedian Julian Clary writing: "Rest in Peace Lindsay."
Doctor Who actor Barnaby Edwards described Kemp as an "absolute delight".
"The world will be less fun and less naughty without him," he added.
The actor and Bowie expert Nicholas Pegg shared a photo of himself on stage with the singer Marc Almond and Kemp, whom he called "one of life's originals".
The BBC is not responsible for the content of external sites.
Skip twitter post by Nicholas Pegg
Allow Twitter content?
This article contains content provided by Twitter. We ask for your permission before anything is loaded, as they may be using cookies and other technologies. You may want to read Twitter's cookie policy, external and privacy policy, external before accepting. To view this content choose 'accept and continue'.
The BBC is not responsible for the content of external sites.
End of twitter post by Nicholas Pegg
Director Nendie Pinto-Duschinsky, who was making a documentary about Kemp, said he had been rehearsing with students, preparing for a tour and writing his memoirs before his death.
"We always forgot that Lindsay was 80 - it doesn't seem like that when someone is so charismatic, so full of life and such a force of nature really," she said.