Fake cosmetics found to contain 'toxic' chemicals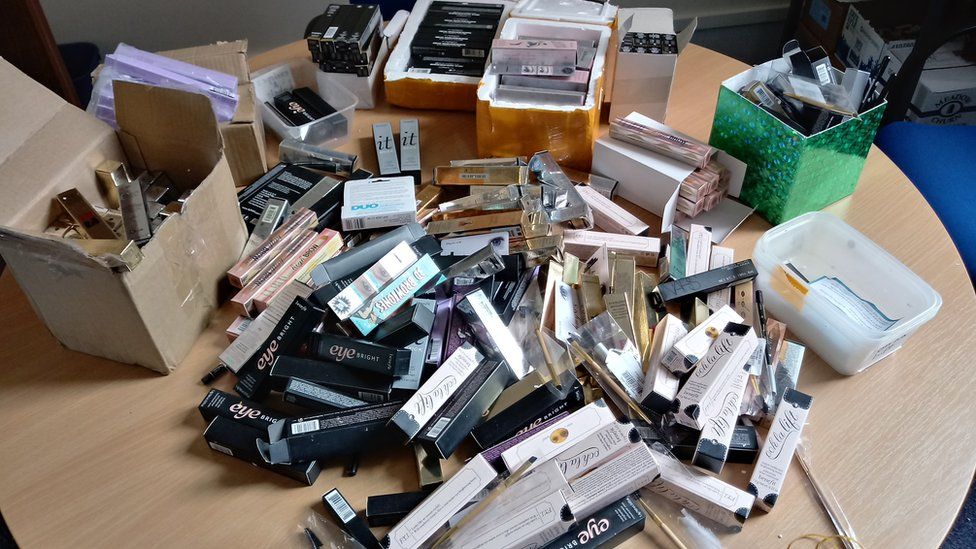 People are being warned about fake cosmetics after "toxic" chemicals such as mercury were found in seized goods.
Hundreds of thousands of pounds worth of counterfeit beauty products had been uncovered by councils, the Local Government Association said.
It said the products could "pose serious health risks", as well as defrauding consumers and businesses.
Some of the products being sold included counterfeit versions of well-known brands MAC, Chanel and Benefit.
The LGA said some of the chemicals found in these copycat products could cause chemical burns and skin rashes.
It also warned that exposure to mercury in fake cosmetics could have "toxic effects on the nervous system, digestive and immune systems, lungs, kidneys, skin and eyes".
One recent example it gave was a haul of cosmetics - seized by Devon, Somerset and Torbay Trading Standards - which were found to contain mercury and illegal levels of the skin-whitening agent hydroquinone.
Other council investigations found:
One woman who had received more than £48,000 from the sales of fake make-up in Nottingham. She was also found to have sold almost 350 fake Benefit mascaras alongside another woman, with an eBay sales value of £1,690
A tanning salon owner in Cheshire which sold more than £100,000 worth of fake designer products, including MAC and Chanel make-up
The sale of counterfeit designer products costs the taxpayer and businesses thousands of pounds every year, the LGA said.
Simon Blackburn, chair of its Safer and Stronger Communities board, said: "People should always do their research and take a pragmatic approach when they are buying make-up and cosmetics.
"Check the reviews of online sellers, and bear in mind that if something is really cheap, it's likely to be fake and could potentially be harmful."
He added: "It is vital that people report any concerns, so that councils can take action to prevent anyone being harmed or scarred for life."