The phone calls I made to my dead daughter
By Georgina Rannard
BBC News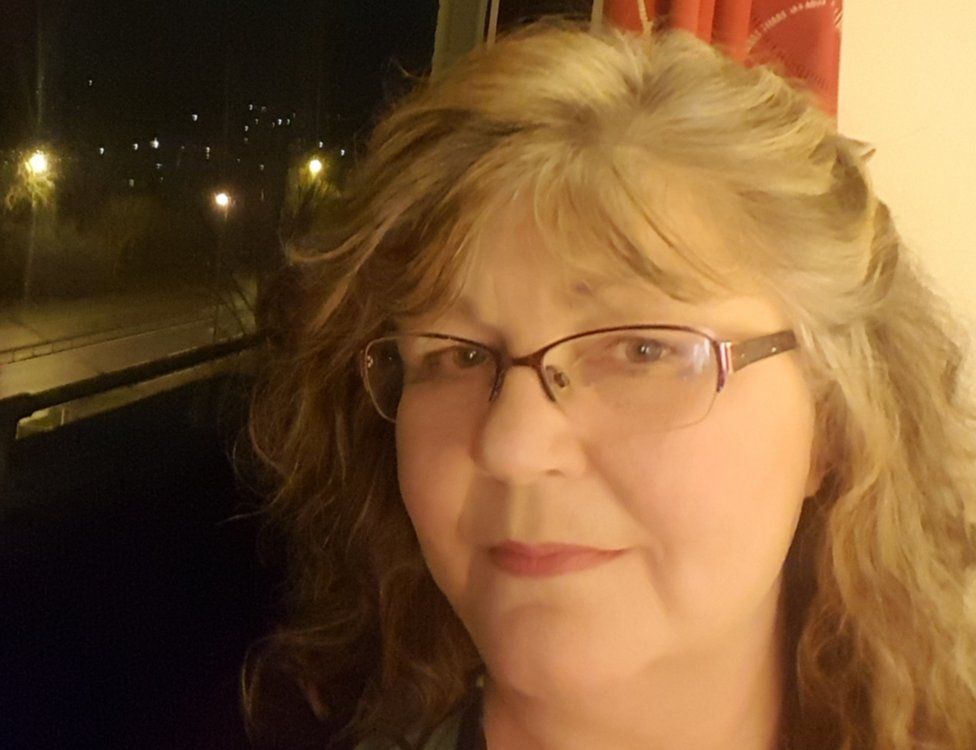 Nobody knows how they will react when a loved one dies - in the immediate aftermath or in the days, months and years that will follow.
Alison Rundle's daughter Jenny died suddenly, nine years ago, when she was 25 years old. A week after she was buried near their home in Durham, England, Alison called Jenny's mobile phone.
Of course Jenny didn't answer, but Alison heard her daughter's voicemail. She left a message.
"Where are you? Where have you gone?"
She called again: "What are you doing?"
Alison simply did not believe her beautiful, headstrong daughter wasn't there any more. If she could still text her, surely Jenny couldn't really be gone.
Every day, for the next two years, Alison called her daughter's bright pink phone.
She has never told anyone about the phone calls. They were private - an as yet uncut thread to her daughter - and Alison worried the habit made her sound "mad".
Earlier this year she replied to a radio presenter's tweet about finding secret texts from his 10-year-old daughter to her dead grandfather. "That kid is me," Alison thought.
She agreed to tell her story about Jenny publicly, hoping it will help others struggling after the death of a loved one.
Jenny died from an undetected heart condition when she was living at home. "We got up in the morning and she was dead. It was appalling," Alison explains.
"I'm quite an angry person - I call it my most accessible emotion. When Jenny died, I was really angry with her. 'How dare you die!' I thought.
"I kept asking her, 'why are you gone? What happened to you? Where are you?' I expressed all of this into the phone."
Some of Alison's family clumsily offered platitudes, saying Jenny's death "was God's will".
"I couldn't shout at home. Though I wanted to, I never did punch anyone, maybe because I offloaded on the phone to Jenny. 'How dare they say that to me?' I'd tell her."
There was no set time to call Jenny, but Alison panicked if she found she went to bed without speaking to her.
Sometimes she cried into the phone, and other days she'd just talk.
Jenny's phone was a basic pink up-and-down sliding phone, the type many people had in the 2000s. But on its answerphone, there was a permanent record of Jenny's voice.
"It was a very abrupt and rude message actually. I'd think 'why did she leave that message?'. I'd hated it when she was alive too. She was a lively, lovely girl - so full of herself at that age," Alison recalls.
Before smartphones made video so easily recordable, it was common for people to say they wish they could hear a dead loved one's voice "one more time".
Alison didn't feel that impulse. Calling Jenny wasn't about bringing back a living essence of her. "I didn't call hoping she would answer. I knew she wasn't there. I can't spend my life like that - it makes you ill," she says.
Instead Alison found herself expressing and processing how she felt. The calls became a confessional.
"I had things to say that I couldn't say to anyone else - that's why I called."
After the inquest into Jenny's death concluded, a year later, the phone calls changed. Alison felt she couldn't grieve openly any more because it upset those around her.
Instead she chatted to Jenny, passing on family news - "hi Jenny, your sister has had a baby", and "we're going on holiday to this place", or "your friend has passed her driving test".
You might also be interested in:
Those brief moments comforted her in the loneliness of her grief and missing her daughter.
As she consoled her husband and daughter Bobbie, Alison lacked someone to look after her in turn. She thinks that happens more often than people realise.
"My husband did try of course, but I had no-one to look after me in the way that I could look after the people around me.
"I wonder now whether the phone was a sort of therapy for me," she says.
Despite the relief these daily chats brought her, Alison knew she had to force herself to stop dialling Jenny's number.
The regular catch-up became once in a blue moon, and eventually, she stopped calling the pink phone.
When Alison looked recently, she realised the phone couldn't be found.
"I thought I would be upset, but actually I think it's something that needs to be finished. She's not gone for us, but that part of my life has. It's over now."
Alison has an open and straightforward manner. She knows that some things she did probably look strange to the outside world.
Jenny was buried in a woodland grave, next to an oak tree, and once when Alison visited, she worried her daughter was cold.
"I planted bamboo sticks in the places where I thought her feet were and hung a pair of socks from them.
"It's ridiculous because I don't believe in heaven, in this idea of everyone having a party up there. I know where Jenny is - she's dead in the ground. But I guess I was covering all my bases."
Though Alison has lost other people dear to her, including her mum, she has never felt the same instinct to call them.
As most psychologists will say, everyone has their own way of dealing with grief, and there are some things Alison still can't bring herself to do. Jenny loved instant gravy and she can't bear to keep it in the house to this day, for example.
Although she no longer calls Jenny, the family keep alive her memory.
"Sometimes nine years is a long time ago, other times it seems like yesterday. But I can say now that life is good - I have a good husband, I am a grandma.
"We make sure the grandkids know about Auntie Jenny. I'm keeping a chest of her clothes for them. I love talking about her. It would make me happy to think it helped others too."
Child Bereavement UK provides specialised support and information when a child is bereaved. Their free helpline number is 0800 02 888 40.
Mental Health Foundation provides a guide to Mental Health problems, topical issues and treatment options via their website.
Mind provides advice and support on a range of topics including types of mental health problems details of local help and support in England and Wales. Phone: 0300 123 3393