Royal Mail release special stamp collection for Old Vic bicentenary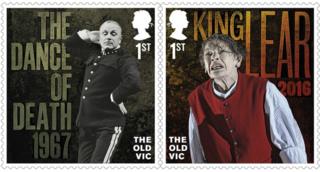 Some of the UK's best-known actors feature on stamps released to celebrate the bicentenary of the Old Vic - one of Britain's leading theatres.
Each of the stamps released by the Royal Mail feature an image of an actor pictured during a celebrated performance at the venue in London.
They range from Richard Burton, who was Henry V in 1955, to Glenda Jackson, who appeared as King Lear in 2016.
The Old Vic, originally called the Royal Coburg, first opened in May 1818.
Other stamps include Dame Judi Dench, who features alongside John Stride during a performance of Shakespeare's Romeo and Juliet in 1960, while Dame Maggie Smith is pictured in Hedda Gabler in 1970.
Sir Laurence Olivier's performance in The Dance of Death in 1967, Albert Finney in Hamlet in 1975 and Ralph Richardson and John Gielgud in No Man's Land in 1975 also feature.
Sharon Benson, who features on a stamp in her 1991 role as Carmen Jones, said: "When I first saw a picture of it last year I thought 'wow!'
"They've picked the best image to depict my favourite memory of the performance."
Philip Parker, Royal Mail, said: "The Old Vic is remarkable.
"So many of our finest actors have trodden its boards and it has been instrumental in shaping UK theatre."
Old Vic Artistic Director, Matthew Warchus, said: "We are delighted to be collaborating with Royal Mail on this special stamp edition."