'Drunk Royal Navy sailors arrested on Florida shore leave'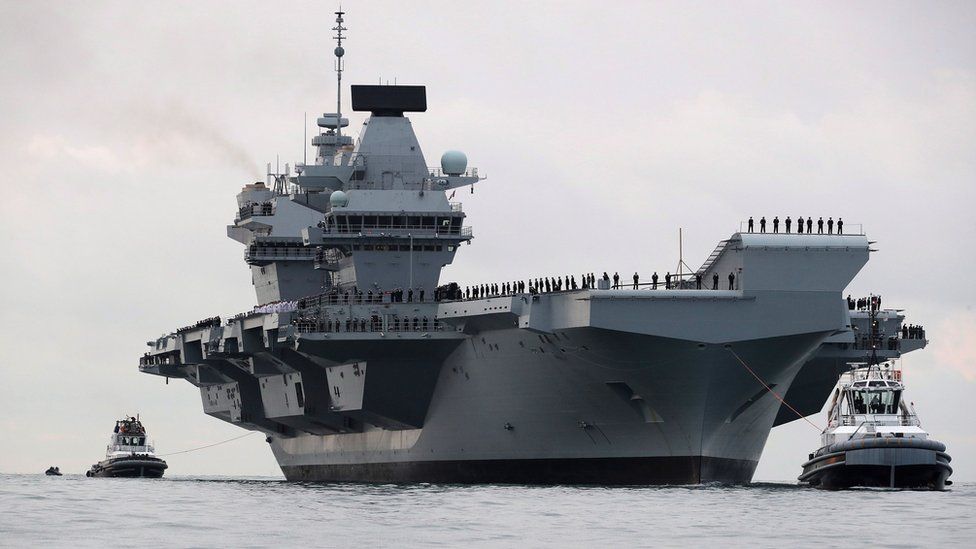 Royal Navy sailors, reportedly from the UK's £3.1bn flagship aircraft carrier HMS Queen Elizabeth, have been arrested in Florida.
The sailors, on shore leave, began fighting and urinating in public, according to local newspaper reports.
Six crew members were arrested on drunk and disorderly charges on Wednesday, Sgt Larry Smith of Jacksonville Beach police department is quoted as saying.
At least one sailor was tasered after resisting arrest, the reports add.
The Ministry of Defence confirmed that six naval personnel were arrested but were unable to confirm whether they were from HMS Queen Elizabeth or other support ships.
A Navy spokesman said crew were "assisting US police with their enquiries", adding: "It would be inappropriate to comment further at this time.
"The Naval Service places great importance on maintaining the highest possible standards of behaviour from its personnel at all times."
According to the Sun newspaper the sailors were all released on Thursday morning and allowed to return to their ship.
HMS Queen Elizabeth, the UK's newest aircraft carrier, set sail for the US from Portsmouth on its maiden voyage on 18 August.
The 65,000-tonne warship was docked at Naval Station Mayport on Wednesday.
It is expected to embark on its first operational deployment in 2021.
Related Internet Links
The BBC is not responsible for the content of external sites.