Mark Lawrenson's cancer diagnosis and other TV stars 'saved' by viewers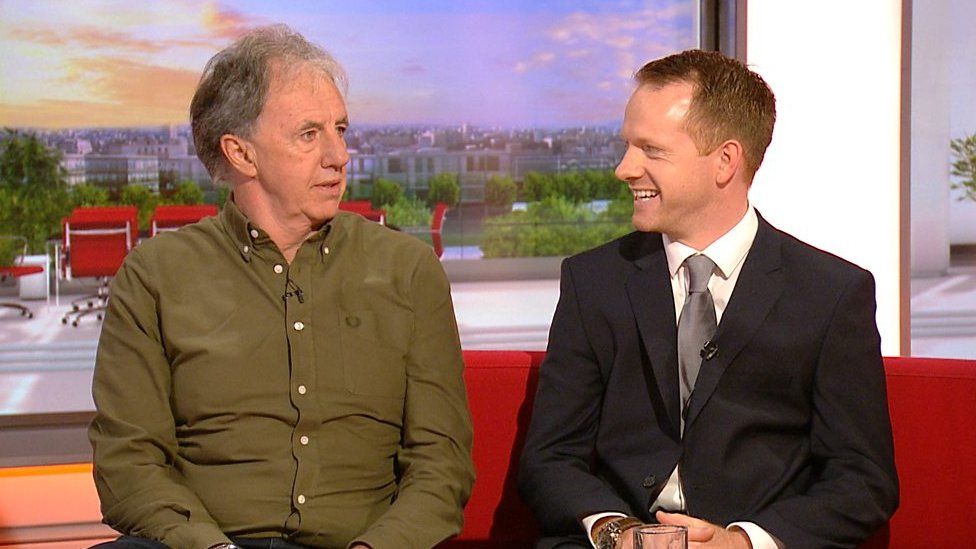 Football pundit Mark Lawrenson was recently given the all-clear following a cancer scare.
In June, GP Alan Brennan emailed the BBC show to say he had observed a dark patch on Lawrenson's face while watching the BBC football commentator on the television.
The 61-year-old pundit said he had been aware of the "blemish", but had put it down to too much time in the sun in an era before regularly applying sun cream became the norm.
"Like a typical 60-year-old bloke, I had been putting it off rather than sorting it out.
Skip twitter post by Mark Lawrenson
Allow Twitter content?
This article contains content provided by Twitter. We ask for your permission before anything is loaded, as they may be using cookies and other technologies. You may want to read Twitter's cookie policy, external and privacy policy, external before accepting. To view this content choose 'accept and continue'.
The BBC is not responsible for the content of external sites.
End of twitter post by Mark Lawrenson
It's not the first time someone has been diagnosed via the television.
Five years ago, Tarek El Moussa, a former estate agent and co-host of the US property show Flip or Flop, was alerted to a lump on his neck by a nurse who had seen him on the home makeover show.
Ryan Reade contacted cable channel HGTV who informed El Moussa of her concerns.
"I noticed that at certain angles, at certain times, it just caught my eye that Tarek had a lump on his throat," Ms Reade told Today
"I thought it was something that needed to be brought to his attention."
Mr El Moussa, who had been struggling with a smoker's cough for some time, called Reade's intervention a "lightbulb moment".
Doctors confirmed that he had stage-2 thyroid cancer.
Within a month of the biopsy in 2013, El Moussa - now 37 - had his thyroid and lymph nodes removed and began radiation treatment. The presenter is now cancer-free.
Doctors have pointed out that a lump in the neck can sometimes be the only initial symptom of thyroid cancer, meaning it can take a couple of years before it is diagnosed.
Remarkably, a similar incident occurred on the same US network earlier this year when an ENT (ear, nose and throat) doctor in New York spotted a lump on the throat of a potential homebuyer on HGTV's Beachfront Bargain Hunt: Renovation.
Nicole McGuinness had already overcome cancer once, having survived a Stage-4 brain tumour, but Dr Erich Voigt was concerned by a lump he spotted on her throat while watching the TV show.
On 5 May, he posted a message on his Facebook account, calling on his friends to help him get in touch with Nicole.
"I am watching a TV show and notice this woman has a left thyroid mass. She needs a sonogram and fine needle biopsy. I wonder if she knows and hope it's benign. #beachfrontbargainhunt," he wrote on Facebook, accompanied by footage of Ms McGuinness.
A month later, he posted that Nicole had been tracked down and had followed his advice. The biopsy had revealed thyroid cancer.
Ms McGuinness, who does not have a Facebook account but was contacted by a friend of her mother's who saw the post, thanked Dr Voigt "from the bottom of my heart".
'It's just a miracle, in my opinion, that he happened to see this on television,' she said. She is currently undergoing treatment.
Piers Morgan too, claims he had a lucky escape.
In December 2017, he was contacted by a melanoma expert who spotted a lesion on Mr Morgan's chest while he was filming an ITV documentary about serial killers.
Gillian Nuttall, founder of Melanoma UK, urged the Good Morning Britain presenter to have the blemish checked.
"Piers, at the risk of sounding like a lunatic, I'm just watching your programme and there's a blemish visible on your chest. Have you had it checked?" she emailed.
Morgan was quick to follow her advice and the blemish was removed on the advice of a "top dermatologist".
"Much further delay, he informed me, and it might well have turned cancerous," he said. "'Give that lady a gold star!
"Oh the irony of a serial killer inadvertently helping to save my life."