Scallop negotiations end with no deal, say fishing leaders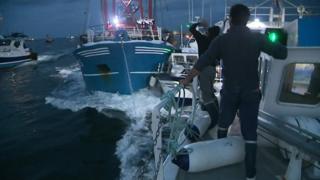 Talks between the UK and France to end a dispute over scallop fishing in the English Channel have ended without agreement, fishing leaders have said.
Crews clashed last month over laws that allow British boats to gather scallops year-round, but place restrictions on French vessels.
Both sides had initially agreed on the principles of a deal.
The Scottish White Fish Producers Association (SWFPA) said vessels were now free to return to the area.
Tensions rose over scallop fishing in the Baie de Seine in August when 35 French boats confronted five British craft off the coast of northern France.
There were reports of stones and smoke bombs being hurled at UK fishing crews.
The SWFPA said on Wednesday evening: "So disappointing for everyone; so near but yet so far.
"A period of understanding and acceptance is required at this time. No-one wants to see conflict on the high seas. Hopefully lessons learned by all."
One of the boats featured at the centre of the clashes was the Peterhead-registered Honeybourne III.
France's agriculture minister Stéphane Travert said he regretted that the talks had ended without consensus.
He said the French fishermen had proposed reasonable compensation to smaller UK vessels in return for them delaying their entry into the Bay of Seine.