Police seal off Salisbury restaurant over 'medical incident'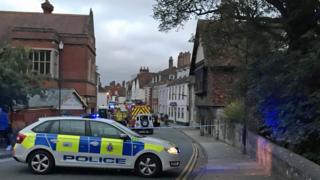 Police have sealed off a restaurant in Salisbury and the surrounding area as a "precautionary measure" after two people were taken ill.
The ambulance service called officers to Prezzo in High Street at 18:45 BST following "a medical incident" involving a man and a woman.
Wiltshire Police said it was trying to establish what led them to fall ill.
The ambulance service said the patients were conscious and being treated at the scene.
South Western Ambulance Service said it was first called at 17:38 BST.
A witness who was in Prezzo during the incident told the BBC that one of those taken ill was a woman in her late twenties - she appeared to be at a table on her own and "kept going away, getting up and coming back again".
The witness added that when that woman came back in, "she was hysterical. She called paramedics and the next thing an ambulance turns up and they come rushing in and then they rush out again."
BBC south of England correspondent Duncan Kennedy said that Public Health England is aware of the incident but "there's no suggestion that this is connected to the Novichok incident back in March".
BBC reporter Emma Volney, who is outside the police cordon, said there were five ambulances, a dozen police officers, and members of the fire service in attendance.
She said that "the high street, usually a vibrant part of the city, is closed off to the public and about a dozen officers are policing the scene."
Witness Sam Proudfoot, 16, said: "There's a man in a full white body suit with a mask to his mouth going in and out of the back of the ambulance and the restaurant."