Police rule out Novichok link to Salisbury diners becoming ill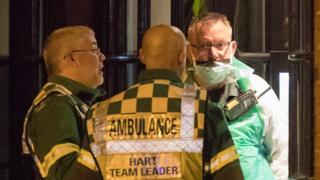 Police say there is "nothing to suggest that Novichok" was the cause of two people falling ill at a restaurant in Salisbury.
Wiltshire Police declared a major incident after a man, 42, and a woman, 30, became ill at Prezzo in High Street on Sunday evening.
A cordon around Prezzo remains in place and tests are continuing to establish the cause of the illness.
Police say they are no longer treating the illness as a major incident.
A Wiltshire Police statement said: "Due to recent events in the city and concerns that the pair had been exposed to an unknown substance, a highly precautionary approach was taken by all emergency services."
The two people affected were taken to Salisbury District Hospital and remain under observation.
Det Sgt Jonathan Davies-Bateman said: "Although we were able to rule out the presence of Novichok quickly, tests are ongoing to understand what, if anything, the pair have come into contact with which may have caused them to fall unwell.
"It is crucial that this is done methodically. At this stage, it is unclear as to whether or not a crime has been committed."
In March Russian ex-spy Sergei Skripal and his daughter Yulia collapsed in the centre of Salisbury after being exposed to the nerve agent Novichok.
After weeks in hospital they were released, but in June two Amesbury residents fell ill after being exposed to the same nerve agent. Dawn Sturgess, 44, died and a murder inquiry was launched.
The UK government has accused two Russian men, Alexander Petrov and Ruslan Boshirov, of attempting to kill the Skripals.
But in an interview on a Russian state-run news channel, they claimed to be tourists. Russia has denied any involvement in the poisoning.