Woman billboard removed after transphobia row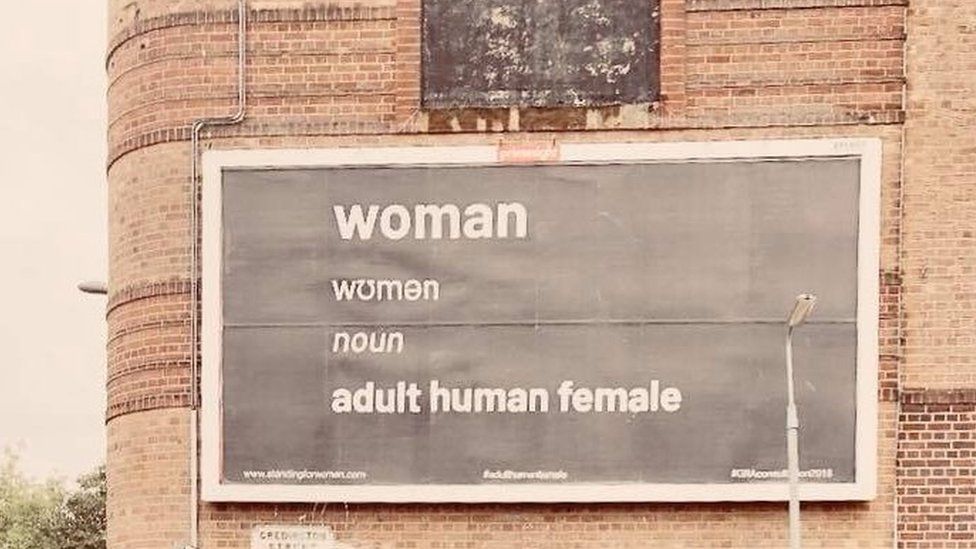 Kellie-Jay Keen-Minshull told the BBC she paid £700 to have "woman, wʊmən, noun, adult human female" put up.
But it was removed after an LGBT activist complained Ms Keen-Minshull's campaign represented a "hate group".
Ms Keen-Minshull denied the allegation, but said the idea that trans women were women was "preposterous".
Dr Adrian Harrop, whose complaint led to the poster's removal, said the billboard was a "symbol that makes transgender people feel unsafe".
Dr Harrop, who is not trans but describes himself as "an ally of the transgender community", added there was "no doubt" in his mind the installation of the poster was motivated by that desire.
However, Ms Keen-Minshull said her "main concern" was that the word "woman" was "being appropriated to mean anything".
She added the purpose of the poster had been to "start a conversation" about women's rights.
Advertising company Primesight, which installed and then removed the poster, said it had been "unaware of the motive" behind Ms Keen-Minshull's campaign.
Primesight added it had been "misled" by the campaign's "messaging" and was "fully committed to equality for all".
While trans people already have the right to legally change their gender, the government is looking at ways of simplifying the process, including making it easier for people to change the gender on their birth certificate.
In response to the poster, LGBT charity Stonewall said: "Our 2018 Trans Report revealed that one in eight trans employees (12%) have been physically attacked at work, while two in five trans people (41%) have experienced a hate crime or incident in the last year.
"These are not just statistics, they represent the lives of trans people, which are only being made worse by increasingly frequent attacks in the media, online and in public spaces.
"If we want to improve life for trans people we need more people and organisations to be visible, active allies."