Westminster attack: Unarmed officer tried to 'tackle' Masood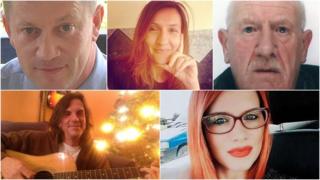 An unarmed police officer has told an inquest about trying to "rugby tackle" the Westminster attacker as he brandished two knives outside the Houses of Parliament.
PC Nick Carlisle was posted on the gates on March 22 last year when Khalid Masood stabbed PC Keith Palmer.
Masood also drove into and killed four people on Westminster bridge.
PC Carlisle said he distracted Masood so his colleague could get away, but PC Palmer died of his injuries.
The inquest into the deaths of PC Palmer, 48, Kurt Cochran, 54, Leslie Rhodes, 75, Aysha Frade, 44, and Andreea Cristea, 31, is taking place at the Old Bailey in central London.
Masood, 52, was shot dead by armed police during the attack and an inquest into his death is due to start after the inquests into his victims.
When asked by lawyers if he had any doubt around what Masood wanted to do, PC Carlisle said: "None whatsoever.
"He looked me directly in the eye. He was coming through a crowd of people. He was not interested in members of the public.
"He was coming to kill police officers."
'I was very close'
The police officer saw smoke coming through the fence where Masood had crashed his car after the attack on the bridge, followed by crowds of people screaming and surging towards Parliament Square.
PC Carlisle said: "A man wearing a suit in his 40s shouted 'men with knife stabbing people, men with knives'.
"As soon as he said that I was drawn to the attacker just behind."
After backing away, the officer then saw Masood had caught PC Palmer.
"I ran forward intending to issue a rugby tackle, shoulder barge," said PC Carlisle.
"He came at me with knives up. I was very close."
But the distraction worked and gave PC Palmer enough time to get up and run as his colleague shouted for "armed support", the inquest heard.
PC Carlisle then pointed out the attacker to the armed police and Masood was shot.
He saw PC Palmer on the ground surrounded by a "gaggle of people" and went to help, but his colleague was pronounced dead at the scene.
Hugo Keith, representing the Metropolitan Police at the inquest, said: "You bravely attempted to go towards Masood and PC Palmer to try to disable Masood, but the reality was there was no time to stop him before he got to PC Palmer and once he turned towards you with his knives there was no time or ability to stop him after that."
PC Carlisle replied: "It's fair to say, sir."
Lawyer Susannah Stevens thanked PC Carlisle on behalf of PC Palmer's family for his bravery.
'Systematic failures'
Later, lawyers gave their closing statements to the inquest as the evidence into the attack came to a close.
Dominic Adamson, who represented PC Palmer's widow, Michelle, said there were systematic failures in parliamentary security systems.
"As a result of those failures the consequences for PC Palmer were that there was a substantial loss of the opportunities for him to be saved," he added.
Ms Stevens said the lack of firearms officers protecting the entrance to parliament contributed to PC Palmer's death.
And Gareth Patterson QC, for families of victims on the bridge, said were "troubling areas of concern" from the inquest.
He urged the coroner to make a report on the circumstances of the case to "protect the public".