MP Preet Gill queries police raids on Sikh homes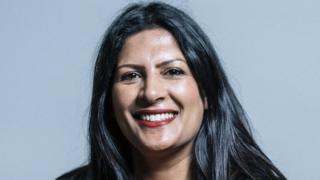 A Labour MP has said she wants to know why details of five Sikhs in the UK were leaked to Indian newspapers after their homes were raided by police.
Preet Gill said she was told the Indian authorities had no role in the raids carried out on the addresses.
Sikh activists have said they believe the raids were instigated by the Indian government, a claim denied by police.
West Midlands Police counter-terrorism officers searched the addresses in the Midlands and London last month.
The force said it had targeted suspects accused of being involved in extremist activity in India - but no arrests were made.
Since then the names and details of five Sikh activists were published in Indian newspapers, which has sparked claims by Sikh groups in Britain that the Indian authorities were involved in the operation.
'Horrible experience'
Shamsher Singh, a well-known British Sikh activist, was one of the five whose homes were raided in Birmingham, Coventry and west London. He said the raids left him and his family traumatised.
"The whole experience was really horrible and totally absurd. It was really out of the blue. I don't really understand it," he said.
"Things happened to my friends, their children and elderly family members that I never thought would happen in this country."
Ms Gill, the MP for Birmingham Edgbaston, who was the first female Sikh MP elected to the UK Parliament, said there were unanswered questions.
"We're trying to establish the facts," she said. "We're trying to establish why in the Indian media you have one story, while here the West Midlands Police have given out very little information but have actually stated to myself that these raids were not conducted as a result of India requesting this to take place. Now the information being put out in the public domain is quite contradictory."
Ms Gill said there were concerns in the Sikh community that any Indian involvement could be linked to the case of Jagtar Singh Johal.
Mr Johal, from Dumbarton, was arrested in India last November and is still being held in an Indian jail without charge - accused of being involved in political violence in Punjab.
"The fear in the community, when I've spoken to many of the organisations, is that because there's been no charge on Jagtar Singh Johal in India, are these raids to try and build some kind of evidence?" said the MP.
"And therefore are they targeted and have they been done in an underhand way, which is something Gareth Peirce, who is representing the five, will be looking at."
Indian journalist Manoj Joshi said: "The threat of Sikh extremism in India isn't very serious. But it would be in the Indian government's interest to keep track of it.
"Because there are areas which are used for fundraising and propaganda so I think it is a legitimate interest of the government in India to at least keep track of this and to tip off British authorities if they think something could become more serious."
Shamsher Singh said the raids had gone down very badly with Sikhs in the UK.
"I don't really understand it because can West Midlands Police investigate stuff that happened in India? Are they acting on behalf of the Indian government?
"It's really confusing at the moment, so we've got lawyers, Sikh organisations and Sikh politicians who are trying to work this out and understand what's happened.
"From what I've seen Sikhs are enraged because they think that Sikh activists are being targeted."
West Midlands Police denied any involvement by the Indian government. In a statement the force said the operation was carried out based on intelligence gathered over a period of time related to terror offences relating to activity in India and fraud offences.
It also said the operation was not directed by either the UK or Indian governments and also denied it was connected to the Jagtar Singh Johal case.
The Indian government has been approached for comment but has not responded.
The five Sikh activists have said they are seeking a legal case against West Midlands Police and Ms Gill said she would raise the issue with Home Secretary Sajid Javid.