How a doodle a day helped me survive first year without my wife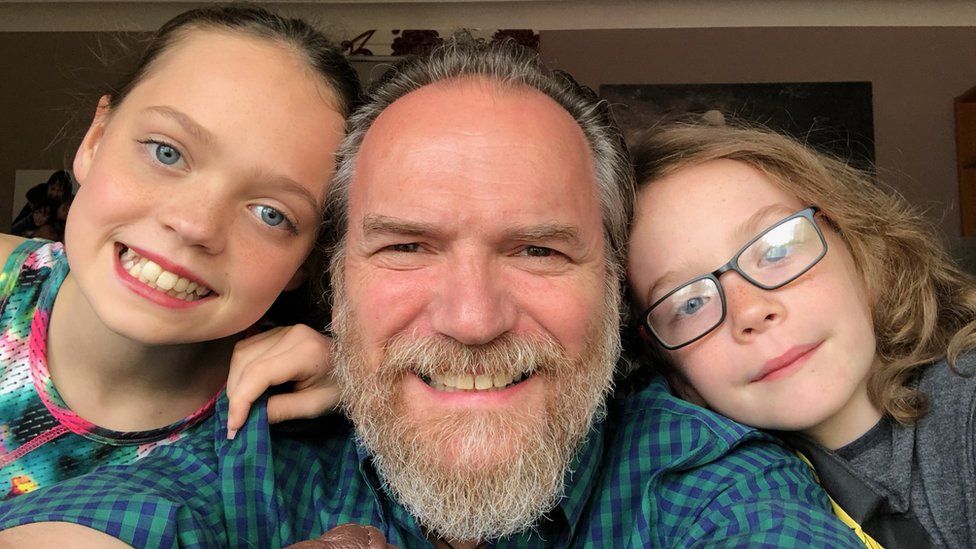 How do you cope with the unexpected death of your partner of 19 years?
That was the question facing Gary Andrews, 57, when his 41-year-old wife Joy died suddenly almost a year ago.
Over the last 12 months he has discovered that, for him, the answer is doodling - a doodle a day to be precise.
Gary, an animator and illustrator who has worked on Fireman Sam and for Disney, began his doodle diary, which he shares on social media, on his 55th birthday in 2016.
In a digital age he says he missed the scratch of pen on paper so "made it a habit, last thing at night, to do a little sketch based on something that had happened that day".
However, it took on added significance when his wife, with whom he lived in Surrey along with their two children, died from sepsis.
These were his first doodles following her death on 27 October:
His week had started with his wife waving him off at Heathrow Airport on a Monday for a work trip to Canada.
After a few days of feeling ill with flu-like symptoms, Joy was taken to hospital on the Thursday with a suspected kidney infection but her condition deteriorated rapidly.
On the Friday at 03:15 she died from multiple organ failure caused by sepsis. Gary, in the departure lounge in Vancouver waiting for an emergency flight home, was told when he landed back in the UK.
He had lost the woman he had been married to for 13 years, the person he describes as his best friend, and the mother of his two children - Lily, then 10, and Ben, then seven.
The doodles were something they used to share together. "When Joy died it became a form of therapy for me," he says.
"I thought I've got to keep it going because we used to look at it every night, so after she died I wasn't going to stop because it's who I am and it helps me think about what happened that day."
They often feature Joy's presence and he says he finds it comforting, rather than difficult, to draw her.
"I close my eyes and I see her," he says. "She's very present in our lives all the time, in our conversations, so drawing her just feels really natural.
"I've drawn her for the last 20 years."
One drawing which holds a particularly strong memory for him is the one he did on the day of the ceremony they held to celebrate her life.
"That's the only one I've ever done where I've had to draw it through tears," he says. "I think I cried the whole time I was drawing it, but it needed to be done."
As he shared his doodles on social media, his family and friends were able to keep track of how he was coping following Joy's death.
"They liked it because it showed them where I was, my state of mind," he says.
It was another way of communication. A phone call would often follow if he posted a couple in a row which made them worry.
He says without doodling, he wouldn't have had an outlet for his thoughts.
"The great thing about the doodle is once it's down on the paper, the thought is out.
"You've got it out and can let it go. If it's a sad, negative thought - I get it down, I get it out. It kind of releases it, and then you can move on."
The doodles, which he draws in notebooks kept in chronological order on a shelf, have also been therapeutic for his children who he says "love seeing them".
"Lily will pick them off the shelf and go through the old ones. It's lovely that they can look back at it and use it as a memory.
"They laugh at the funny things they've done and they see the pictures of mum."
He sees it as important to document the funny moments in life as it is the poignant occasions.
"It might just be a day where my son says something stupid - and that will go in the doodle," he says. "It's important to be able to laugh through grief.
"Life does go on, it has to. It has to be as silly and funny as it once was."
Gary has more than 30,000 followers on Twitter and says he has experienced a "universally lovely" reaction to his doodles, which shows how they have struck a chord.
"People who are in a similar boat are seeing me write stuff, draw stuff, that relates to something happening in their life which maybe they haven't been able to articulate," he says.
"Or they see something that's been happening to them and realise they're not alone in feeling that."
"I had the best relationship," he says. "We had 19 fantastic years. I was the luckiest guy. The universe decided I wasn't going to get that any longer but some good has to come out of it."
So as the anniversary of his wife's death approaches, will Gary be able to keep producing a doodle a day?
"The interaction with people has been lovely," he says. "It's nice to know that there is a community out there, some of whom are taking comfort in it.
"I can't see why I would want to stop. I love doing it. I love putting my day on a piece of paper."
Sepsis is triggered by infections, but is actually a problem with our own immune system going into overdrive.
As the condition develops, symptoms may worsen and some more distinctive warning signs or "red flags" can emerge.
These vary from patient to patient, but after discussions with sepsis survivors the UK Sepsis Trust has compiled a list of the six most common signs.
Slurred speech or confusion
Extreme shivering or muscle pain
Passing no urine (in a day)
Severe breathlessness
"I feel like I might die"
Skin mottled or discoloured