The clocks go back and cold weather is on its way: Some tips to help you cope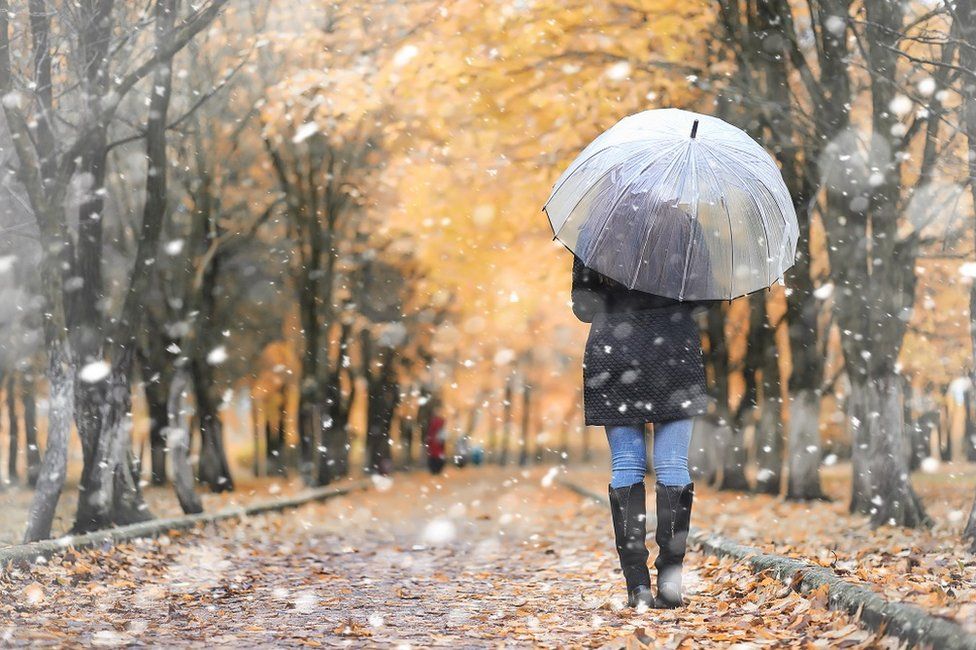 No, really. IT IS COMING.
You may have forgotten cold weather is even a thing as Britain basks in the glow of a particularly mild autumn.
But the annual descent into winter is due - temperatures will plummet as low as 1C this weekend.
To add to the shock the clocks go back on Saturday night, so it's going to get even darker in the evenings.
Whether you love or loathe winter, here are some tips to keep you happy and healthy.
How can I prepare my mind?
Feeling gloomier in winter isn't unusual for many of us - but for a small minority there could be a biological cause.
Seasonal affective disorder (SAD) is clinical depression brought on by the changing seasons.
Research is yet to provide conclusive results on its how it works, but there are a number of theories based around a lack of sunlight disrupting our sleep cycles.
Dr Cosmo Hallstrom, from the Royal College of Psychiatrists, explains it could be related to "the natural phenomenon of hibernation", as well as the hormone melatonin.
Methods of coping, he adds, include the use of a light box (to mimic sunlight) and regular visits to sunnier countries.
The NHS recommends light boxes, saying 30 minutes to an hour per day should be enough to make a difference.
But helping your mood isn't just about the weather - improving your lifestyle through healthy eating and exercise will also help.
How can I prepare my body?
Healthy eating and exercise could also stave off illnesses associated with the winter months.
The NHS advises that regular consumption of fruit, vegetables, milk and yoghurt - dairy products contain protein, vitamins A and B12, and calcium - will help to boost your immune system.
Winter vegetables - carrots, parsnips, swede, turnips - are perfect either for roasting, mashing or making soup.
Eating hearty breakfasts containing fibre and starchy foods like cereal will also keep illness at bay, as will regular exercise.
To keep "winter tiredness" at bay, the NHS suggests getting "outdoors in natural daylight as much as possible" as well as counteracting stress with meditation.
How can I help others during the colder months?
For some in the UK the weather poses a serious threat.
At least 449 homeless people are reported to have died in the UK during the last 12 months, some as the result of freezing conditions.
Here are a few ways you can help:
Homelessness charity Shelter suggests using a hot drink or some food as a conversation starter to see "what other type of support the person may need"
If you're worried about a homeless person, StreetLink provides a platform for anyone to refer them to local support services
Homeless Link, meanwhile, provides a directory of day centres that offer food, showers, laundry and shelter from the cold
At home, the NHS advises temperatures are kept at a minimum of 18C during the winter - especially if people are immobile, over the age of 65 or have a health condition.
...there is much to embrace
Despite the darker nights, there's plenty to look forward to in the months ahead.
For those prepared to brave the outdoors, skiing in the Cairngorms, ice climbing in Kinlochleven, ice skating at Somerset House or even curling in Tunbridge Wells is available.
Many, though, will (unsurprisingly) prefer to spend their free time out of the cold.
Need inspiration for how to spend that time?
In Denmark, the concept of "hygge" (pronounced "hoo-gah") means perfecting the art of creating a warm atmosphere or cosiness through experiences.
Hygge is a "fundamental" aspect of your approach to life, explains Danish anthropologist Jeppe Trolle Linnet - and he says it fits well with how we view winter.
"The essence of it is how people relate to each other," he explains.
"Pay attention to each other, give each other quality time, relax together and leave some of the discipline of work and fitness aside."
Leave fitness aside? No problem.
So for those looking for their own "hygge" in the coming months, fire-side evenings in old pubs, carol singing with friends and spiced hot drinks are fine - as is any activity, for that matter - as long as you're doing it with the people you love.
Can't be bothered to socialise?
Following the theme of Nordic lifestyle trends, why not try päntsdrunk?
This is more than a niche pastime in Finland.
Finnish writer Miska Rantanen says the concept was born as a way of coping with long, dark winters when people couldn't be bothered to face the cold outside in order to see friends - so got drunk at home instead.
There's something for everyone, it seems.