Outdoor wedding rule change 'will make a world of difference'
By Emma Harrison
BBC News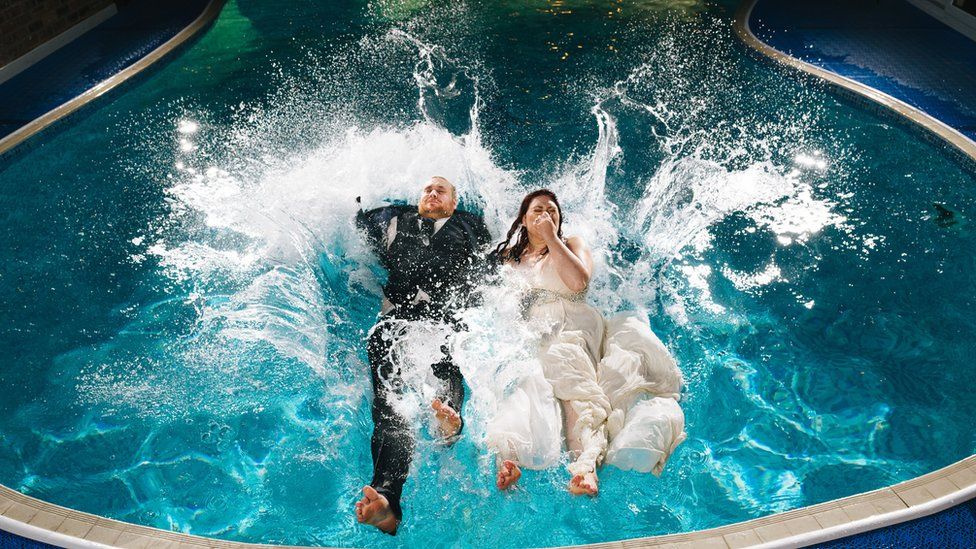 An outdoor ceremony surrounded by fields, followed by a memorable plunge into the water at an evening pool party.
It may not sound like your typical wedding - and that's exactly what Louise Young and Sam Gilbert wanted.
But like many others, they were bound by restrictions on where couples can marry in England and Wales, meaning they had to attend a legal ceremony at a register office before their dream day.
Such restrictions could come to an end soon, after it was revealed a shake-up of the law will feature in Monday's Budget.
The review will look at giving couples more choice on where they hold their wedding and could mean restrictions are lifted on al fresco locations, from gardens to beaches.
Existing rules mean couples are unable to have a legal outdoor wedding - unless it takes place in a structure with a solid, permanent roof with a designated licence.
This will make a big difference, says Louise, as going to a register office before their humanist ceremony outdoors was a "faff" and an "inconvenience".
"It caused a little upset in the family initially," the 30-year-old, from Essex, told the BBC.
"Older family members, for example, just didn't 'get it' and saw the register office part as the important bit, whereas for us, it was simply an inconvenient formality.
"The personal, outdoor ceremony was the special and meaningful bit for us."
She says the fact they did not want any guests at the legal part was originally seen as a "bit of a snub", so the potential rule change would have made a "big difference" to them - and will do for others.
"So many face the same issues we had," she says.
"Some end up marrying in church in spite of not really being religious, just so they can legally be married and get it all done on the same day - often to please family.
"Many who haven't gone down that route also express feeling limited in their choices and tied to expensive 'all-in-one' type wedding venues.
"Wedding venues do have a firm hold over the entire wedding industry at the moment and the costs can be astronomical."
Wedding planner Linzi Barford, from that black & white cat, says the legal aspect of the wedding ceremony has been "rather archaic for some years now".
She says she has worked with a lot of couples who, like Louise and Sam, opt to have a celebrant wedding in the location of their choice - such as their home, in a field or at a festival - but have to "tick the legal box" by going to a register office separately.
"Unfortunately this splits up your wedding celebrations and can also cause some family tensions when guests realise that the ceremony they are attending is not actually the legal one."
She hopes the proposed change will help couples who use her services in a number of ways, including removing the cost of two ceremonies for those who do not want to have their wedding in a religious venue or register office.
Danielle Rolfe, from Hampshire wedding venue Penton Park, says she frequently has to explain the rules to couples who want outdoor weddings - and would like the venue to be able to fulfil their wishes.
"I would love to see people get married in our garden," she says.
"If enough people can stand there, why shouldn't you be able to marry there?"
In the meantime, the venue has two licensed outdoor settings - one is a garden gazebo and the other is the house's front doorstep, as it fulfils the roof requirement.
"It is a compromise, and we wanted to offer something," she says.
The potential rule change will bring England and Wales in line with Scotland, where couples enjoy much more freedom in where they can tie the knot.
This news has been met with excitement from future brides and grooms, says outdoor wedding specialist Emily Braithwaite, founder of The Outside Bride blog.
"This is an amazing move forward and a boost for the wedding industry, as couples will have more flexibility to do what they want, where they want - creating the day of their dreams without the limitations that some conventional venues create," she says.
For Louise, the possible rule change has come two years too late, but she says she can see how it will benefit many others.
"As wedding photographers ourselves too, we shoot a lot of weddings for couples like us," she says.
"We know it's going to make a world of difference to them."