Sir Philip Green: 'There was only banter'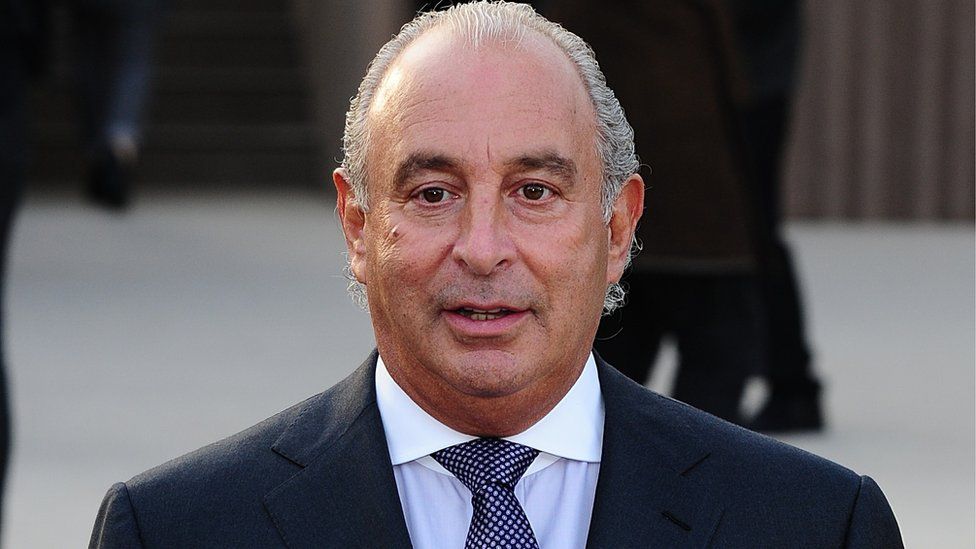 Sir Philip Green has again denied allegations of harassment - saying there had only "been some banter" which had "never been offensive".
The High Street tycoon spoke to the paper after a week where he was accused of sexual and racial harassment against former employees.
He described it as "the worst week of my life".
What has Sir Philip said?
Sir Philip told the Mail on Sunday that he felt he was "being used as target practice when there is zero [evidence] that anyone has turned up with".
"It's injuring my business, all the people potentially working in the business, and it's injuring me and my family," he added.
He also told the paper: "I've been in business for more than 40 years.
"There has obviously from time to time been some banter, but as far as I'm concerned that's never been offensive."
In an earlier statement he "categorically and wholly" denied allegations of "unlawful sexual or racist behaviour".
The tycoon has been the centre of an eight-month investigation by the Daily Telegraph.
The paper says that former employees of Sir Philip have accused him of sexual and racial harassment.
But the Court of Appeal granted Sir Philip an injunction, preventing the paper from naming him.
The paper said interviews with five members of staff revealed that victims had been paid "substantial sums" in return for legal commitments not to discuss their alleged experiences.
Why was he named in Parliament?
Although the press were gagged, MPs and peers are protected from being prosecuted over statements made in the Commons or Lords under Parliamentary privilege.
Labour peer Lord Hain identified the Topshop boss in the Lords on Thursday, saying he felt it was his duty to do so because "it was in the public interest".
The Telegraph and the media at large were then entitled to report Lord Hain's statement in Parliament.
But Sir Philip has hit back at Lord Hain, and said the Labour peer failed to disclose his financial links to the law firm that represented the Daily Telegraph during the injunction.
"As many people have said, Lord Hain's blatant disregard of a judgement made by three senior judges is outrageous," said Sir Philip.
Lord Hain said: "I stand resolutely by what I've said and neither retract nor apologise for standing up for human rights."
He described Sir Philip's complaint as a "malevolent diversion".
Sir Philip Green used to be known as the king of the High Street - but he was later branded the "unacceptable face of capitalism".
He built a fortune from a retail empire that included Topshop, BHS, Burton and Miss Selfridge.
BHS - the retail chain he sold in March 2015 for £1 - went into administration a year later, leaving a £571m hole in its pension fund.
He later agreed a £363m cash settlement with the Pensions Regulator to plug the gap.
He and his wife Cristina are estimated by Forbes to be worth £3.8bn.