Halloween 2018: The witches who'll be doing 'spell work' tonight
By Francesca Gillett
BBC News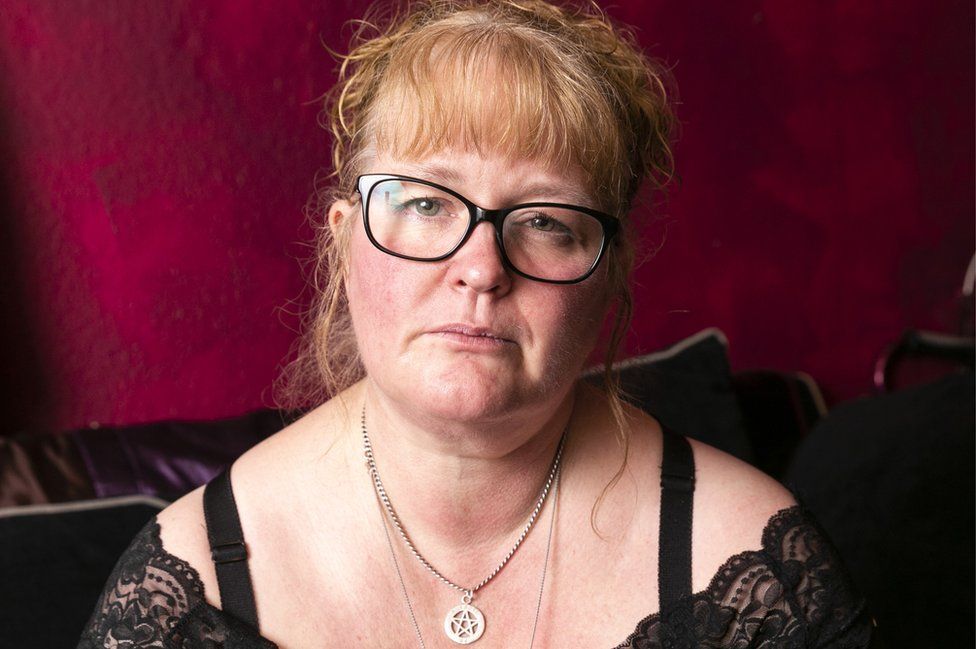 Tonight, after they have finished work and the sun has set, a group of women will gather at one of their homes.
But this is no ordinary girls' night in. This is a coven of witches, and 31 October - Halloween - is their new year.
Denise Frain, who lives in Bolton, Greater Manchester, is hosting.
"I have got a fire outside and we will do certain spell work. We'll sit in a circle for protection, then we will celebrate and put food on the altar for the ancestors."
The witches have been preparing for today. They've visited a nearby cemetery and written down names from graves which look old, overgrown or unattended. They will read out the list at tonight's ritual.
Helen Davidson, 44, who runs this coven, explains that all members are "hedgewitches" - solo witches who do not follow an organised faith like Wicca.
"Hedgewitches don't pray to a specific god," she explains. "We just love being around nature."
She says in the past, she'd have been known as a "wise woman".
"It's kind of like that crazy little lady who lived down the road who knows a lot about herbs and concoctions."
"I seem to be quite good at protection or banishing spells," she says.
"I helped one of the witches not that long ago. She had to end a relationship and it was not nice for her.
"I said, what we need to do is protect you from this person, to keep them well out of your life and do a cleansing around the house.
"A few weeks later, that person left the town to never be seen again. Sometimes things like that are needed."
The witches also practise knot magic, which entails tying knots at different points along a piece of string or ribbon.
"It's a way of focusing an energy on a specific task," Helen says. "The more and more concentration you put into something the better results you have."
And what about love potions?
"We are capable of doing love spells," Helen says. "It's not something I would shy away from".
'Let nature take its course'
But she adds: "There's no witch powerful enough on this Earth to make someone who doesn't want to fall in love, fall in love.
"It's trying to force something on them that perhaps shouldn't happen. My first question would be: 'does that person show an interest in you?'
"But if it's to give something a boost, to give them the confidence, then great."
She says: "I say, 'do you have a chess piece of a king and queen in your home or something to represent male and female?' You put them either end of a bookshelf or mantelpiece and each day bring them closer together.
"When they meet in the middle, if it feels you can then make it happen, let nature take its course."
Denise, 48, says she always felt like a witch from an early age - "I felt different to everybody else".
But she didn't start practising witchcraft until last year, because she was worried that her three children - who are now grown up - might get bullied at school.
Helen says her family accepted her becoming a witch straight away, although she says her daughter "used to take the mick".
She now runs a craft business called Bespoke Bewitched, and says she was drawn to witchcraft after growing up in Cornwall, where she was surrounded by nature.
"I always like to be outside as much as I can be," she says. "Over the years it dawned on me that I would prefer an Earth-based religion."
A "direct connection with nature" is also important to Matt Rowan, a male hedgewitch from Southfields in south-west London.
The 45-year-old security manager became a witch after feeling he didn't fit with Christianity.
He says, rather than the magic, being a witch allows him to step into a "protective and nurturing role".
"As a witch, I have a responsibility to look out for people. Being there to listen and give advice, that's an important part," he says.
Matt says he prefers the label of "witch" rather than the male equivalent of "warlock" because of the negative connotations.
But, he says, he generally does not tell anyone as people "will think you are more eccentric".
But he and his husband - also a witch - have performed protection and healing spells in the past.
"A lot of spell work is with visualisation and positive energy," he says. "You charge up an item, usually a crystal, with positive energy.
"I had a friend who was moving to Australia and was terrified of snakes. So I found this little crystal carving of a snake and charged it.
"He hasn't been bitten yet… whether that's luck or anything to do with me I don't know!"