Harry and Meghan at Maori ceremony as royal tour ends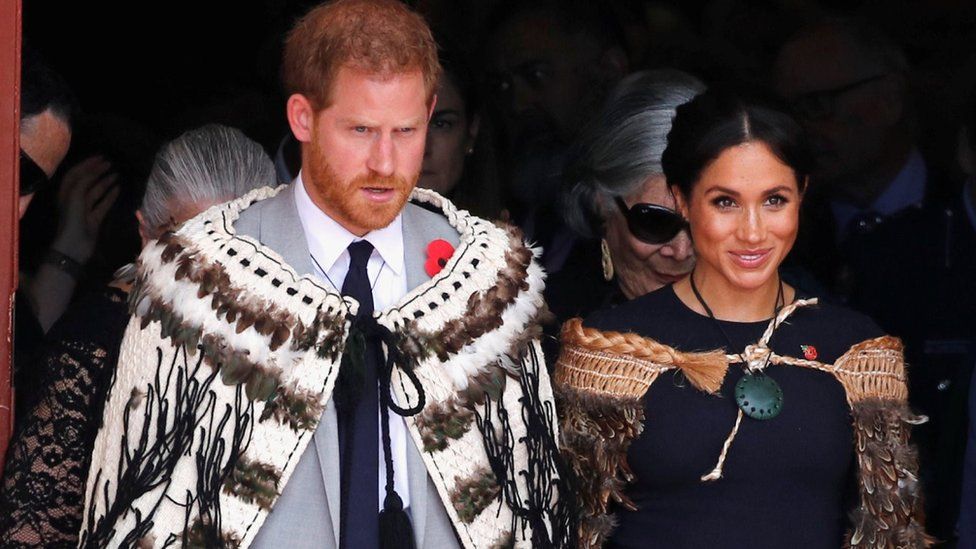 The Duke and Duchess of Sussex have donned traditional Maori cloaks during a welcome ceremony in New Zealand on the final day of their overseas tour.
Prince Harry was handed a carved weapon during the visit to Tamatekapua Meeting House in Rotorua in which he gave a speech partially in Maori.
Hundreds of people turned out in the town for the couple's last walkabout.
The duke and duchess visited the Redwoods Tree Walk - their 76th and final engagement of the 16-day visit.
They have also been to Australia, Tonga and Fiji during their first overseas trip as a married couple.
At the welcome ceremony, the duke and duchess both exchanged Maori "hongi" greetings with well-wishers - pressing their nose and forehead together.
They were given Korowai cloaks, inspired by the Sussexes own coat of arms and featuring blue, gold, white and red silk.
The Duke of Sussex was presented with a tewhatewha - a Maori weapon featuring a point at one end and an axe at the other.
The duke said: "One of the joys of our visit to New Zealand has been the opportunity to meet so many young New Zealanders who are devoting their talents and energy to making a difference.
"There are creative, gifted and caring Te Arawa Rangatahi [young people] here, who are using their talents to preserve and promote the Maori language, to support mental wellbeing, and to achieve in areas that will benefit their communities, and their country."
The Duke and Duchess of Sussex then spent more than their allotted 30 minutes meeting the crowds outside.
There was also time to look at chicks at the National Kiwi Hatchery at Rainbow Springs.
Later, during their visit to the Redwoods Tree Walk, the couple met members of a mountain biking community.
The duke and duchess will return to Auckland before leaving for London on Thursday.