Grenfell inquiry: Couple told to get out in second 999 call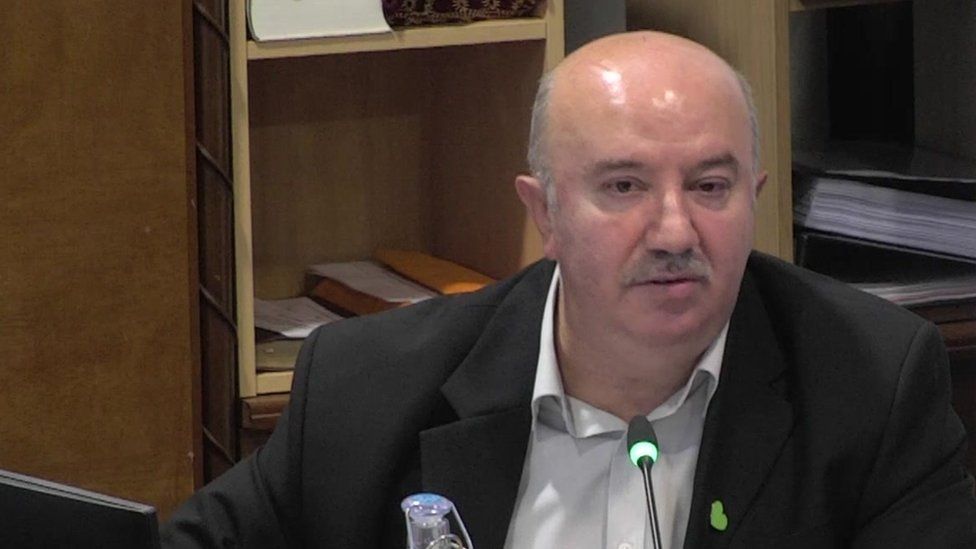 A couple who managed to escape Grenfell Tower were told by a 999 operator that no-one could get to them - 40 minutes after being told help was on the way.
Sener Macit said he and his wife Hanife ignored calls from family "begging" them to leave the building after being assured they would be rescued.
They were told to lie on the floor but after 40 minutes passed he said he thought they were "going to die".
Mr Macit said what he thought were his final goodbyes to his family, he added.
On Thursday, the grandfather gave evidence to the public inquiry into the Grenfell Tower disaster, which took place on 14 June last year and killed 72 people.
Mr Macit and his wife, who have three children, had lived on the 16th floor of the building since 1992.
On the night of the fire they were told to escape by their family but he thought it was "impossible" because of the thick smoke.
"I told family members, such as my daughter Merve, who was outside, that I loved them and I said my last goodbye to them.
"They were crying on the phone."
He made another 999 call and he said the operator, who sounded as if she was about to cry, told him: "Sir, no help can get to you. Please try and get out of the building."
Mr Macit, 57, wrote in his statement that when he and his wife made it to the stairwell the smoke was "toxic" and tasted "poisonous".
When they reached the 14th floor, he said he began "stepping on bodies".
"I couldn't see them because of the smoke so I cannot say who they were or describe what they looked like but I know it was people I was stepping on."
Recalling the intense heat, Mr Macit said: "As a result of this, my wife's eyes stuck and she couldn't open then for three days."
He said that two of his neighbours who had lived on the same floor had died in the fire.
"I know that my wife and I were lucky to survive," he said.
"At the time, I truly believed that we were going to die in the tower and I said my goodbyes to my family.
"I won't ever forget what we went through that night. It is a miracle that Hanife and I are alive."