Fish fingers surprisingly sustainable, say conservationists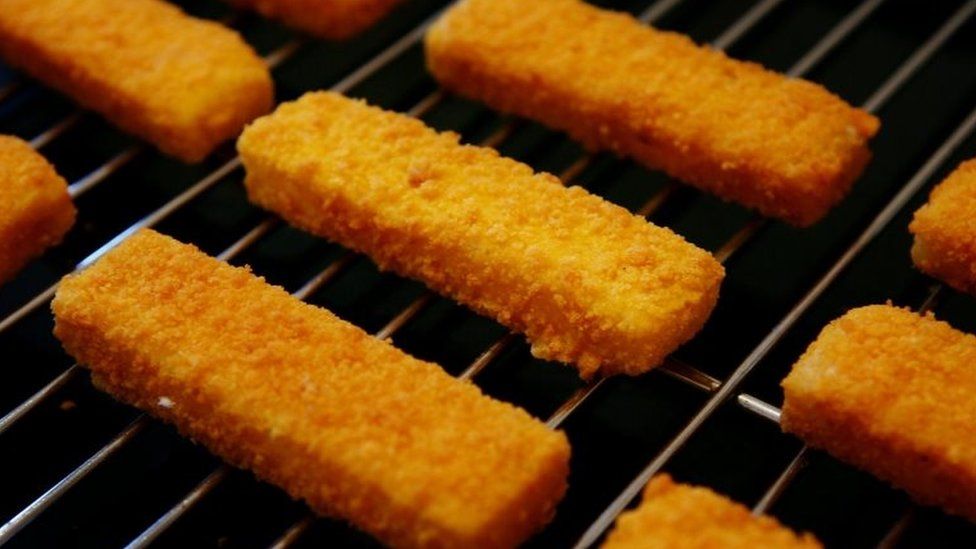 Fish fingers are surprisingly sustainable and some of the best products to buy are also the cheapest, the Marine Conservation Society says.
Some 85% of the fish in 48 supermarket own-brand and branded fingers came from sustainable sources, its study found.
The MCS's Rajina Gurung said it was an "unexpected" result, adding it was hard for shoppers to know the source of the fish at a glance due to poor labelling.
Choosing sustainable products "will help protect the ocean," she said.
The top 15 sustainable fish fingers rated in the study were:
Asda smart price fish fingers
Asda omega-3 fish fingers
Co-op omega-3 fish fingers
Iceland breaded fish fingers
Marks & Spencer gluten free cod fish fingers
Morrisons omega-3 fish fingers
Morrisons savers fish fingers
Sainsbury's cod fillet fish fingers
Sainsbury's "deliciously free from" cod fish fingers
Sainsbury's basic fish fingers
Sainsbury's omega-3 pollock fish fingers
Tesco omega-3 fish fingers
Waitrose essential cod fish fingers
Waitrose 6 essential chunky cod fillet fish fingers in breadcrumbs
Young's omega-3 fish fingers
Rather than being a mix of unspecified fish, the study showed the 48 fish fingers contained four different species: Atlantic cod, Pacific cod, Alaska pollock and haddock.
Ms Gurung, who compiled the Good Fish Finger Guide, said where and how seafood had been caught or farmed made a big difference to its sustainability, and these were factors MCS had considered.
The stock status - or the population - of the species of fish is also important, she said. For example, there are 14 different cod stocks in the north-east Atlantic and "some are doing better than others".
She added that fishing methods that had a low impact on the surrounding environment, such as handline fishing, were the most sustainable.
Ms Gurung said: "Consumers may not be aware that the majority of fish in retail own brand and branded fish fingers actually comes from sustainable sources.
"Some saver brands even turned out to be the most sustainable, showing that you do not have to pay a fortune for sustainability."
Only 19% of fish finger packs were found to have enough information highlighting how and where the fish was caught.
Fish finger inventor Clarence Birdseye launched them in 1955
The seafood snack was nearly called Battered Cod Pieces, until a poll of Birds Eye workers opted for the snappier Fish Fingers
In 2007 Birds Eye launched Alaska Pollock fish fingers to reduce pressure on cod
Since the fish finger's introduction in 1955, more than 15 billion have been sold in the UK alone, according to Birds Eye