16 MPs receive free tickets from betting firms
By Daniel Kraemer
BBC Political Research Unit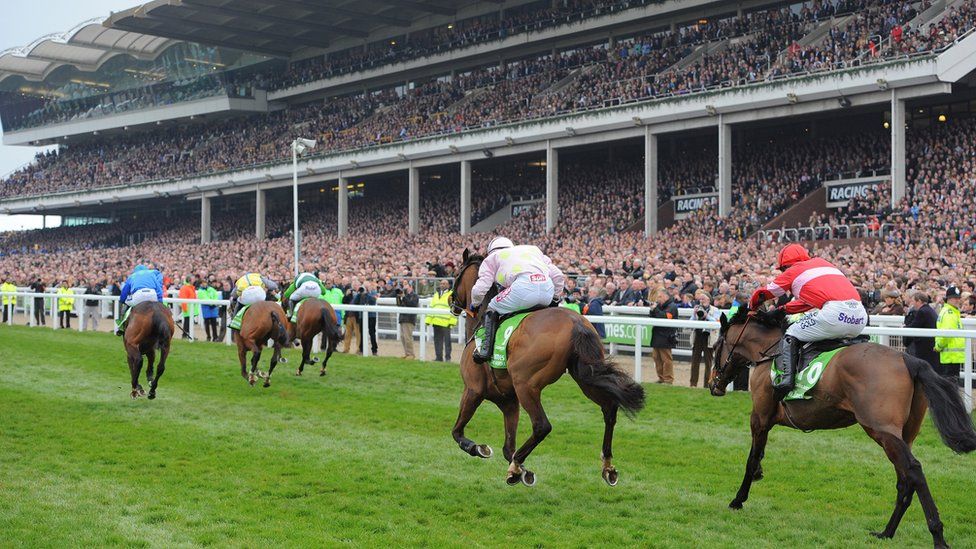 At least 16 MPs have received free sports tickets from betting companies since the 2017 general election.
A BBC analysis of parliament's register of MPs' interests has revealed that 13% of the £175,580 worth of sports tickets accepted by MPs came from betting companies, including William Hill and Ladbrokes.
The analysis comes after Tracey Crouch resigned as sports minister and appeared to criticise politicians who have links to the betting industry.
In her letter to Theresa May on Thursday evening, Ms Crouch complained that the reduction in the maximum stake for fixed odds betting terminals (FOBTs) was "being delayed until October 2019 due to commitments made by others to those with registered interests."
Who were the freebies for?
Of the 16 MPs, nine were Labour MPs, six Conservative and one SNP.
Philip Davies, Conservative MP for Shipley, received free tickets worth a total of £5,759 since the general election. He was hosted at 13 horse racing events by Ladbrokes Coral, William Hill and Sky Bet, which also offered him free tickets to the 2017 League One play-off between Millwall and Bradford City.
Mr Davies, a backbench MP, chairs the all-party parliamentary group (APPG) on betting and gambling.
He has spoken out against restricting FOBTs numerous times in Parliament.
For example, in March 2016, he said:
"The inconvenient truth is that problem gambling rates have reduced since the introduction of fixed odds betting terminals."
"Can the Minister tell us what the point is of reducing the stakes on fixed-odds betting terminals in betting shops when people can go straight on to the internet and play exactly the same games with unlimited stakes?"
The BBC approached Mr Davies for comment but, so far, hasn't received a response. Speaking to the Times, he denied using his links to encourage the government to change its position: "I'm flattered anyone thinks I could be so influential", he said.
The second most common guest of betting companies was Conservative MP Laurence Robertson, who received the hospitality of William Hill and Ladbrokes at a cost of £5,175 since the election.
On Thursday, during an urgent question tabled by Shadow Culture Secretary Tom Watson, he criticised the focus on FOBTs, drawing attention to the "losses that will be suffered on the high street in terms of the jobs of men, women and young people, who will also suffer poverty, and the losses to the horse racing industry."
Mr Robertson has links to the horse racing industry and, when contacted by the BBC, he said "it would be odd if I didn't visit racecourses in various capacities."
That's because - he pointed out - his constituency of Tewkesbury includes the Cheltenham racecourse and he has been a co-chair of the APPG on racing and bloodstock for 8 years.
Mr Robertson has previously defended the industry in parliament. During a Westminster Hall debate on 26 April 2016, he said: "There are people with addictive natures who will be addicted to something, whether that is alcohol, drugs or gambling, but we are discussing only one form of gambling, and many other forms are available."
Some Conservative MPs have highlighted a series of donations made to Tom Watson by millionaire former poker player Derek Webb, who founded the anti-FOBT Campaign for Fairer Gambling. Mr Watson told the Daily Mail he had been highlighting the issue before he met Mr Webb and was proud to campaign alongside him.
Within Labour's ranks, Tonia Antoniazzi topped the list. The MP for Gower received tickets and hospitality worth £1,693 from betting firms - including for boxing and darts.
Ms Antoniazzi told the BBC that the darts tickets were to play in a parliamentary charity darts competition. She added that she has been "a constant supporter of reducing the stake of fixed odds betting terminals."
The BBC's analysis does not cover events attended by government ministers in their official capacity.
Out of 235 free sports events attended by MPs since the general election, two of the top three most common donors are betting companies: William Hill totalled 24 gifts at a value of £13,273 and Ladbrokes Coral Group hosted 14.
Gary Gillies, from bonuscode.co.uk, said: "Leading bookmakers are known to offer such freebies and promotional offers to lure high earners into the gambling circle."
A spokesperson for William Hill said: "As a business that has sport at its core, and is a major sponsor of sports events including horse racing, we do invite MPs of all parties and views to find out more about the industry."