Brexit blind dates: Dustin Lance Black and Ulrika Jonsson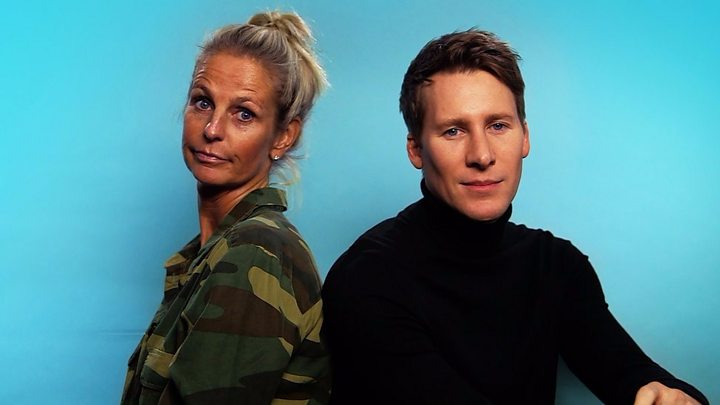 What happens when two strong-minded individuals from opposite sides of the Brexit debate sit down for dinner? To find out, the BBC's Victoria Derbyshire programme has organised a series of blind dates.
Dustin Lance Black is an Oscar-winning screenwriter, married to Olympic diver Tom Daley, who believes the UK would be better off remaining in the EU.
Ulrika Jonsson is best known for her TV presenting, and staunchly believes in Brexit.
They went into the meal without knowing who they would be meeting.
But did they get on?
---
Dustin Lance Black
Who are you? I'm Dustin Lance Black, a film-maker and civil rights activist. I think people in the UK best know me as the guy who will take their picture when they run into Tom Daley. But I'm also his husband and the dad to our child.
What are your views on Brexit? I've landed squarely in the camp of, "this is not the time to leave the European Union". There may come that time, but right now, what I believe should be done is to work to repair and strengthen the EU, because it's not perfect - rather than leave it.
What was your initial impression of Ulrika? Just incredibly open-hearted. As I walked in, she made eye contact with me - it was warm eye contact, a lovely smile, and I just felt right away that this is going to be OK.
How was your date? I found it really illuminating. I think both of us came into it with curiosity, which makes a huge difference. That's the missing element in most of our political debates these days - curiosity. Being right is overrated! If someone is saying that they're right about the future, that's a claim only a fool would make.
What was the best thing about the date? We both brought our children, so I got to meet her daughter and she got to meet my son.
What was the worst thing? I left starving, because I think we both forgot to eat our food, we were talking so much.
Any common ground? Oh, tons! I think we were both looking at Brexit through the filter of what is best for our children.
What was your biggest disagreement? She had the pork and I had the vegetable curry!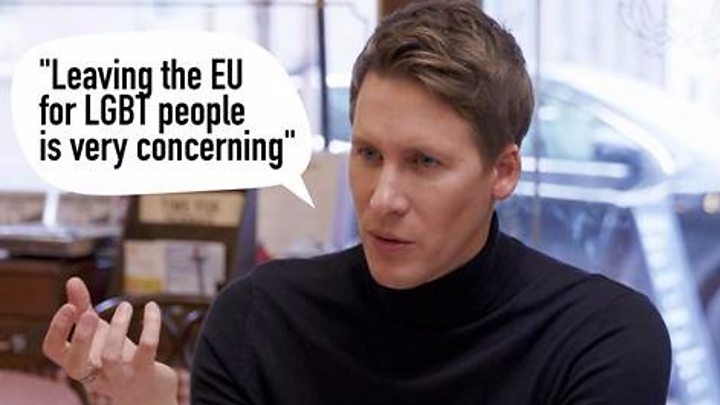 What was her most convincing argument? She pointed out to me that the European Union was not exactly in the best condition to serve UK interests. That's something that Remainers need to consider and take to heart.
Would you see her again? Yes. I asked her to get in contact when she's in London next.
Describe her in three words: Thoughtful, open-hearted and fierce.
Marks out of 10 for the date: She was a 10! Going into the date, I was terrified. I left that date filled with joy. If something goes from terror to joy, it can only be a 10.
---
Find out more
Watch the Victoria Derbyshire programme on weekdays between 10:00 and 11:00 GMT on BBC Two and the BBC News Channel.
And see the entire Brexit Blind Dates series here.
---
Ulrika Jonsson
Who are you? I'm Ulrika Jonsson. I'm a mother of four, a writer and sometimes TV presenter. I even hosted the Eurovision Song Contest!
What are your views on Brexit? I absolutely abhor the bloated, bureaucratic machine that the EU has become and for that reason alone, they deserve to be deflated.
What was your initial impression of your date? My first impression was actually, "thank God!". I just thought that Lance looked like he had kindness written all across his face.
How was your date? Gosh, the date went really well. I found him really engaging, and I felt that I could put across my points without having my head bitten off, or it being met with aggression - because I think Brexit has become such an aggressive issue.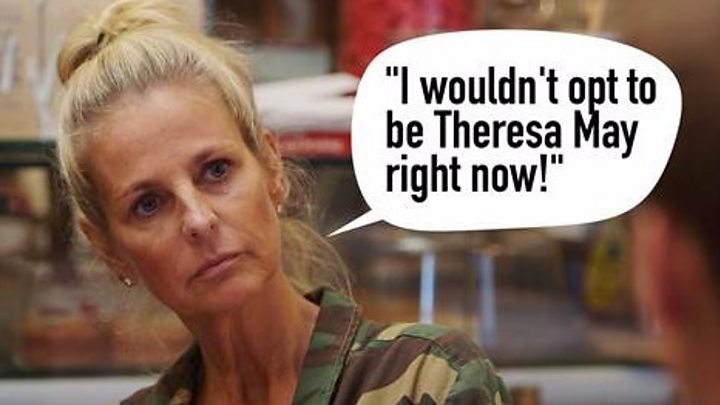 What was the best thing about the date? The best thing about the date was Lance. Does that sound corny?
Was there one topic of conversation that stood out? I think when he talked to me about the fears of the LGBT community with Brexit. It was not part of the Brexit conversation when we were discussing it two years ago. My sister is gay, so I feel a bit ashamed that it hadn't really occurred to me.
Any common ground? Absolutely. Things were so binary, and aggressive in 2016 [during the referendum], so it was reassuring to know there are still people in this world who can bring us back to the sensible, gentler, democratic way of having a conversation.
What was his most convincing argument? He definitely convinced me that the future is so uncertain and not as simple as we had hoped it might be.
Any awkward moments: When we went to pay the bill. I fished my cash out and he was embarrassed as he didn't have a wallet with him.
Would you see him again? Oh, 100%.
Describe him in three words: Kind, warm and clever.
Marks out of 10 for the date: I would say nine out of 10, and the only thing that would have made it better would have been if I could have wolfed the food down - I was surprisingly hungry!
---
Watch more Brexit blind dates
Find out what happened when...
Stanley Johnson, ex-Conservative MEP and father of Boris Johnson, met journalist Ella Whelan
Love Island's Zara went on a date with Lord Mayor of Sheffield Magid Magid
Scientist Prof Robert Winston went for dinner with former Big Brother contestant Aisleyne Horgan-Wallace
Broadcaster June Sarpong met ex-Stig Perry McCarthy
Follow the Victoria Derbyshire programme on Facebook and Twitter - and see more of our stories here.