Bangs and blazes of early Bonfire Nights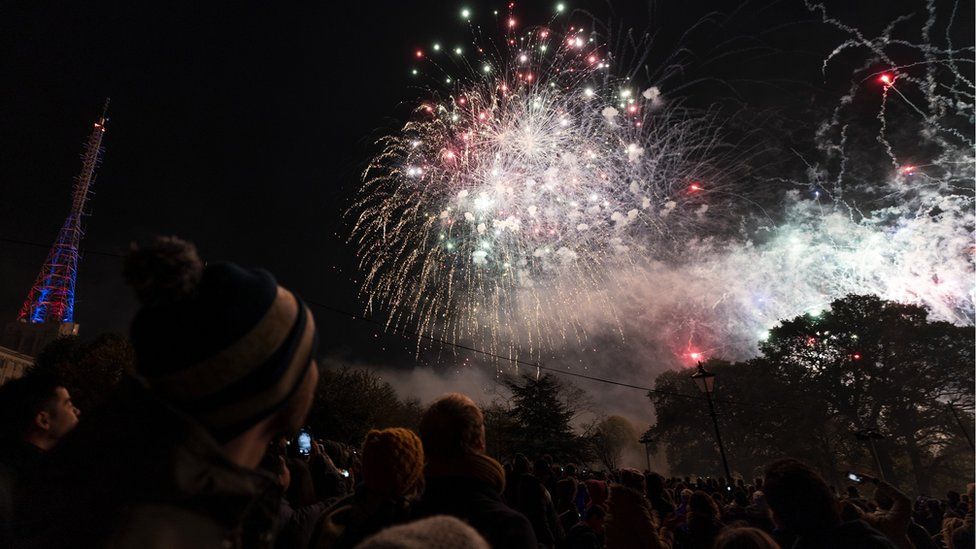 Remember, remember, the... second of November? Bonfire Night kicked off early this year as firework lovers - and the haters - prepared for a celebration that always goes with a bang.
Social media users captured all the "oohs" and "ahhs", the roaring blazes and the jittery pets.
This view of fireworks through the trees at the Fawkes in the Walks display in King's Lynn was caught by Karen Barrett.
The gardens of the Trentham Estate were lit up by a brilliant display, captured by photographer Ian Knight.
Meanwhile, Donna Stapleton photographed this view of fireworks streaking across the sky at Codnor Community Bonfire in Derbyshire.
Exploding roman candles and drifting smoke were seen in this view of Bonfire Night at Cuddington in Buckinghamshire.
And John Drogan took to the skies with a drone to take this image of fireworks at the Ramsbottom Cricket Club Bonfire Night display in Bury, Lancashire.
One air traffic controller stationed at Manchester Airport photographed a colourful display lighting up the sky nearby in Bowden.
Meanwhile, at London's Alexandra Palace, crowds wrapped up warm to watch the fireworks display, as the Met Office recorded temperatures in the capital dropping to lows of 0.6C.
For some, the bonfire is a bigger deal than the fireworks - especially when it's a towering inferno like this blaze snapped by Lisa Davison at Dallas Burston Polo Club in Warwickshire.
Lucy Shawcross captured this view of revellers warming themselves by the bonfire at Horley Cricket Club in Oxfordshire.
But not everyone loves this time of year. Sarah Roddis' springer spaniel was one of many pets cowering under a blanket as the fireworks went off outside.
Some pet owners have tried to calm their animals' anxiety by wrapping them in scarves, which they believe helps them to feel more secure.
One even set up a tent in his living room to shelter his nervous pooches.
Tent set up in the front room for the dogs to hide in when the fireworks start.
I'll be watching my dogs shaking with fear whilst other adults are getting moist over sparkly lights and bangs. pic.twitter.com/tUITlr96ZZ

— Tony E (@Tony1403Red) November 2, 2018
And it's not just dogs. The owner of Trigger the cat says he is "dreading tomorrow night" after the noise in the sky on Saturday.