Wilfred Owen: Bugle marks centenary of war poet's death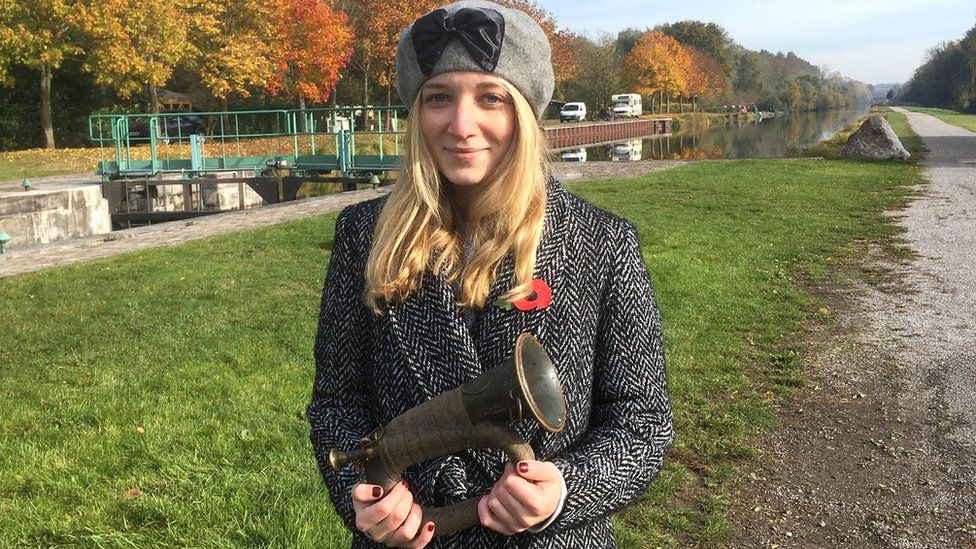 The centenary of the death of World War One poet Wilfred Owen was marked on Sunday with the sounding of a bugle he took from the battlefield.
The instrument was played at his graveside in Ors, northern France.
Elizabeth Owen, the widow of his nephew Peter, was among those who attended the "moving" ceremony.
Owen died on 4 November 1918, seven days before peace was declared. Wreaths were laid in his memory at the service.
It followed a dawn visit to the site where the soldier was killed during the battle to cross the Sambre-Oise canal.
French locals and members of the Wilfred Owen Association gathered to hear The Last Post played on the bugle.
Owen took the instrument from a dead German soldier during the war and made reference to it as "loot" in a letter to his brother in 1917.
Musician Heather Madeira Ni said she was grateful for the opportunity to play the instrument on such a historic occasion.
She said: "The bugle is such a piece of history and a great chance for me to get to know Owen and his poetry.
"It's such an important part of British history."
Some of Owen's poetry, which explored the brutal reality of war, was also recited and his final letter home was read out.
Fiona MacDonald from the Wilfred Owen Association described the service as moving.
"There is just something really special about being here and hearing Owen's bugle played," she said.
Later around 10,000 flames were lit in the empty moat surrounding the Tower of London to mark the centenary of the end of the war.
Representatives from the armed forces and volunteers took around 45 minutes to light the torches, which then burned for four hours.
The spectacle was accompanied by a specially commissioned sound installation featuring choral music, as well as words from war poet Mary Borden's Sonnets To A Soldier.
The ceremony, which members of the public can watch for free, will be repeated each night until the final showing on Remembrance Sunday.