Food Challenges: 'My cheat meal is a 185oz burger'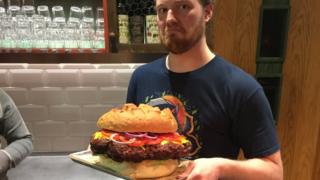 In a brightly lit window seat in a London restaurant, food blogger and amateur competition eater Andrey Sidorov sits waiting for his 5.2kg (183oz) lunch.
He says most people will have a "cheat day" where they can eat whatever they want, adding: "My cheat meal is a 185oz burger."
Andrey has been taking on eating challenges for the last four years as a hobby. He eats gigantic-sized meals for fun.
For context, the burger he was about to eat weighed in at about the same as about 21 Big Macs.
"When I first started I was like, 'This restaurant's saying if I do this I get to eat their food for free, and in some cases get a cash prize - sounds good to me!'"
Andrey has now taken part in between 40 and 50 different types of food contests.
Cash rewards
Four years ago, while at university, Kate Ovens was photographed trying to eat a giant burger.
After gaining attention from video sharing website Ladbible, the 24-year-old from London eventually became a full-time food challenge blogger.
She has managed to make a living out of trying to finish enormous plates of food.
"It's not a real job at all," she says. "I remember watching lots of food eating videos at university and thought, 'I could definitely do that.'
"I went from graduating in business marketing management to holding a child-sized Yorkshire pudding burrito. It's crazy that this has become my career."
Kate now has more than 60,000 followers on Instagram. She attracted more than 250,000 views on YouTube after she successfully wolfed down a 3kg kebab - the same weight as two medium sized roast chickens.
The challenges Andrey and Kate take part in are a big trend in the US.
Made popular by TV shows like Man v Food, it's a craze that has now filtered into the UK, sparking concern among health professionals who fear it puts participants at greater risk of obesity and other health problems.
Andrey, who runs an eating challenge website, estimates there are now about 2,500 food challenges offered by restaurants, cafes and pubs across England, Scotland and Wales.
Challenges can vary.
Some have time limits. Some test participants tolerance to spice. Others pit diner against diner.
The most popular include giant burgers, 20-inch pizzas and huge breakfast challenges, commonly eaten within a set time limit.
Some even offer cash prizes, rewards of games consoles, or meal vouchers.
"One of my first competitions I took on was a hotdog eating contest in Manchester," Kate says.
"I was not experienced. I knew I could eat a lot but it was timed and I was up against other people. I came second in that competition."
"Knowing the tactics I've learnt over the years - drinking water to help you chew, taking the bun off first - as long as there were no professionals in there, I'd win," she confidently predicts.
"I've gained so much confidence since then."
Cheap dinner
Kate takes on about one challenge a month and earns money from paid sponsorships with brands and restaurants.
She says, for the most part, the comments she receives on social media are "relatively positive".
"I often get someone saying, 'I would never take you out for dinner' and, 'You must cost a fortune.'
"But the amount of restaurants I get invited to that don't charge me, you probably would want to take me out. I'm probably cheaper than going out with all your mates."
The potential impact it can have on trade for businesses is one major reason why restaurants, pubs and cafes put a food challenge on their menu, despite the time and cost of offering such gargantuan meals.
"The popularity of these kind of challenges are driven by social media," Andrey adds.
"Restaurants are more and more reliant on marketing themselves on platforms like twitter or Instagram, and a giant burger or enormous pizza is definitely a real eye catcher."
'It's definitely helped'
This summer, the Dalby cafe in Margate, Kent, gained national attention after Pete Doherty, lead singer of the Libertines, was pictured taking on the cafe's "mega breakfast challenge".
Doherty managed to stomach a breakfast containing four eggs, four sausages, four rashers of bacon, bubble and squeak, mushrooms, beans, tomatoes, hash browns, a quarter pound burger, chips, toast and a cup of tea.
His name is now written on a blackboard in the cafe, which doubles as a hall of fame.
Owner Mark Ezekiel said the press attention has been good for business.
"Never did I expect it to become this big and now it's almost world famous because of Pete Doherty.
"It's definitely helped the cafe," he adds. "Even though it takes a long time to make, I don't think I can take it off the menu now. "
Medical professionals, however, have expressed concern over people participating in food challenges.
Dr Rangan Chatterjee says eating such a large amount of food in one sitting will "overwhelm the body's natural satiety mechanisms" - which controls the feeling of hunger after meals.
Satiety plays an important role in controlling how much people eat.
The NHS says binge eating can lead to obesity, which in turn can result in potentially life-threatening health problems, such as high cholesterol, high blood pressure and diabetes.
"I see the consequences of things like this across the whole food industry, every day in my practice so it worries me," Dr Chatterjee added.
Both Andrey and Kate say they take their health seriously and would stop if the challenges ever put them at risk.
"I'm very aware of my health and get regular check ups. If anything my doctor tells me to stop coming in because I'm coming in too often and don't need to," Kate says.
"I eat healthy and exercise regularly. If ever there was a problem with my health, I'd stop."