Doctor Who star to read CBeebies story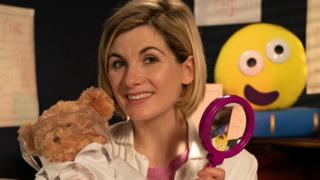 Doctor Who star Jodie Whittaker is to be the latest celebrity to read a CBeebies Bedtime Story.
The first female Doctor will read Ada Twist, Scientist - the third in a series of books by Andrea Beaty and David Roberts - later this month.
"I hope that everyone enjoys it as much as I did," said the 36-year-old star, calling the experience "an honour".
Previous Time Lords to read on the show include David Tennant, in 2009, and Christopher Eccleston in 2010.
Whittaker has garnered many positive reviews for her performance as Doctor Who, despite some initial opposition from traditionalist Whovians to having a woman in the role.
Celebrity line-up
The mother-of-one will make her CBeebies debut on 7 December.
Sir Elton John, Dolly Parton and Hollywood stars Orlando Bloom and Ewan McGregor have all read on the show, which airs daily from Monday to Friday.
Last month saw Catastrophe star Rob Delaney become the first celebrity to read a story signed in Makaton, a form of sign language which he used to communicate with his late son Henry who was unable to speak due to a tracheotomy.
"It is such an honour to know that families and friends will be sharing this experience with me," said Whittaker.
The penultimate episode of the current series of Doctor Who, airs on Sunday at 18:30 GMT.