Homelessness: Thousands sleeping rough in cars, Crisis says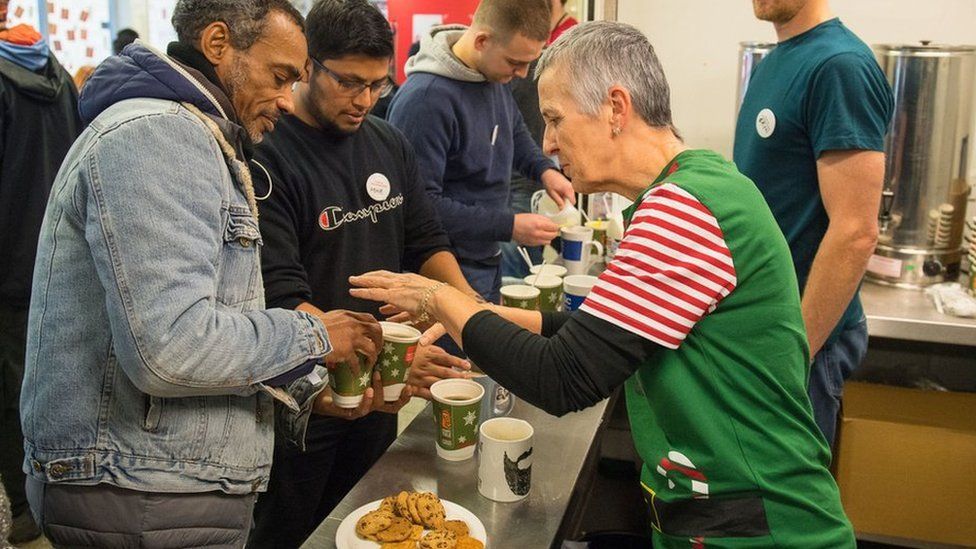 Homelessness in the UK is at a record high with 170,000 families and individuals experiencing destitution, the charity Crisis has said.
For every one person sleeping rough on the street, there is another living in a car or a tent, figures suggest.
Publishing the new research on Sunday, Crisis insisted the underlying causes of homelessness could only be tackled by changes in government policy.
The government said it is investing £1.2bn to alleviate the problem.
The new research on homelessness, carried out for Crisis by researchers at Heriot-Watt University in Edinburgh, suggested:
Homelessness increased every year between 2012 and 2017
38,000 under-25s and 4,200 over-65s are estimated to be homeless
170,800 households are experiencing the most extreme forms of homelessness, compared to 151,600 in 2012. This includes people who are sofa-surfing, living in hostels and rough sleeping
12,300 people are sleeping rough and a similar number of people (12,000) are living in cars, tents or public transport - double the amount compared to 2012
Crisis released the statistics as it prepares to open up its Christmas centres for homeless people.
Singer Ellie Goulding, who has supported the charity for several years, visited one of its centres in London on Sunday.
She told BBC News: "People can come here for the day, get in the warm, have a tea, have a shower if they need to and it's just a really nice atmosphere and safe environment."
She said Crisis and other charities did brilliant work but said more affordable housing was needed to tackle homelessness in the long-term.
Jon Sparkes, the charity's chief executive, said: "This new research echoes what we see every day in our front-line work - that there is no such thing as a 'typical' homeless person, and that this crisis is affecting people who range from young care-leavers to pensioners.
"And, while rough sleeping is the most visible form of homelessness, for every person on our streets there are another twelve families or individuals experiencing other terrible situations like sofa-surfing and living in cramped B&Bs."
It comes after the number of deaths of homeless people were published for the first time ever earlier this week. The Office for National Statistics found almost 600 homeless people died in England and Wales last year.
The average age of death was 44 for homeless men and 42 for homeless women, compared with 76 for men and 81 for women among the rest of the population
Crisis blames the problem on a shortage of social housing, housing benefits which do not cover private rents, and a lack of homeless prevention schemes for people leaving care. It wants the government to make policy changes.
Earlier this week, Labour leader Jeremy Corbyn said if his party were elected, he would repeal the 19th Century law which criminalises rough sleeping.
The Vagrancy Act 1824 makes it a crime to beg or sleep rough in Britain.
The party said it was used nearly 3,000 times in 2016 - with those convicted facing fines of up to £1,000.
Communities Secretary James Brokenshire said: "No-one is meant to spend their lives on the streets, or without a home to call their own.
"That's why we are investing £1.2bn to tackle homelessness and have bold plans backed by £100m to halve rough sleeping by 2022 and end it by 2027.
"And to stop people from becoming homeless in the first place, we've changed the law to require councils to provide early support for those at risk of being left with nowhere left to go, are boosting access to affordable housing, and making renting more secure."
According to Crisis, members of the public in England and Wales can help a homeless person by calling Streetlink. People in Scotland can call the local council.
The location of the homeless person can be reported and they can be connected with local homelessness services.
Anyone who has immediate concerns about the welfare of a homeless person should call 999, the charity adds.