Parking fees rise at many hospitals in 2017-18, analysis finds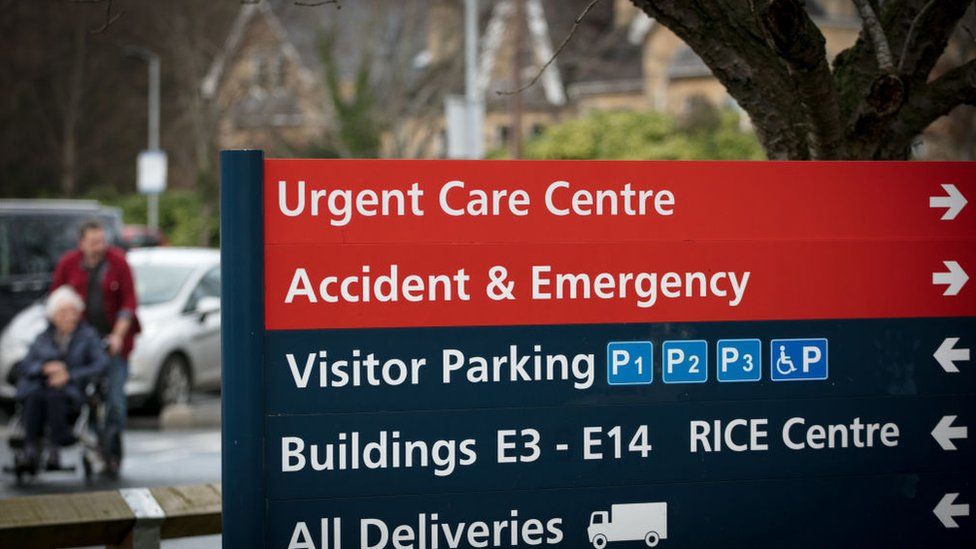 Four in 10 NHS hospitals in England have increased car parking prices in the last year, new data suggests.
A total of 124 of the 152 trusts running hospitals responded to Freedom of Information requests by the Press Association, with 53 saying prices had gone up for visitors or staff, or both.
Some trusts had doubled the cost of certain stays for visitors in 2017-18.
Several hospitals defended the charges, saying some or all of it goes back into patient care or maintaining car parks.
But unions said some staff were having to pay "through the nose" to park at work.
The PA analysis highlighted:
A stay of four to 24 hours at Airedale NHS Foundation Trust in West Yorkshire now costing £8, up from £3.50, with a £5 fee for two to four hours, up from £3
An overhaul of charges at Shrewsbury and Telford hospital that has seen the cost of a five-hour stay more than double since October 2017 to £8
Alder Hey Children's Hospital in Liverpool's scrapping a £2 flat rate
Lancashire Teaching Hospitals doubling the costs of a four-to-six hour stay to £6, while lowering the cost of a one-hour stay from £3 to £2.50
Frimley Health in Surrey being one of the highest earning trusts in England from parking, making £4.5m and raising costs in the last two financial years
University Hospitals of Leicester making £4.4m from parking and increasing prices, with a two-hour stay for visitors up from £2.50 to £2.80
North Bristol Trust, which made £2.6m from visitor and staff and parking and hiked rates, with a stay of 20 minutes to two hours now costing £3.50, from £3
Paul Mulligan, from Horley, Surrey, says his son - then aged one - had an operation in July to remove his tonsils at Evelina London Children's Hospital.
They were told not to travel by public transport in order to minimise the risk of infection and were instead directed to the hospital's car park.
He said the car park had an uncapped hourly rate and that after staying two nights in hospital they had to pay £130 for parking.
"I understand the need to pay for parking but charging an uncapped hourly rate is ridiculous.
"In my opinion there should be a daily rate and an overnight rate for patients and family."
Frank Green, 75, from Aldershot, Hampshire, had 36 days of radiotherapy for prostate cancer at the Royal Surrey County Hospital, Guildford, earlier this year.
Parking charges at the hospital are capped for cancer patients but he says he still had to pay £144 during the course of his treatment.
"My attitude is there should be a fee but it shouldn't be a rip-off," he said.
Helen Davies, from Hay-on-Wye, Powys, said she had to spend £275 on parking while visiting her mother at Hereford Hospital over a six-week period earlier this year.
"I had to drive. My mother was the absolute priority and I live 25 miles from the hospital," she said.
She said her brother parked at a nearby supermarket as he refused to pay the parking fees.
"He got two parking tickets so he may as well have paid the fees," she added.
A hospital registrar based in south-west England, who asked not to be named, said he paid between £300 and £400 a year to park at work.
He has to rotate through hospitals as part of his contract, and says many are not served by public transport, "especially when you work odd hours".
The charges also affected the health of his patients, he said: "They often come in very stressed and the main reason they're stressed is because they're worried their time is going to run out in the car park if appointments are delayed."
"Blood pressure results for my patients can often be unreliable because they're so stressed about parking," he added.
Data published by NHS Digital in October shows NHS trusts made more than £226m from parking fees, including penalty fines, in the last financial year.
Car park charges have been abolished in Wales and most of Scotland, and while they remain in England and Northern Ireland, there can be discounts for cancer and dialysis patients.
Shadow health secretary Jonathan Ashworth described car parking charges in England as a tax on the sick, and reiterated Labour's pledge to abolish them in power.
Liberal Democrat health spokeswoman Judith Jolly said the charges were "not the answer" to financial pressures on hospitals.
Rachel Power, chief executive of the Patients Association, said parking charges do generate revenue while hospital finances are "under immense pressure" but patients should not be "effectively charged for being ill".
Unison's head of health Sara Gorton said many hospital employees - including shift workers - have little option but to "pay through the nose simply to park at work".
"If the government put more money into the health service, charges could be scrapped," she added.
A Department of Health spokesman said: "We have made it very clear that patients, their families and our hardworking staff should not be subjected to unfair parking charges.
"NHS trusts are responsible for these charges and ensuring revenue goes back into frontline services, and we want to see trusts coming up with options that put staff, patients and their families first."