Potholes: 'People don't realise the threat they pose'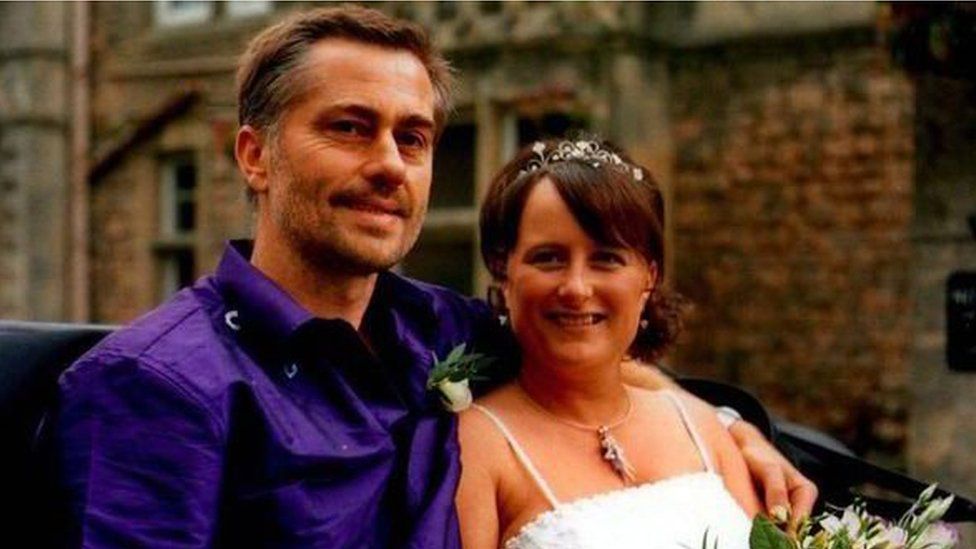 Martyn Uzzell was on the latest leg of a charity bike ride when he hit a pothole and was thrown into the path of a car.
He was cycling from Land's End to John O'Groats with his brother-in-law and a friend - all three of them experienced cyclists.
Since his death in 2011, his widow Kate has been campaigning for better road inspections.
However, the RAC claims "shocking" new figures prove road conditions are worsening.
New research has revealed more than half a million potholes were reported by members of the public to local authorities for repair last year.
The data was obtained from Freedom of Information requests to the 212 councils responsible for roads in Great Britain, of which 161 authorities provided comparable figures.
Kate, from North Somerset, said the pothole that killed her husband had been reported to the local council twice by a police officer and by their own inspection team.
"The local authority didn't take any action," she said.
"And the consequences of their inaction was the death of Martyn, devastation for his family and friends, and our future was stolen."
The A-road that they were cycling on was generally in good condition and was far better than others they had faced.
After spotting a pothole around a drain, Martyn's brother-in-law called back to warn the others.
But for Martyn it was too late.
"The first I knew was two police officers turned up at my work," Kate recalled.
"They turned up and they obviously said that Martyn had been killed.
"They couldn't tell me what had happened to my brother. He couldn't speak when he got home. He was so traumatised by it."
Kate had been planning a surprise trip to Scotland to watch the three of them cross the finish line.
She said that people don't realise the threat that potholes can pose and said the latest figures were "upsetting".
"What is dangerous to a cyclist can be perfectly safe for a motor vehicle."
The government said it was spending £6.5bn on road repairs from 2015-2021.
More than 512,000 potholes were reported to the 161 local authorities, up 44% on the 2015 figure of 356,000 potholes from 152 councils, the RAC said.
Extrapolating the numbers to take account of councils unable to provide data, the RAC believes the increase in reports over two years is 33%.
As well as being a danger to road users, potholes also caused problems to vehicles.
Among the most common were damaged shock absorbers, broken suspension springs and distorted wheels.
RAC head of roads policy Nicholas Lyes said: "Perhaps motorists are more inclined to report pothole defects than they were a few years ago, but we believe the sheer size of the increase is further proof the condition of our roads is worsening."
He added the figures were "just the tip of the iceberg" as thousands of potholes go unreported every year.
One in five local roads in England and Wales is in a poor condition and the frequency of road resurfacing has declined, according to the Asphalt Industry Alliance.
Martin Tett, the Local Government Association's (LGA) transport spokesman said councils were fixing a pothole every 21 seconds but needed more funding to "embark on the widespread improvement of our roads that is desperately needed".
He said the LGA was calling on the government to reinvest a portion of existing fuel duty into local road maintenance to fund a "£9.3bn road repair backlog".
Kate said the danger of potholes hadn't ever occurred to her before Martyn was killed, and that she was driven to speak out after hearing a segment on potholes on the local radio.
"People were ringing up and saying my alloy wheels were damaged and it made me really angry," she said.
"They're far more dangerous than that."