Channel migrants: Minister defends handling of 'crisis'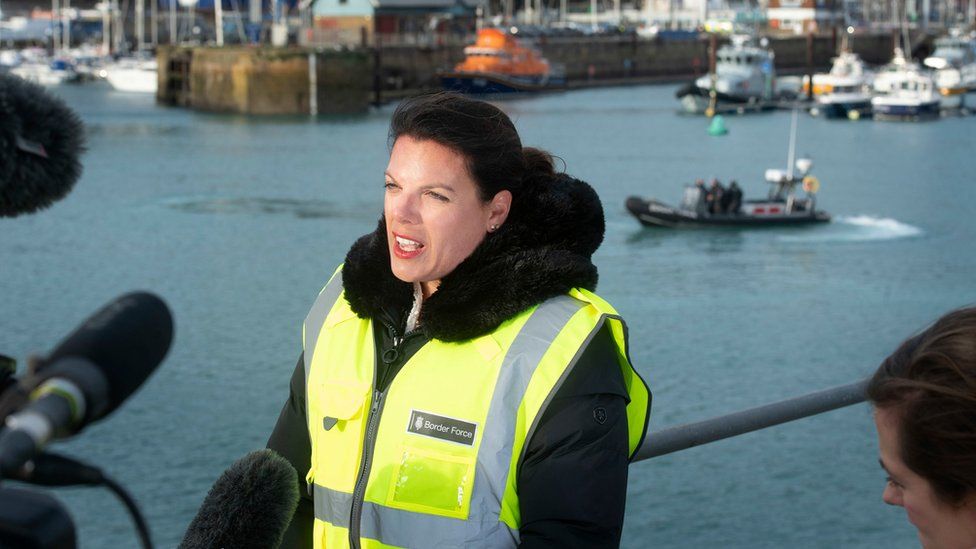 Immigration minister Caroline Nokes has defended the government's handling of the rise in migrants crossing the Channel during a visit to Dover.
More than 220 people have attempted the crossing in small boats since November.
Ms Nokes said Home Secretary Sajid Javid would cut short a family holiday to deal with the "major incident".
Dover MP Charlie Elphicke called for more patrol boats and accused the Home Office of letting the "crisis" escalate.
The Conservative MP said the Home Office was not taking the matter "seriously enough".
It comes after another 12 people were detained off the coast of Dover in the early hours of Friday morning.
Only one of the Border Force's fleet of five cutters - specialist boats which the force describes as being capable of rescuing several migrant boats at the same time - is currently operational in the Dover Strait.
Ms Nokes said the number of patrol boats was being "constantly reviewed", but it was "feasible that were we to put additional craft they might act as a magnet - encouraging people to make a perilous crossing".
She said the UK was working with France to try to prevent migrants from setting out in the first place, and there was an "enormous" ongoing intelligence-led operation to deter people traffickers.
"It is really important to remember that we are dealing with people's lives, people who have taken a terrible, terrible risk, but that we are working with the French to find the most effective route for returns for those who it is appropriate for."
The National Crime Agency said that tackling the criminals behind these "extremely dangerous" attempted crossings was an "operational priority" and significant resources were devoted to them.
Chris Hogben, from the NCA, said its work with French colleagues had resulted in dozens of attempted crossings being prevented.
He said that over the last three weeks French colleagues have recovered at least 95 migrants including nine children, and arrested seven people caught attempting to facilitate these crossings.
He added that he anticipated further arrests in the coming weeks and thought more attempts to reach the UK were likely.
Mr Javid has appointed a "gold commander" to take overall charge of the situation and make strategic decisions about the response.
He was due to talk to his French counterpart about the situation over the weekend.
Mr Elphicke said "we need a clear strategy to defeat the traffickers", adding that the French authorities should step up action on their side of the Channel.
'They were desperate to get on to dry land'
British fisherman Matt Coaker first saw an overloaded three-man dinghy in September, carrying four adults trying to make it to UK shores.
"They started waving their oars and tying T-shirts on the oars to get our attention," he told BBC Radio 4's Today programme.
He said the dinghy had a lot of water inside and that the migrants "just looked like they had had enough", adding: "They had been drifting about for some time, they had no engine and just a few oars.
"They were desperate for a bit of water, a bit of food and possibly just to get on to dry land."
The fisherman pulled his boat alongside them to check how they were, and one of the men made a jump for it.
"Luckily the customers I had on-board managed to grab him before he went back in the water, because the last thing you want is someone going down underneath the propeller," said Mr Coaker.
"They got him over the side and, as they did, the others made a jump and we had all four on-board within minutes."
He has seen a number of dinghies since, including one at night carrying two families with an 18-month-old girl in tow. And while he said it wasn't the norm, it now "doesn't surprise you if you go out and see a rescue taking place".
Officials on both sides of the Channel have warned of the dangers of crossing what is the world's busiest shipping lane in a small boat.
Many of the migrants are Iranian or Syrian.
British and French authorities have both said the rise in crossings is the result of "organised criminality" and "mafia networks".
Responding to the suggestion that bringing rescued migrants to the UK could encourage people to attempt the journey, Steve Valdez-Symonds, from Amnesty International, said that was "nonsense".
"If people are in danger of their lives then they need to be saved," he told the BBC.
The people found off the Kent coast since November: