Queen makes plea for Britons to find 'common ground'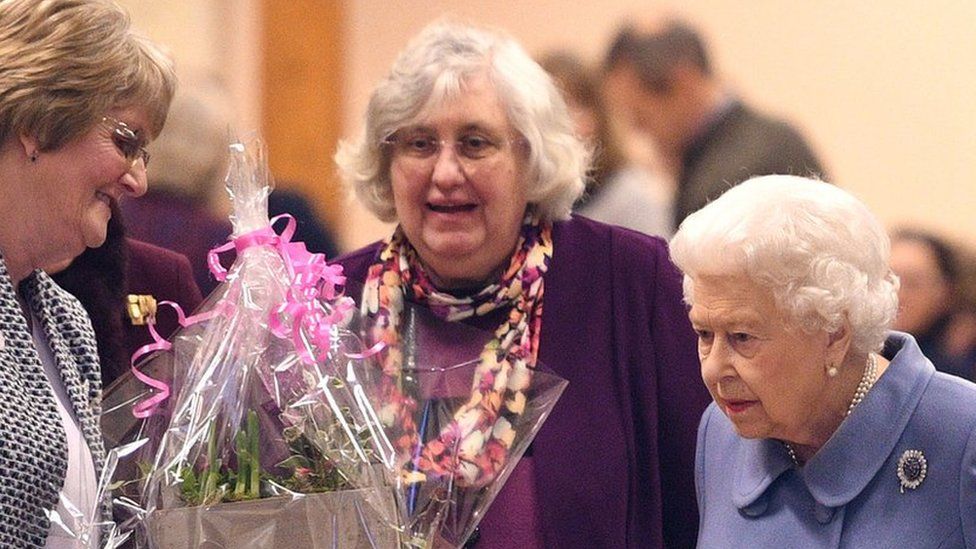 The Queen has urged people to find "common ground" and to respect "different points of view".
Commentators say the remarks will be seen as referring to the Brexit debate, with MPs due to vote on the PM's deal for leaving the EU again next week.
MPs rejected the deal last week but the UK will leave on 29 March with no deal unless they can agree on a way forward.
BBC royal correspondent Nicholas Witchell said there was little doubt the Queen was "sending a message".
"It is impossible to imagine that the head of state would use a construction of words such as this without it being appreciated that they would be seen as a reference to the current political debate," he said.
Chancellor Philip Hammond said there was "huge wisdom" in the Queen's remarks.
He told Radio 4's Today programme: "I don't think anybody will be at all surprised to hear the Queen advocating the view that in all things controversial we should seek compromise, we should seek common ground, we should seek a way forward."
The Queen also received praise from other cabinet ministers - including Work and Pensions Secretary Amber Rudd, who called them "wise words".
You may also be interested in:
Theresa May's official spokesman declined to comment directly on the Queen's remarks. He said: "The prime minister's own view is that we should always show great respect for the point of view of others."
Analysis by BBC royal correspondent Jonny Dymond
Twice now in the space of five or so weeks the Queen has dipped a rhetorical toe in the raging waters of the Brexit debate.
Neither time has she mentioned the word that has driven the country either to apoplexy or to catatonic boredom. Each time it's been crystal clear as to what she is talking about.
Some may be surprised. Isn't the Queen supposed to be above politics? Not really.
Her role is more than just ceremonial. She is the head of state. Her weekly audiences with prime ministers are taken seriously by both sides. A constant flow of red boxes full of state papers means she is one of the best briefed in the land.
She certainly isn't meant to be party political. But she has a political role.
It is one that she has exercised very sparingly - if anything she has been a conservative Queen, pulling back from any intervention that might seem to involve the Monarchy in controversy or leave it open to accusations of political favouritism.
Now, with the air full of vitriol, and accusations of treachery and betrayal hurled hither and thither, she has spoken again to try and calm a fevered nation.
It is both her right, and her duty.
The Queen, as head of state, remains neutral on political matters and does not usually express her views on contentious issues.
However, speaking at an event to mark the 100 years of Sandringham Women's Institute in Norfolk, the Queen said: "The continued emphasis on patience, friendship, a strong community focus, and considering the needs of others, are as important today as they were when the group was founded all those years ago.
"Of course, every generation faces fresh challenges and opportunities.
"As we look for new answers in the modern age, I for one prefer the tried and tested recipes, like speaking well of each other and respecting different points of view; coming together to seek out the common ground; and never losing sight of the bigger picture."
She said these approaches were "timeless, and I commend them to everyone".
The Queen's appeal for common ground touched on the same issues as her Christmas message, in which she urged people to treat others with respect "even with the most deeply held differences".
Historian Lord Hennessy said the Queen's second intervention within a month meant it was "of immense significance".
He added: "It's constitutionally impeccable as she always is, because her intervention is behavioural not political. It's about courtesy and civility and not policy."
Her latest remarks come as Prime Minister Theresa May is due to return to the House of Commons with a revised plan for Brexit on 29 January, after her initial deal agreed with the EU was rejected by MPs in a historic defeat on 15 January.
In other Brexit developments:
Related Internet Links
The BBC is not responsible for the content of external sites.