Anti-Semitic hate incidents in the UK 'up 16% in 2018'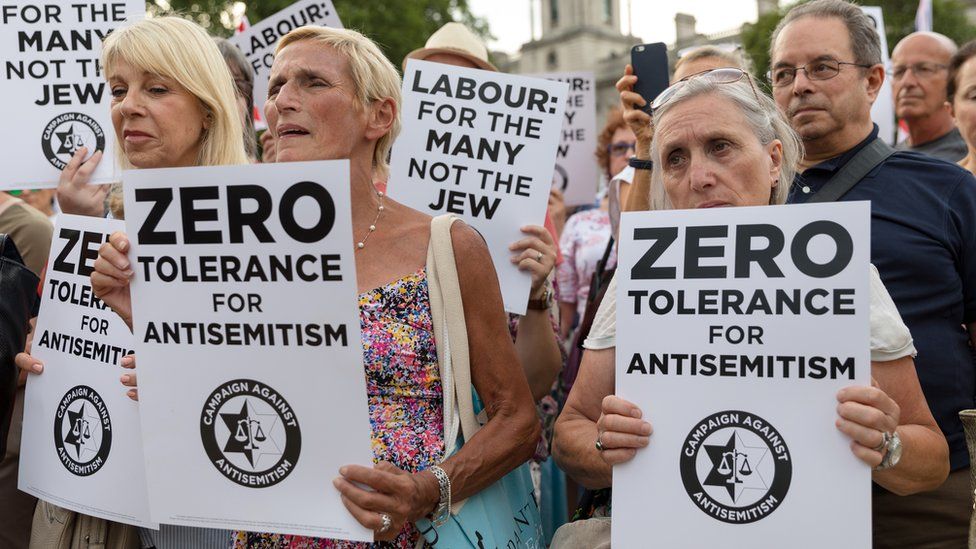 The number of anti-Semitic hate incidents in the UK rose by 16% in 2018, according to figures from Jewish charity the Community Security Trust.
CST said it recorded 1,652 anti-Semitic incidents last year, the highest total since it began collecting data in 1984.
The charity added the figures reflected "deepening divides in our country and our politics".
Home Secretary Sajid Javid said the government was doing all it could to "rid society of these poisonous views".
He added anti-Semitism was "utterly despicable" and had "no place in society".
These new figures are broadly in line with a Home Office report from October, which showed all forms of hate crime in England and Wales rose by 17% in 2017/18.
Of the 1,652 incidents recorded by the CST in 2018, 123 involved "potential grievous bodily harm or a threat to life", a 17% decrease from 2017.
The most common single type of incident involved verbal abuse randomly directed at Jewish people in public.
The report cited a number of cases across different categories, including a man who was walking to a synagogue when food was thrown at him from a car, a woman who was spat at in the face on a bus, a Jewish bakery that was vandalised with anti-Semitic graffiti, and a brick that was thrown at a synagogue's glass front door.
The CST report also said:
There were 384 anti-Semitic incidents involving social media last year - nearly a quarter (23%) of the overall total number of reports
A total of 148 incidents in 2018 were examples of - or related to arguments over - alleged anti-Semitism in the Labour Party
Almost 75% of all anti-Semitic incidents took place in London and Manchester - where the two largest Jewish communities in the UK are located
At least 100 incidents were recorded in every month of the year, with the highest monthly totals coming in May (182), April (151) and August (150)
Responding to the report, the chairman of the All-Party Parliamentary Group on Anti-Semitism, Labour MP John Mann, said: "Sadly, these figures are not surprising, indeed they are predictable.
"If you consider the whole anti-Semitic onslaught on social media as just one incident then, in fact, the problem is bigger than the incident figures suggest."
'No room for complacency'
Marie van der Zyl, president of the Board of Deputies of British Jews, said the CST figures were "very worrying for Jews living in the UK".
"Overall, the UK remains a happy place for its Jewish community, but this reports shows that there is no room for complacency."
Actress Laura Pradelska, who plays Quaithe in Game of Thrones last week told BBC 5 Live she had disabled the comments on her Instagram account after receiving anti-Semitic abuse.
"You would be amazed at some of the comments I get," she said.
"It's mostly to do with Israel and it is completely uncalled for because I tend to post pretty pictures of rehearsal or work that I do."
And Countdown co-presenter Rachel Riley told The Times last month the Channel 4 game show had to increase security after she was targeted for criticising anti-Semitism in the Labour Party.
Riley, who is Jewish, said she had been abused on Twitter.