Knife crime: Fatal stabbings at highest level since records began in 1946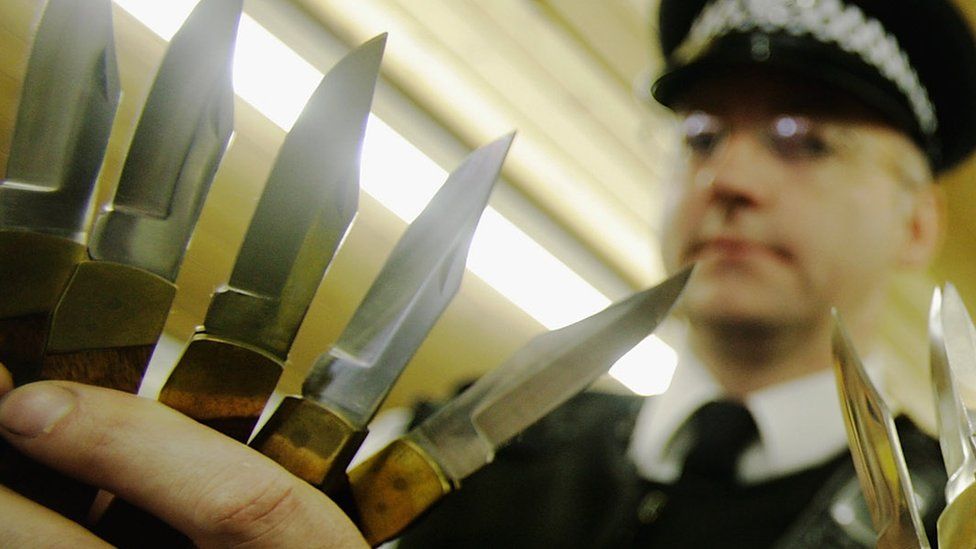 The number of fatal stabbings in England and Wales last year was the highest since records began in 1946, official figures show.
The ONS says one in four (71) of all victims (285) were men aged 18-24.
The figures also show 25% of victims were black - the highest proportion since data was first collected in 1997.
The figures show a 45% increase in the number of victims aged 16-24 and a 23% increase in those aged 25-34.
Suspects convicted of all 252 killings in the year to March 2018, were most likely to be aged 16-24
The worst place for killings in the UK, proportionately, was in Inverclyde, Scotland
There were 132 people killed in London - the highest for 10 years if you exclude those killed in terror attacks
However, this means there were 6.6 homicides per 100,000 people in the capital, compared with 14 per 100,000 in Inverclyde
Two London boroughs were named in the 10 worst places for killings
In Scotland, latest official figures for 2017-18 show the number of all killings fell by six to to 59 - its joint lowest level since 1976
Police Scotland figures show a knife or sharp instrument was used in 34 of them
Twenty eight of these victims were male and the victims were most likely to be aged 31-50
The latest figures for Scotland are expected to be published in October 2019
A third of female victims were killed by partners or ex-partners, compared with 1% of male victims
Of male victims, 35% were killed by a stranger, compared with 17% of female victims
One in four men were killed by friends or acquaintances, compared with 7% of female victims
By home affairs correspondent Danny Shaw
The figures on homicide do not generally vary hugely from year-to-year, which is why the steep increase in fatal stabbings to an all-time high is particularly striking.
It provides further evidence that knife crime is arguably the greatest law enforcement challenge facing the Home Office, police and communities across England and Wales.
Ministers have blamed much of the rise in serious violence on disputes between drug gangs. The figures provide some support for this with a slight increase in drug-related killings: 44% now compared with 40% in 2008.
In the past two years, 58% of suspects and 35% of victims were dealers or users.
However, drugs are unlikely to account for the entire rise in cases of murder and manslaughter which, as a proportion of population, is back to levels it was a decade ago but not as high as in the early 2000s.
Sorry, your browser cannot display this map