Duke and Duchess of Sussex visit stables in Morocco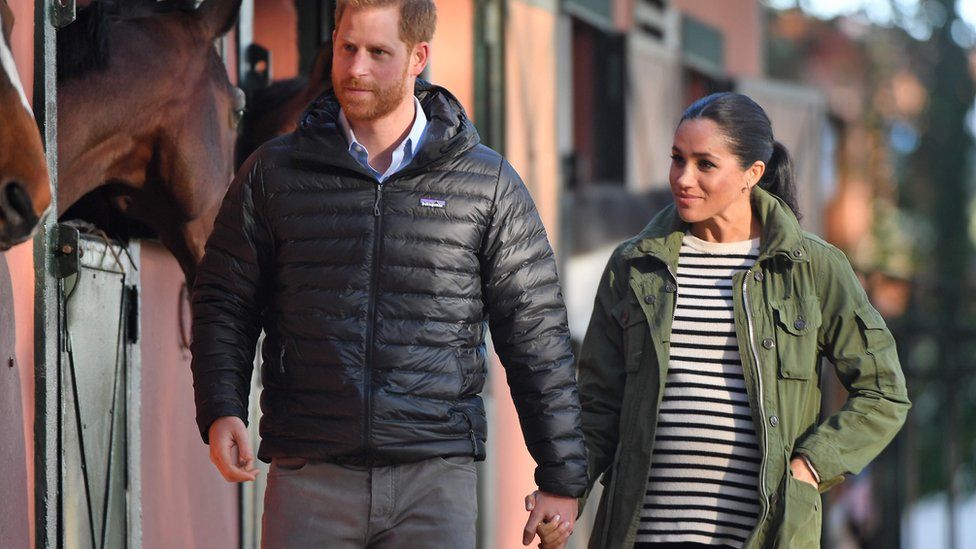 The Duke and Duchess of Sussex have visited one of Morocco's most prestigious equestrian clubs on the final day of their tour of the country.
The couple visited the Royal Moroccan Equestrian Club Dar Essalam in Rabat to see how horses and ponies were used to support children with special needs.
The royals also visited a market and ate traditional food made by underprivileged children.
The three-day trip is aimed at strengthening UK links to the country.
During the visit to the club, the couple spoke to youngsters who had been helped by equine-assisted therapy.
The therapy involves people interacting with horses by, for example, grooming and feeding them.
Research has suggested this can improve people's self-confidence and independence and help with mental health issues.
Ekram, 20, who has Down's Syndrome and began riding at the club a month ago, told the couple: "I love the connection with the horses, it already makes me feel relaxed and more confident. And I like being outside, with nature."
Meghan replied: "Wow, you're very impressive. What an accomplished lady. I imagine it's so therapeutic as well as meditative."
The couple were pictured as they stopped to stroke horses at the club stables.
Prince Harry and Meghan, who is pregnant, later joined a pony-grooming session.
Spotting one pony shaking, Prince Harry joked: "Has anyone got any carrots? She's a bit nervous, this one."
Meghan, who made her name as an actress, said: "Well, we all get a little camera shy, I understand."
The programme is funded by Morocco's King Mohammed VI, who Harry and Meghan are staying with at his royal residence.
During their visit, the couple also ate food prepared by children from disadvantaged backgrounds with help from one of Morocco's foremost chefs, Moha Fedal.
Among the food they made were Moroccan pancakes which feature in a cookbook that Meghan was influential in getting published.
It became a bestseller and is helping to fund the women's Hubb Community Kitchen - named after the Arabic word for love.
The couple arrived in Morocco on Saturday evening after a two-hour delay to their flight into Casablanca.
On Sunday, they met young women in Morocco to show support for girls' education.
They couple were welcomed to a boarding house in the village of Asni by the girls, who waved flags and sang songs.
During the visit, the duchess was given a traditional Moroccan henna tattoo, which is intended to bring luck to her first child.