UK basks in warmest February day on record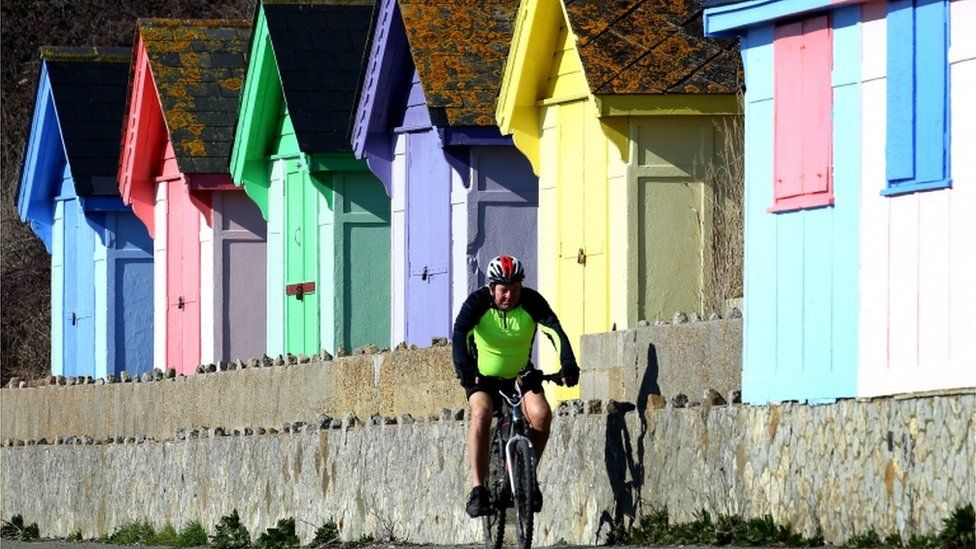 The UK is experiencing its warmest February day on record, with the Met Office reporting a temperature of 20.6C (69.08F) at Trawsgoed, Ceredigion.
It is the first time a temperature of over 20C has been recorded in winter.
It breaks the UK's record for February, set when the temperature reached 19.7C in Greenwich in 1998.
A new English record has also been set with temperatures rising to 20.1C in Hampton Water Works, in south-west London.
It is the second day running the Welsh record has been broken.
On Sunday, temperatures reached 19.1C, breaking the record of 18.6C (65.48F) set 29 years ago in the south Wales village of Velindre.
The BBC Weather Centre says Tuesday's weather conditions are likely to be very similar.
It says to expect a largely sunny, but chilly, start with frost in places. The rest of the day will become increasingly warm with lengthy spells of sunshine, threatening February temperature records once again.
The warmest areas are likely to be around the London area and across north and west Wales again.
By Nick Miller, BBC Weather
It's hard to believe that a year ago Britain was about to endure the worst of the so-called Beast from the East, with widespread snow and sub-zero temperatures.
Fast forward 12 months and this record February warmth shows just how varied the UK weather can be.
The reason temperatures have been so high is the direction our air is coming from.
High pressure parked to the south east of the British Isles has been dragging warm air from Africa and the Canary Islands our way.
All of this combined with the sunshine has produced something quite remarkable for February.
Caroline Lucas, the former leader of the Green Party, suggested the warm weather is linked to climate change.
She said: "I like spending an afternoon in the sunshine as much as anyone, but it's impossible to shake the feeling that this isn't right."
Tom Burke, of the independent climate change think tank E3G, said extreme warm weather events were exactly what climate change experts said would happen if people continued to put carbon into the atmosphere.
Does climate change have a role?
With new records for temperature being set, and everyone seemingly dazzled by the unexpected heat, the obvious question is whether climate change has a role?
The usual answer is that no single heatwave, storm or flood can be directly connected to global warming, and that's what the Met Office is saying now.
"We've had the warmest day of winter on record," says spokesman Grahame Madge, "and it does fit a pattern of warming.
"But it would be simplistic to link this to climate change until a study has been carried out."
Previous research has shown how the odds of particular weather events - like last summer's heatwave - have been made more likely because of the increasing levels of carbon dioxide and other greenhouse gases heating up the atmosphere.
And the projections for future global warming are clear that the kind of weather that feels strange now will appear normal in the decades ahead, as the underlying global average temperature rises.
Met Office analysis of temperatures shows that British winters have become slightly milder over the past half century, a trend that's set to continue.
Where were the warm weather hot spots?
The record UK temperature for a February day was broken in five different locations on Monday:
Trawsgoed, Dyfed 20.6C
Northolt, west London 20.4C
Gogerddan, Dyfed 20.1C
Bala, Gwynedd 20.0C
Wisley, Surrey 19.9C
Darren Tansley, a mammal ecologist at Essex Wildlife Trust, said the unseasonably warm weather could have a detrimental effect on hibernating species, such as dormice, hedgehogs and bats.
He said: "They could be coming out of hibernation too early, which means they're active at a time when really they should be reserving their body fat to get over the slack food period."
He also said these species could be looking for food that was not abundant at this time of year.
Is it sunny where you are? Get in touch and share your pictures and videos by emailing haveyoursay@bbc.co.uk.
Please include a contact number if you are willing to speak to a BBC journalist. You can also contact us in the following ways: