Labour urges action over new Brunei anti-LGBT laws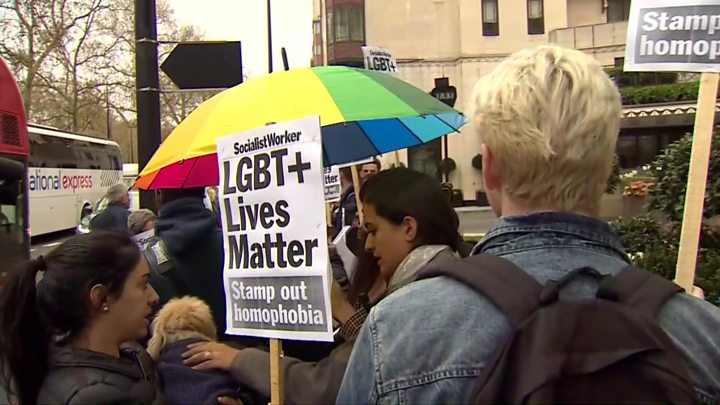 Brunei should be "chucked out" of the Commonwealth if it does not revoke its anti-LGBT laws, shadow foreign secretary Emily Thornberry has said.
The South-East Asian nation introduced strict Islamic laws this week that make gay sex punishable by stoning to death.
Dozens of protesters chanted "shame on you" outside the Brunei-owned Dorchester hotel in London on Saturday.
Foreign Secretary Jeremy Hunt said he had expressed "deep UK opposition" to the new laws to Brunei's government.
But the Foreign Office said "threatening to kick countries out of the Commonwealth" was not the "best way" to encourage Brunei to uphold its human rights obligations.
Addressing the crowd outside the Dorchester, Ms Thornberry said actions should have consequences and Sultan Hassanal Bolkiah of Brunei should be shunned until the anti-LGBT laws are revoked.
She added: "Any hatred against anyone is hatred against all of us.
"Our fight is with the sultan of Brunei. Our fight is with this terrible law. We say no."
Ms Thornberry and the shadow minister for women and equalities Dawn Butler on Friday wrote to the foreign secretary to call for the prime minister to "take a leading role in condemning these laws and calling for strong action to be taken".
UK PM Theresa May is the current Commonwealth chair-in-office - a main leadership role in the association.
'Tyrannical regime'
Gay rights campaigner Peter Tatchell, who organised the demonstration and is calling for a boycott of all of the sultan's companies, said: "There can be no normal business relations with an abnormal tyrannical regime like that of Brunei.
"What the sultan has done has introduced punishments the same as Isis implemented in Iraq and Syria during its so-called caliphate, including brutal stoning to death of people convicted of homosexuality, adultery and insulting the Prophet Muhammad."
He described the "close" relationship between the Queen and the sultan as "quite wrong", saying she should not "collude and consort with dictators like the sultan".
More than 65,000 people had signed a petition on the UK parliament website on Saturday evening that called on the government to "urgently call for an end to human rights violations against the LGBT community in Brunei".
Talk show host Ellen DeGeneres and actor George Clooney are among those urging the public to boycott luxury hotels owned by Brunei.
Organisations including English National Ballet and the Financial Times have cancelled events at The Dorchester amid the backlash.
Dorchester Collection, the company that manages nine hotels including the Park Lane venue, has said it does not tolerate any form of discrimination..
On Saturday, the University of Oxford joined the University of Aberdeen and King's College London in saying it would reconsider its decision to award an honorary degree to the sultan of Brunei.
Mr Hunt said on Thursday he had spoken to Brunei Foreign Minister Dato Erywan "to express deep UK opposition, shared by many, to the introduction of Sharia law".
"We understand countries are responsible for their rules, but we will always speak out to defend our values, including the freedom to be who you are and love without fear," he said.
The Foreign Office said in a statement Brunei's laws were "cruel, inhumane and degrading".
"But rather than threatening to kick countries out of the Commonwealth, we believe the best way to make progress and encourage Brunei to uphold its international human rights obligations is via a constructive dialogue on this issue," it added.
Before the new laws were announced, homosexuality was already illegal in Brunei and punishable by up to 10 years in prison. The former British colony has retained the death penalty but has not carried out an execution since 1957.
The new laws mostly apply to Muslims - who make up about two-thirds of the country's population of 420,000 - though some aspects will apply to non-Muslims.