No-fault evictions to be banned in England
Private landlords will no longer be able to evict tenants at short notice without good reason under new plans.
The government says it wants to protect renters from "unethical" landlords and give them more long-term security.
Section 21 notices allow landlords to evict renters without a reason after their fixed-term tenancy period ends.
The National Landlords Association said members were forced to use Section 21 because they had "no confidence" in the courts to settle possession claims.
But an organisation representing tenants said the plans were "a vital first step to ending profiteering from housing".
First Minister Mark Drakeford has announced similar plans for Wales, while in Scotland new rules requiring landlords to give a reason for ending tenancies were introduced in 2017.
There are no plans in Northern Ireland to end no-fault evictions where a fixed-term tenancy has come to an end.
Housing Secretary James Brokenshire said that evidence showed so-called Section 21 evictions were one of the biggest causes of family homelessness.
He told BBC Radio 4's Today programme that the changes would offer more "stability" to the growing number of families renting and mean people would not be afraid to make a complaint "because they may be concerned through a no-fault eviction that they may be thrown out".
Mr Brokenshire also said the plans would offer "speedy redress" to landlords seeking to regain possession of their property for legitimate reasons, such as to sell it or to move into it themselves.
At the moment, landlords can give tenants as little as eight weeks' notice after a fixed-term contract ends.
Under the government's new plans, landlords would have to provide a "concrete, evidenced reason already specified in law" in order to bring tenancies to an end.
Mrs May said the major shake-up will protect responsible tenants from "unethical behaviour" and give them the "long-term certainty and the peace of mind they deserve".
The prime minister also said the government was acting to prevent "unfair evictions".
'Loaded towards the tenant'
Michael Downes, 65, who rents out a maisonette in Coleshill, Warwickshire, said that, after his experience with a problem tenant, he feels the system is stacked against landlords.
He used Section 21 to evict someone who had not paid rent for four months. He said the other method open to landlords - a Section 8 eviction - meant the renter could halt the process by paying his arrears, only to stop paying again later.
Even using the quicker eviction method that is due to be banned, the tenant lived rent-free for six months, costing Mr Downes £5,000.
If the renter had fought the case in court, it could have taken a year to move him on, Mr Downes said.
"Everything seems to be loaded towards the tenant," he said. "People like me are going to think, is it worth bothering any more?"
The National Landlords Association (NLA) said its members should be able to use a Section 8 possession notice to evict someone who has broken the terms of their tenancy - for example by not paying rent.
This sometimes involves landlords spending money taking action in court if the tenants refuse to leave.
But NLA chief executive Richard Lambert said many landlords were forced to use Section 21 as they have "no confidence" in the courts to deal with Section 8 applications "quickly and surely".
He said the proposed changes would create a new system of indefinite tenancies by the "back door", and the focus should be on improving the Section 8 and court process instead.
A Ministry of Housing spokesman said court processes would "also be expedited so landlords are able to swiftly and smoothly regain their property" where such a move is justified.
Amina Gichinga, from London Renters Union - which has been campaigning for the end of no-fault evictions - said: "This campaign success is a vital first step to ending profiteering from housing and towards a housing model based on homes for people, not profit.
"Section 21 is a pernicious piece of legislation that renters across the country will be glad to see the back of.
"The law allows landlords to evict their tenants at a moment's notice, leaving misery and homelessness in its wake. This fear of eviction discourages renters from complaining about disrepair and poor conditions."
Alicia Powell, 24, said "it was a horrible shock" when she received an eviction notice after complaining about a leak in her north London flat.
She and her boyfriend had to find £3,000 in moving costs with two months' notice and "it completely rocks your world, everything is uprooted", she told BBC Two's Victoria Derbyshire programme.
Shelter, a charity which helps people struggling with bad housing or homelessness, said the proposals would "transform lives".
Chief executive Polly Neate said: "Government plans to abolish no-fault evictions represent an outstanding victory for England's 11 million private renters."
Labour's shadow housing secretary John Healey said that any promise of help for renters is "good news" but added that "this latest pledge won't work if landlords can still force tenants out by hiking the rent".
"Tenants need new rights and protections across the board to end costly rent increases and sub-standard homes as well as to stop unfair evictions," Mr Healy added.
Are Section 21 notices rising?
By Tom Edgington, BBC Reality Check
The majority of Section 21 notices do not appear in official statistics - that's because most tenants will leave their property soon after they receive their eviction letter and do not mount a legal challenge.
However, where Section 21 notices are challenged, some statistics are available. They show that the use of Section 21 has risen sharply since 2011.
A repossession occurs when bailiffs are given permission to remove tenants from a property in order to return it to a landlord.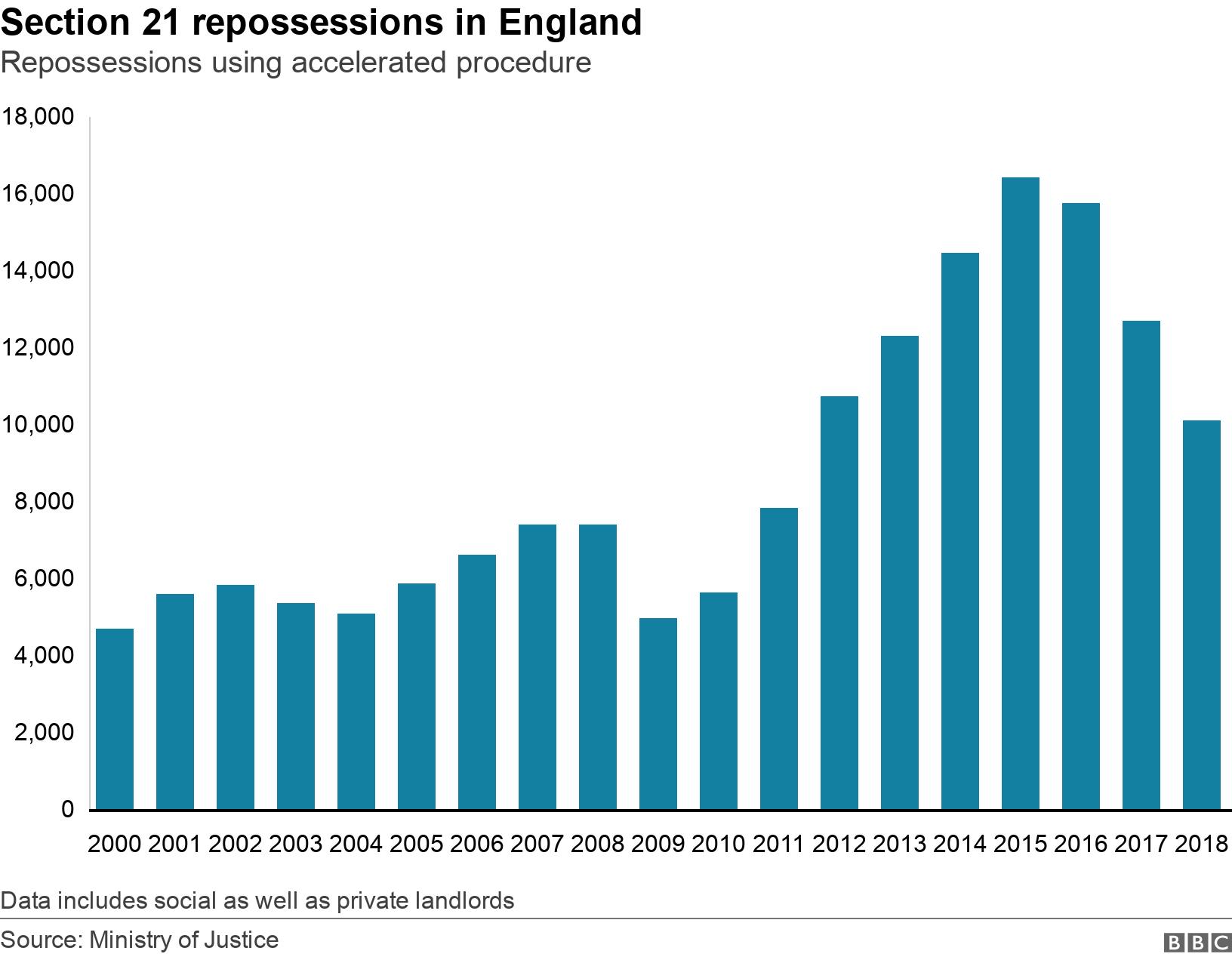 So whilst the official numbers do not tell the whole story, they do show there is a rising trend over the long-term - even if the numbers have dropped a bit over the last couple of years.