Sri Lanka attacks: British brother and sister among victims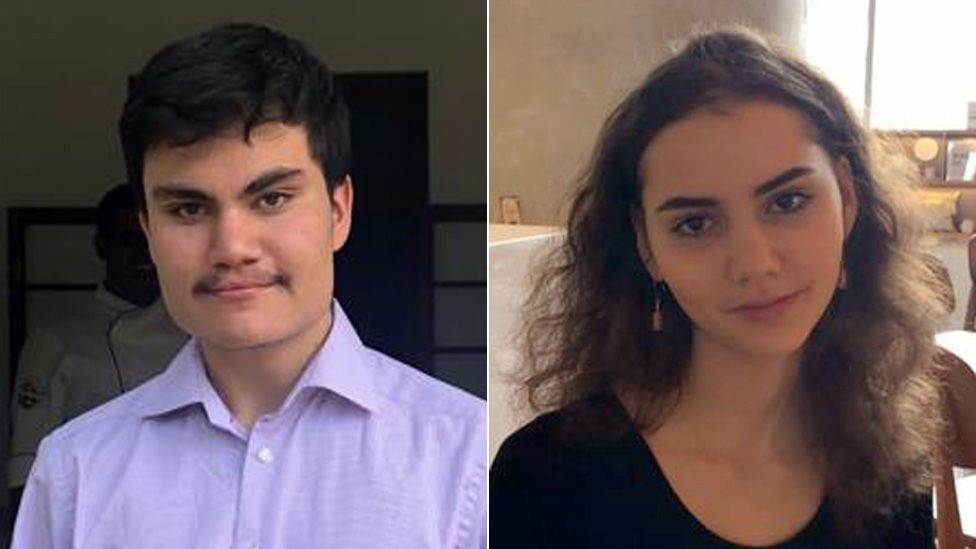 Tributes are being paid to members of three British families who were among more than 300 people killed in Easter Sunday's bombings in Sri Lanka.
The deaths of London siblings Daniel and Amelie Linsey have "shocked" their schools, staff said.
Eight Britons are known to have died in the attacks, including Dr Sally Bradley and Bill Harrop, both from Manchester, who were described as "soulmates".
Anita Nicholson and her two children also died in a blast at a hotel.
The death toll from the wave of attacks on churches and hotels in the Sri Lankan capital Colombo, Negombo and Batticaloa has now risen to 321, with about 500 injured, police say.
Foreign Secretary Jeremy Hunt said the attack was "complex, highly co-ordinated and designed to cause maximum chaos, damage and heartbreak".
A team of family liaison officers has been sent to Sri Lanka to support the families of British victims and help repatriate the deceased, Mr Hunt said.
The father of Amelie and Daniel Linsey has been describing his desperate attempt to save his two teenage children.
In an emotional interview with CNN, Matt Linsey, a London-based American investment banker, said the pair were returning from the hotel buffet when a bomb went off.
He said his instinct was to get them out of there but as he tried to do so a second bomb exploded, leaving both unconscious.
He said a woman offered to help his daughter, who appeared to be moving, to an ambulance.
Meanwhile, Mr Linsey lost his voice yelling for help to get his son, who was not moving, to an ambulance.
Mr Linsey accompanied Daniel, 19, in an ambulance to hospital. Amelie, 15, arrived separately at the same hospital but neither could be saved.
Amelie's school - Godolphin and Latymer School in west London - issued a statement on behalf of staff and pupils which said: "We're obviously devastated and shocked and digesting the news at the moment.
"Our priority is supporting her family and the students here," staff said.
And Westminster Kingsway College, where her brother Daniel was studying business, said it was "shocked and saddened", adding that it was offering counselling and support to students and staff who knew him.
Dr Bradley and her husband Mr Harrop, a retired firefighter, were on holiday in Sri Lanka when they were killed.
The couple, who had lived in Western Australia since Mr Harrop's retirement, were soulmates who "just lived for each other", a former colleague of Dr Bradley said.
"She absolutely loved living in Australia. She felt very at home here," executive director Kathleen Smith told 6PR radio.
She said Dr Bradley, who was director of clinical services at Rockingham Peel Group in Perth, talked of Mr Harrop's two sons as if they were her own.
A team from North Manchester General Hospital, where Sally had previously worked, said: "Sally was a lovely, kind individual, extremely approachable and gave so much to the NHS in Manchester during her career."
Mr Harrop had been in the fire service for 30 years before retiring in 2012, said Assistant County Fire Officer Dave Keelan, of Greater Manchester Fire Service.
"He was a much-loved and respected colleague and friend. He will be greatly missed."
It is not currently known which explosion killed the couple.
Anita Nicholson and her children Annabel, 11, and Alex, 14, were visiting Sri Lanka on holiday from their home in Singapore where Mrs Nicholson worked as a lawyer.
Her husband, Ben Nicholson, who survived the blast, said his family were killed as they ate breakfast in the Shangri-La Hotel in Colombo.
"Mercifully all three of them died instantly and with no pain or suffering," said Mr Nicholson, who is a partner with law firm Kennedys.
He paid tribute to his "wonderful, perfect wife", a lawyer for mining firm Anglo American.
She was "a brilliant, loving and inspirational mother to our two wonderful children", he said.
"Alex and Annabel were the most amazing, intelligent, talented and thoughtful children, and Anita and I were immensely proud of them both and looking forward to seeing them develop into adulthood," he added.
"They shared with their mother the priceless ability to light up any room they entered and bring joy to the lives of all they came into contact with."
Chancellor Phillip Hammond said Anita Nicholson was a former legal adviser at the Treasury and would be remembered by colleagues there as "a brilliant and dedicated lawyer".
Details of the eighth British victim have not yet emerged.
It warns tourists to avoid crowded public areas, plan any movements carefully and not to travel during the newly-implemented nationwide curfew.
As Sri Lanka held its first mass funeral for 30 victims on Tuesday, the Islamic State (IS) group claimed responsibility for the attack via its news outlet.
A BBC correspondent in Sri Lanka, however, has said that claim should be treated with caution.
Sri Lanka's government had earlier blamed the blasts on local Islamist group National Thowheed Jamath (NTJ).
On Tuesday, Labour leader Jeremy Corbyn said: "An attack like this on a hotel or a church or any other place is an indiscriminate attack on all of us."
He urged people not to "jump to conclusions about the perpetrators", rather to make sure people were safe and secure and given a "proper period of mourning".
The Foreign Office has directed British citizens to two helplines:
Those in Sri Lanka can call the Embassy in Colombo: +94 11 5390639
Those in the UK who are concerned for British friends or family in Sri Lanka can call: 020 7008 1500