RSPCA rescues 4,000 exotic pets in one year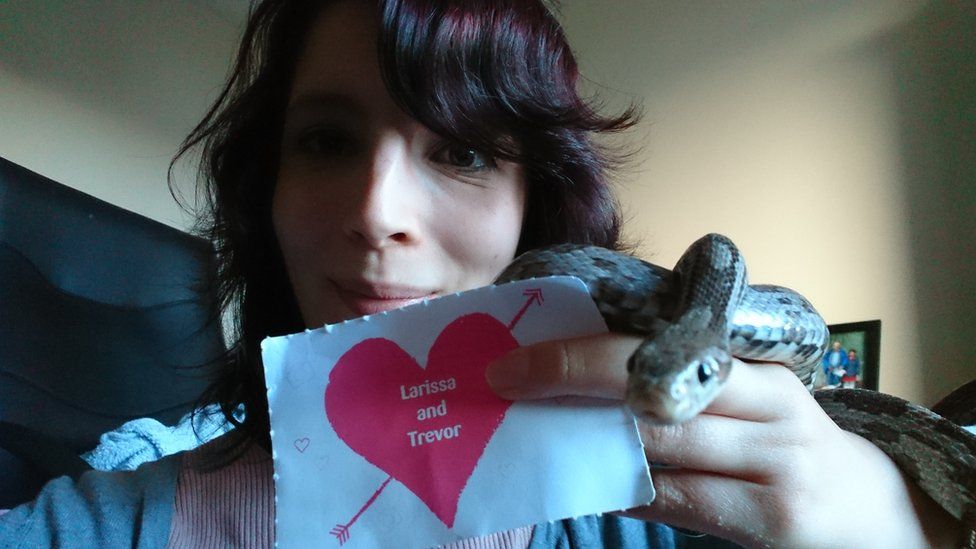 The RSPCA rescued more than 4,000 exotic animals from across England and Wales in 2018, it has revealed.
The animal welfare charity said this included 500 snakes, 300 turtles, 145 bearded dragons, five raccoon dogs, four marmosets and a wallaby.
Some owners were not properly researching how to keep such species, resulting in animals escaping or being abandoned or neglected, it said.
It also said general calls to its 24-hour hotline rose by 13% to 1,175,193.
In one incident, a dead marmoset monkey was found in a street in Edmonton, London in December 2018.
And in January 2018, a royal python was found dead in Cwmbran, Wales, with bruising around its mouth.
RSPCA inspectors suspected the snake had been beaten before it was abandoned.
'People don't do enough research'
Larissa Butler, 25, from Sheffield, owns a corn snake named Trevor.
She told the BBC: "I got a corn snake a year and a half ago because they're one of the easiest snakes to look after.
"Once I'd looked into some other snakes I liked the look of I knew that a corn snake was best for me.
"I think a lot of people don't research enough and some breeders and shops aren't very responsible in how they produce the animals or sell them.
"It's really sad that the penalties for mistreating exotics aren't as harsh as for other pets.
"Trevor is just really cool because he is so different and chilled. They have specific requirements but can make excellent pets."
In another case in February 2018, two stray raccoon dogs were found within a mile of each other in the same Cumbrian village of Burneside.
The RSPCA said it strongly believed raccoon dogs should not be kept as pets as it was not possible to meet their needs in a domestic environment.
Gary Clarke, head of exotics at Sparsholt College in Hampshire, where they have taken in five abandoned raccoon dogs, said: "People see videos of the cubs online and think, 'oh, I want one', but they don't make good pets unless you're a specialist.
"If I tried to grab one now without gloves on I would be going to A&E."
He added: "The problem with people abandoning exotic animals is that they could become established in Britain and impact our native wildlife."
The RSPCA told the BBC that they have seen exotic animals such as bearded dragons on sale for as little as £20 online.
Stephanie Jayson, the RSPCA's senior scientific officer in exotics and a qualified exotics vet, said: "Although their numbers are small compared to more common pets, we have real concerns about the welfare of exotic animals kept as pets.
"Exotic pets are completely reliant on their owners to meet their needs including requiring the correct levels of heat, light and humidity, plus an appropriate diet.
"Some species require a licence or paperwork to be legally kept or sold."
Ms Jayson added: "Many of the animals we're called to help are found stray outside, where they can very quickly suffer in the cold."
Exotic animals are often available to buy in UK pet shops and are sometimes advertised for sale online.
"Sometimes animals are neglected when the novelty wears off and the commitment hits home," Ms Jayson said.
"This is why we would encourage anyone thinking of getting an exotic pet to find out as much as possible about the animal's needs and whether they're the right pet for them."
It's not just the RSPCA which receives unwanted exotic pets.
"We get offered dragons for rehoming all the time - about five in the last couple of weeks," said Dave Dixon from Cambridgeshire, who runs an advice group for almost 14,000 owners of bearded dragons.
He told the BBC: "We see some that are poorly looked after or neglected, and get reports of them being dumped in various locations which has included in the past over the years a dog poo bin, left in an empty house and in a rubbish skip."
Gemma Wright, from Chelmsford, had a similar experience.
She said: "Among the many tarantulas that have passed through my hands over the years, one was rescued from disgusting conditions in a local pet shop that has since been closed down by Environmental Health, and others have come to me through friends who - for whatever reason - were unable to keep them any more.
"I had to drastically reduce my own collection after breaking my hip last March, but I only give them to friends who I know to be responsible keepers."