UK weather: Hottest day of the year as temperature soars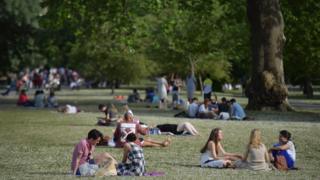 Parts of the UK have experienced the hottest day of the year so far, with temperatures climbing to 27.6C.
That high, recorded at Heathrow in West London, beats 2019's previous top temperature of 25.8C set last month, according to BBC Weather.
Areas in the south-east of England enjoyed the best of the weather, with Teddington in south-west London and Wisley in Surrey seeing 26.4C.
However, central and northern parts of the UK have been much cooler.
The average temperature in northern England was around 18C - still higher than the average temperature for June of 17C - with cloudy skies and patchy rain.
The temperature also reached 26C in High Beach, Essex, and 25.9C at the Iver water works in Buckinghamshire, according to the Met Office.
It said conditions could get even hotter in East Anglia on Sunday, with temperatures of 28C or 29C expected, but warn it could also bring a risk of thunder.
The national weather service said conditions elsewhere will turn cloudier and breezier, with outbreaks of rain across Northern Ireland, spreading to Scotland, north-west England and west Wales by Sunday.
Rain showers are expected to spread eastwards with a risk of isolated thundery showers in the east and south east, accompanying the hot weather, it added.
Pet owners have been urged to ensure their animals do not overheat.
The British Veterinary Association warned that dogs are particularly vulnerable to heatstroke and breathing difficulties as they are unable to cool down quickly through sweating.
It also advised putting sunscreen on cats' ears which it said can burn easily.