Jeremy Hunt brands Labour leader 'pathetic' over Iran comments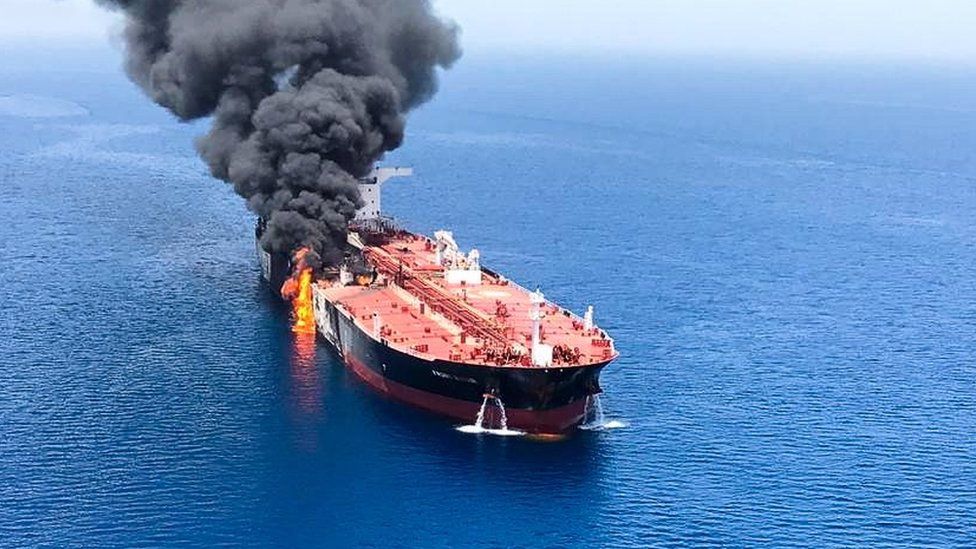 The foreign secretary has branded Jeremy Corbyn "pathetic", after he questioned whether the UK had "credible evidence" Iran was behind attacks on two oil tankers in the Gulf of Oman.
Jeremy Hunt said responsibility for Thursday's attacks "almost certainly" lies with the Iranian regime.
The Labour leader said the UK should "ease tensions" in the region rather than "fuel a military escalation".
Mr Hunt criticised Mr Corbyn for not backing British intelligence.
It is the second time in the past few weeks that tankers appear to have been attacked in the region and comes amid escalating tension between Iran and the United States.
The US military released video footage which it said proved Iran was behind Thursday's attacks on the Norwegian and Japanese tankers - something Iran has categorically denied.
Although Iran has denied being behind the explosions, experts believe it could be a response to US sanctions intended to stop other nations from purchasing Iranian oil.
After the sanctions were tightened last month, Iran announced that "if it could not export its oil, no other country would be allowed to export theirs", Dr Aniseh Bassiri Tabrizi, from the Royal United Services Institute, said.
The UK Foreign Office said it was "almost certain" that a branch of the Iranian military - the Islamic Revolutionary Guard Corps - attacked the two tankers on 13 June, adding that "no other state or non-state actor could plausibly have been responsible".
"These latest attacks build on a pattern of destabilising Iranian behaviour and pose a serious danger to the region," Mr Hunt said.
However, in a tweet, Mr Corbyn questioned that assessment, saying that "without credible evidence", the government's rhetoric "will only increase the threat of war".
Britain should act to ease tensions in the Gulf, not fuel a military escalation that began with US withdrawal from the Iran nuclear agreement. Without credible evidence about the tanker attacks, the government's rhetoric will only increase the threat of war.

— Jeremy Corbyn (@jeremycorbyn) June 14, 2019
Mr Hunt criticised the Labour leader's comments, tweeting that they were "pathetic and predictable".
Pathetic and predictable. From Salisbury to the Middle East, why can he never bring himself to back British allies, British intelligence or British interests? https://t.co/8JyGz7T4Yx

— Jeremy Hunt (@Jeremy_Hunt) June 15, 2019
Mr Hunt said there was "video evidence" suggesting Iran's responsibility and Mr Corbyn's comments showed Labour was "in the grip of virulent anti-Americanism".
"For Jeremy Corbyn it's all America's fault. And this is the same man by the way who refused to condemn Putin after the Salisbury Novichok attacks," he said.
His stance attracted some criticism, including from a number of his own MPs, although the Labour leader did subsequently say that the evidence clearly pointed to the Russian state.
Mr Hunt's fellow Conservative leadership candidates, including Rory Stewart, Sajid Javid, Michael Gove and Dominic Raab, also condemned Mr Corbyn's recent comments.
Shadow foreign secretary Emily Thornberry said it was important to establish independent evidence on who was behind the tanker attacks.
She told BBC Radio 4's Today programme that developments in the region were "extremely dangerous" and cautioned against becoming "enmeshed" in a war.
There is the narrowest of differences in how the US and its closest ally, Britain, are ascribing blame over the tanker attack.
President Trump says "Iran did it", while Jeremy Hunt says the Iranian regime was "almost certainly" behind it.
So is Britain blindly following the US into what could become a costly conflict?
Whitehall officials insist the evidence has been studied closely and they have reached the same conclusion as Washington: there are no other credible suspects apart from Iran.
It mined the entrance to the Gulf in the 1980s but strongly denies any role in this attack.
Yet a strange discrepancy has emerged with the owner of the Japanese tanker disputing the ship was hit with a limpet mine. Instead, he says, the crew reported "flying objects".
If military action does eventually break out, conclusions reached today - behind closed doors - will one day be scrutinised in public.
UN Secretary General Antonio Guterres said the truth needed to be "clearly established", while Russia has warned against drawing "hasty conclusions".
The blasts came a month after four oil tankers were damaged in an attack off the coast of the United Arab Emirates. The US blamed Iran for that attack, but did not produce evidence. Iran also denied those accusations.
Tensions between the US and Iran have escalated significantly since President Trump took office in 2017.
He abandoned a nuclear deal that was brokered by Barack Obama's administration and significantly tightened sanctions on Iran.