UK heatwave: Met Office confirms record temperature in Cambridge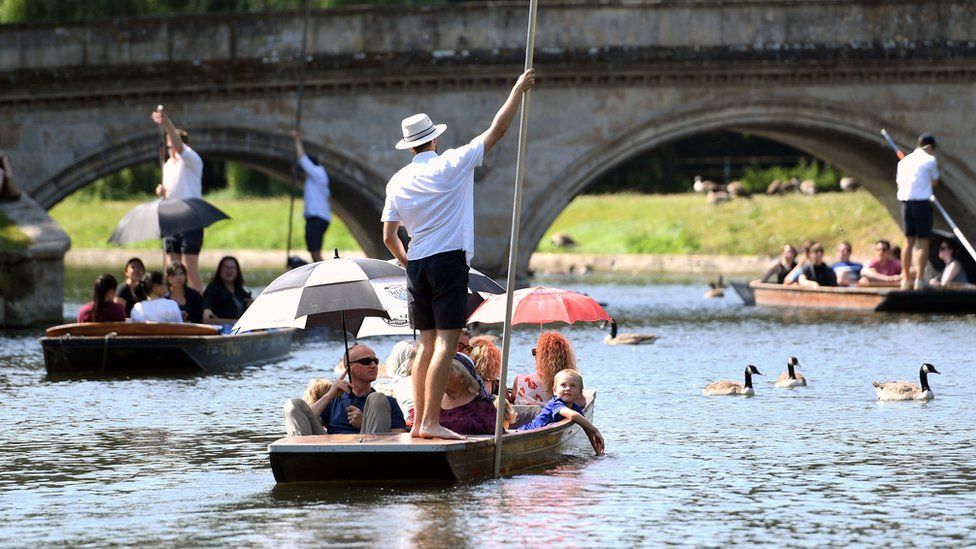 The UK's highest-ever temperature has been officially recorded in Cambridge, the Met Office has confirmed.
A Met Office official was sent to check the equipment before verifying the new record on Monday.
Staff working at the garden on Thursday tweeted: "No wonder we all felt as if we'd melted."
Daily temperatures have been measured by the weather station at the site in the south of the city since 1904.
Horticultural team member Katie Martyr, who took the reading on Friday morning, said: "I thought straight away it was incredibly high but not in my wildest dreams did I think it would be the highest ever moment.
"It felt like an out-of-body experience."
Sally Petitt, head of horticulture, said: "To have recorded... the highest UK temperature ever serves as a further reminder that we all need to be taking climate change and its impacts seriously."
The high temperature means the UK joins Belgium, Germany and the Netherlands in breaking national records as exceptionally high temperatures gripped large parts of central and western Europe last week.
Cambridge University Botanic Garden director, Beverley Glover, said: "We are really pleased that our careful recording of the weather, something that we've been doing every day for over 100 years at the Botanic Garden, has been useful to the Met Office in defining the scale of this latest heatwave.
"Our long history of weather recording is very important to researchers analysing climate change.
"However, we can't help but feel dismay at the high temperature recorded and the implication that our local climate is getting hotter, with inevitable consequences for the plants and animals around us."
The hot weather last week caused major travel disruption across England and Wales.
Rail carriages had to be evacuated after two trains got stuck near Peterborough, Cambridgeshire, because of damage to overhead cables caused by the hot weather
A spokesman for London North Eastern Railway (LNER) said "record high temperatures have caused several incidents on the East Coast route".
The risk that rail tracks would buckle in the heat disrupted train services between Cardiff Central and London Paddington.
Great Western also cancelled trains between London, Cardiff and Swansea.
The government's advisory Committee on Climate Change has warned the UK is not prepared for the increase in heatwaves that is expected with global warming.
Earlier this summer, it called for more action to make sure homes and other buildings such as hospitals and care facilities could be comfortable and safe in higher temperatures.