UK power cut: 'We were stuck on a train with no food or toilets'
By Winnie Agbonlahor
BBC News, London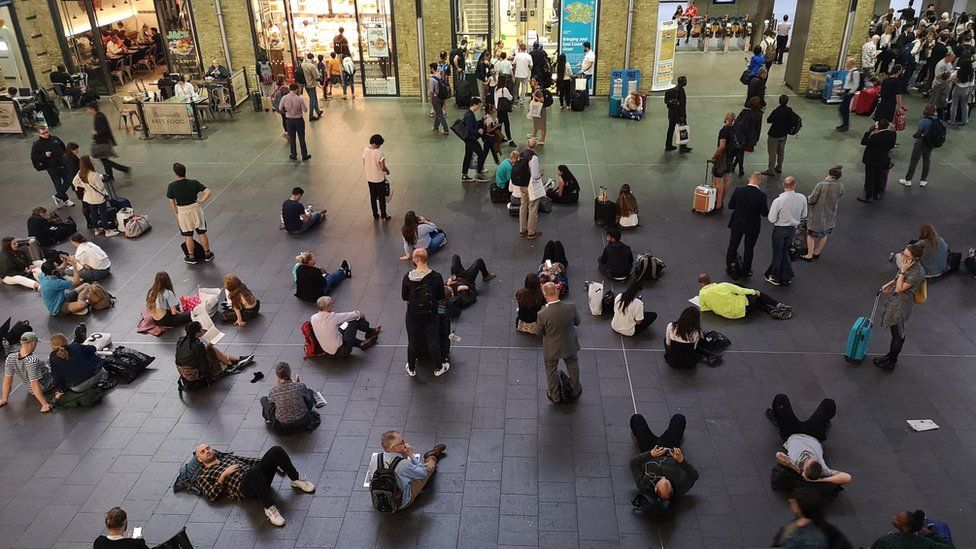 Rail passengers have described being plunged into darkness with no food or water or access to toilets after the UK was struck by a nationwide power cut.
Others had to spend hundreds of pounds on hotels and taxis as London's King's Cross and St Pancras stations had to shut during Friday's evening rush hour.
The outage - caused by two power stations failing - caused problems on much of the UK's rail network.
Disruption was still continuing on some rail lines on Saturday.
Lisa Sandeman and her husband had been planning to go away to Brussels for the weekend but had their trip caught short by the power problems.
Ms Sandeman, who was carrying both passports, had been due to meet her husband at St Pancras Station but failed to make it in time as the train she was on - from Biggleswade, Bedfordshire - got stuck in a tunnel.
"Just as we were about to arrive at the station, the power went and we were stuck on the train for an hour-and-a-half," she said.
"For an hour, we were in darkness, with no lights, no air-con and just the emergency lights outside."
"We were only updated about five times and some passengers were getting irate at the lack of communication," she added.
"There were a lot of verbal fights. There was an 85-year-old woman travelling and a diabetic. Everyone had a story to tell.
"I missed my Eurostar connection for Brussels. My husband was waiting for me at the Eurostar terminal and was getting worried as he couldn't get through to me, and I had his passport."
The couple stayed in a London hotel overnight and Eurostar officials booked them on a train to Belgium on Saturday morning.
Lawal Brown had boarded a train at 16:45 BST from Stevenage to London on the first leg of his journey home to Bristol when the power cut struck.
"When power was restored, the train could not be restarted," he said.
"They called in engineers who also couldn't get us moving. The driver told us this had happened to all the Thameslink trains of that type, i.e. it was a design flaw."
He said there was no food or drink available on that train and the toilets were locked.
Passengers were eventually moved on to another train at about 22:30 and an hour later he reached Hatfield, 12 miles away from Stevenage.
He boarded a replacement bus to London but before it had left Hatfield, its gearbox failed and a replacement had to be arranged.
He said he then resorted to getting a taxi to Bristol, which cost £190 and he got home at 03:45 BST.
At King's Cross Leigh Russell, 45, and her son Fenn had also been trying to get home after a football competition but said after waiting for updates for several hours they resorted to a last-minute hotel.
"There was no information, no communication, no announcements on the tannoy, no representative or help from Hull Trains, who we booked with," she said.
"I am appalled and disgusted at the service."
Hull Trains said it had one of its representatives at King's Cross who "worked long into the night to help more than 20 Hull Trains customers... to get on a LNER service much later into the evening" and provided information on its website.
Some train services were still disrupted on Saturday.
London North Eastern Railway, which runs services between King's Cross and the north of England and Scotland, cancelled some trains.
Thameslink and Great Northern said a number of trains did not end up in their correct location on Friday because of the disruption and that problems had continued throughout Saturday morning.
Philip McKechnie, had flown in from Singapore on Friday, heading to Middlesbrough for wedding on Saturday morning but his train from King's Cross had been cancelled.
"I was cutting it a bit fine already, so I don't know if I'll be able to meet the person who has agreed to pick me up [at Middlesbrough]," he said.
"I've come from such a long way and this is the first part of the journey that is going wrong," he added.
He said a 30-minute train delay "would be front-page news in Singapore".
Samantha Dagnall, who had taken her son James to visit museums in London for the day, was waiting for a train on Saturday morning after an unexpected overnight stay.
"I'm not happy. We didn't sleep well and got here at 06:00 BST hoping to get an earlier train, but that was three hours ago."
Amy Dickinson, 28, and Tim Meredith, 26, had their train home to Peterborough cancelled on Friday night.
"I suffer from chronic fatigue syndrome so standing around and waiting would not have been possible due to fatigue and pain, which is why we decided to get a hotel," Ms Dickinson said.
The couple eventually arrived in Peterborough 14 hours later than they had planned.
Alfred Thompson, 81, had travelled to London for a visit to the Royal Academy and ended up spending £150 on a hotel room for the night.
"It's turned out to be a more expensive visit than expected," he said.
Related Internet Links
The BBC is not responsible for the content of external sites.