UK 'first in line' for US trade deal, says John Bolton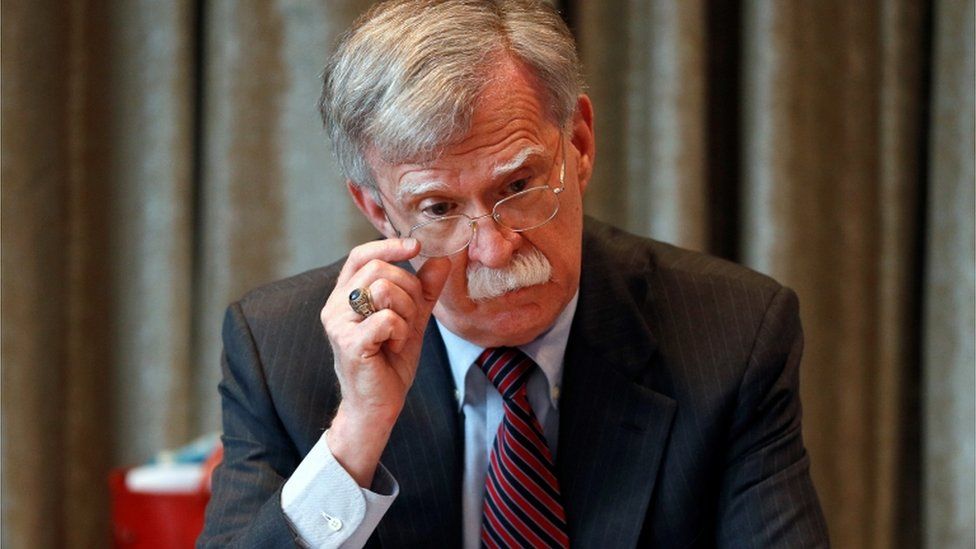 The UK is "first in line" for a trade deal with the US, President Trump's national security adviser has said.
John Bolton said the US supported a no-deal Brexit and added Washington would propose an accelerated series of trade deals.
Mr Bolton claimed deals could be done on a "sector-by-sector" basis, with an agreement on manufacturing made first.
However, critics warned the UK would have to give in to some US demands in return for any trade agreement.
His comments came after meeting Prime Minister Boris Johnson at No 10.
According to Mr Bolton, a bilateral agreement or "series of agreements" could be carved out "very quickly, very straight-forwardly".
A trade deal for financial services and agriculture would not be the first to be agreed, he added.
Mr Bolton said "doing it in pieces" was not unprecedented and the US understood the importance of doing as much as possible as rapidly as possible before the 31 October exit date.
He said there would be enthusiastic bipartisan support in Congress for speedy ratification at each stage.
Mr Johnson said there "all sorts" of opportunities for UK business in the US, particularly service companies, but the negotiations will be a "tough old haggle".
"The single biggest deal we need to do is a free trade deal agreement with our friends and partners over the Channel," he said.
Asked whether his proposed plan would follow World Trade Organisation rules, Mr Bolton said "our trade negotiators seem to think it is".
And he insisted the UK was "constantly at the front of the trade queue" for the Trump administration.
Would a sector-by-sector agreement work?
By BBC economics correspondent Andrew Walker
There is a problem with sector-by-sector trade agreements. They are not compatible with WTO rules, which say free trade agreements for goods should cover "substantially all the trade".
There is no formal definition of that term but a figure of 90% has often been suggested.
It is unlikely a deal covering a few sectors would qualify. Other WTO members could start a dispute and would, on the face of it, have every chance of winning.
However, it does not mean it would be impossible. WTO rules are not enforceable in national courts so if the UK and the US wanted to go ahead they probably could.
But it would be a strange move for any country committed to the rules-based global trade system that has the WTO at its heart.
There is another problem for any trade agreement: whether it meets the "substantially all the trade" criterion or not, it would need to be ratified by the US Congress.
There is a substantial body of American legislators who would be likely to vote against it if they thought that Brexit had taken place in a way that posed a danger to the peace process and the open border on the island of Ireland.
Mr Bolton also referenced Mr Johnson's willingness to participate in Operation Sentinel, which aims to beef up the military presence in the Gulf in the face of tensions between the West and Iran, saying he was "pleased" as this "reflects a change" from Theresa May's government.
Meanwhile, former Labour foreign secretary Jack Straw described Mr Bolton as "dangerously bellicose", and suggested the UK would have to agree to some US demands, for example allowing imports of US chlorine-washed chicken.
"This is a highly transactional administration… you don't get something for nothing," he told BBC Radio 4's Today programme.
Lewis Lukens, a former deputy chief of mission at the US Embassy in London and former acting US ambassador, said Mr Bolton was aligned to President Trump's "America first agenda" and would be making "strong demands" on the UK to back the US position on issues like Huawei, China and Iran.
Mr Johnson is expected to have his first face-to-face meeting as prime minister with Mr Trump later this month at the G7 summit in France.
By BBC diplomatic correspondent James Robbins
It would be hard to find a more enthusiastic champion of Brexit than John Bolton: a thoughtful, intellectual, highly combative and controversial champion of the nation state.
He caused havoc as US ambassador to the United Nations between 2005 and 2006 with his open rejection of the UN's usefulness except where it served the direct interests of the US.
So it should be no surprise that he told us at a briefing during his London visit: "Britain's success in successfully exiting the European Union is a statement about democratic rule and constitutional government that's important for Britain, but it's important for the United States too."
He stressed it was very much in the US interest and there was no "quid pro quo" with any other issues. By that, he was denying all suggestions that Britain would be expected to fall into line with Washington's Iran policy - although he clearly hoped that it might.
Likewise, he welcomed Mr Johnson's position on Huawei and 5G technology, calling it "Britain going back to square one" and re-examining the issue.
For now, Mr Bolton said, Britain was entirely focused on Brexit. The US is willing to wait. But that does leave open many questions about future relations and possible political trade-offs with the United States.
If Mr Bolton's major intervention in trade negotiations has raised some eyebrows, the National Security Advisor had a forthright answer to that.
He pointed us to the National Security Act of 1947 and told us firmly that his remit includes economic security, because the security of a nation depends fundamentally on its prosperity.