'Get ready for Brexit' advertising campaign launches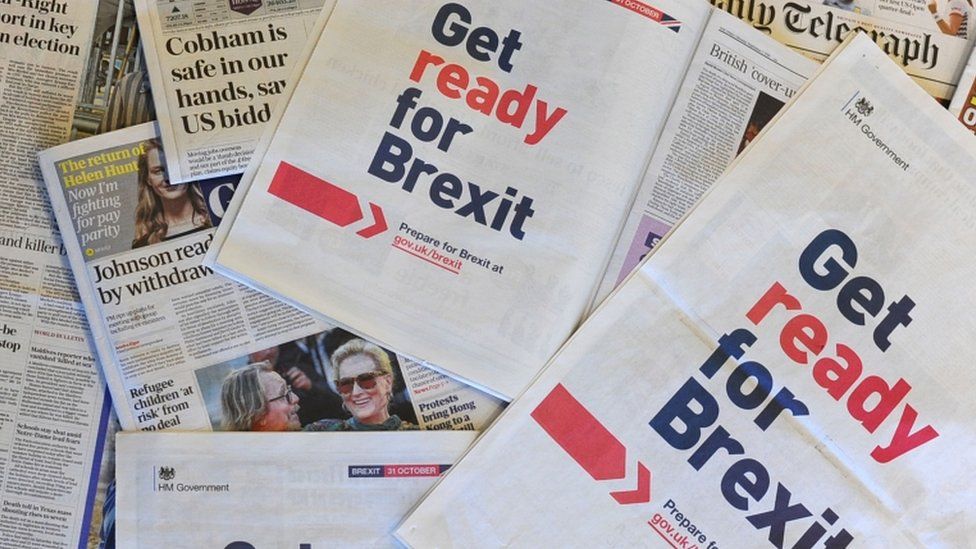 An information campaign urging the public to "get ready for Brexit" has been launched by the government.
The campaign began on Sunday with the launch of a website, gov.uk/brexit.
Billboards and social media adverts will appear in the coming days and TV adverts will air later this month.
Michael Gove, who is in charge of no-deal plans, said the adverts encourage "shared responsibility" for preparing to leave the EU on 31 October.
It has been reported that the campaign could cost as much as £100m as ministers seek to inform people what they might need to do, if anything, ahead of the deadline.
Benedict Pringle, author of the politicaladvertising.co.uk blog, said that, if true, the £100m budget would be roughly double what the National Lottery spends on advertising each year.
"So if you think about how often you see a lottery advert and double it, that's how much we could be seeing the campaign over the next two months," he told the BBC.
"At football grounds, in advert breaks for Coronation Street and The Great British Bake Off, this is where you'll get the biggest reach with the public."
What does the campaign involve?
An image showing one of the campaign's billboards was issued by the Cabinet Office ahead of their rollout this week.
Leaflets, online seminars, and information stands at events will also be used.
British citizens who are intending to travel to Europe and businesses which export to the EU are among the specific groups targeted by the campaign.
The campaign encourages people and businesses to visit the government website to answer questions and receive advice on preparing for Brexit.
Who is 'ready' for Brexit?
According to the campaign, some sections of society "do not need to take any action" to prepare for Brexit.
People on that list are British citizens who both live and work in the UK, do not run a business and do not plan to travel abroad "after 31 October 2019".
What has the reaction been?
#GetReadyForBrexit was the fourth highest UK trend on Twitter on Monday morning.
While some users welcomed the government's drive, the majority of tweets mocked either the campaign or Brexit itself.
I'm really enjoying the posters telling people to Get ready for Brexit by not telling anyone how. Skillz.

— Emma Kennedy (@EmmaKennedy) September 1, 2019
This has to be my favourite question in the "Get Ready For Brexit" questionnaire. "No, i wish to spend every minute of the rest of my life in my home, in the dark, eating dust." pic.twitter.com/r0LfgqV4DC

— Rhodri Marsden (@rhodri) September 1, 2019
50% UK cars are sold to other EU countries.
50% UK fish is exported to EU countries.
1/3 Welsh lamb is sold to EU countries.

No Deal forces the EU to put tariffs on all of it.

How exactly do UK factory workers, fishermen & farmers 'get ready' for that? Smile?#GetReadyForBrexit

— Femi (@Femi_Sorry) September 2, 2019
What has the government said?
Announcing the launch, Mr Gove said ensuring the UK left the EU in an orderly manner was "not only a matter of national importance, but a shared responsibility".
Mr Gove was earlier criticised by a retail trade association for claiming there would be no shortages of fresh food in the event of a no-deal Brexit.
The British Retail Consortium said Mr Gove's assertion on the BBC's Andrew Marr Show that "there will be no shortages of fresh food" was "categorically untrue".
What do Brits living in the EU need to do?
The government has said it "cannot fully protect" the rights of UK nationals living in the EU, and that some Brits must apply to be a resident in the country they live in, if they want to stay there.
Jane Golding, a lawyer based in Berlin who co-chairs an organisation called British in Europe, said a no-deal Brexit would lead to "27 separate contingency plans" in each of the remaining EU member states.
This could mean a lack of co-ordination on healthcare and social security policies - while the uncertainty around being allowed to stay in their homes was causing "a lot of anxiety" for expats.
She told Radio 4's Today programme that the key principle in the citizens' rights negotiations was "reciprocity" - meaning the way EU citizens are treated in the UK will affect UK citizens in the EU.
Travel will remain visa free but working in more than one EU country will become complicated, she added.
"We are a very mobile population," she said. "We rely on free movement for our work, for our livelihoods."